The Best Tom Hardy Movies You've Never Seen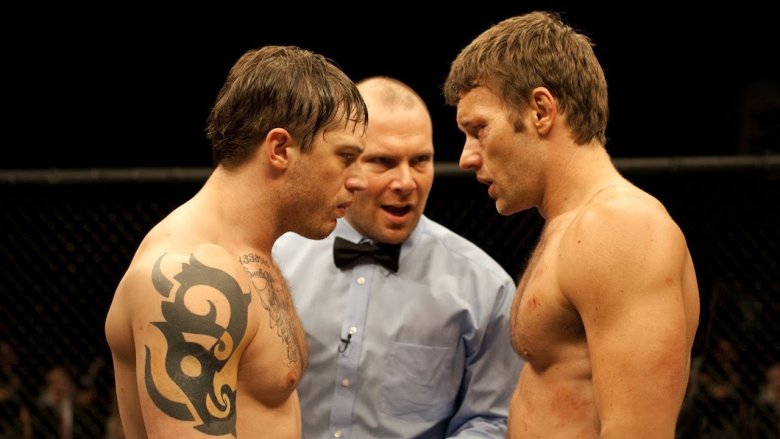 Tom Hardy made both his big screen and small screen debuts in 2001 (with Black Hawk Down and Band of Brothers), and has since gone on to prove himself an actor of uncommon charm and chameleonic skill. Hardy's managed that feat by taking calculated risks with TV roles in programs like Masterpiece Theater's Wuthering Heights and Netflix's Peaky Blinders, big-budget blockbusters in the vein of Inception, Mad Max: Fury Road, and Venom, and stealing scenes in more award-friendly fare such as The Revenant and Dunkirk.
To say Tom Hardy has made an impression over the years would be an understatement. It might even be safe to say he's proven himself to be one of — if not the — most impressive actors of this generation. Of course, the films we've already listed offer just a small taste of Hardy's wildly impressive resume. If you're interested in getting a firsthand look at more of his work, there are couple dozen other films in his filmography you might want to check out. You've seen his biggest hits — now take a look at the best Tom Hardy movies you've never seen.
The Drop (2014)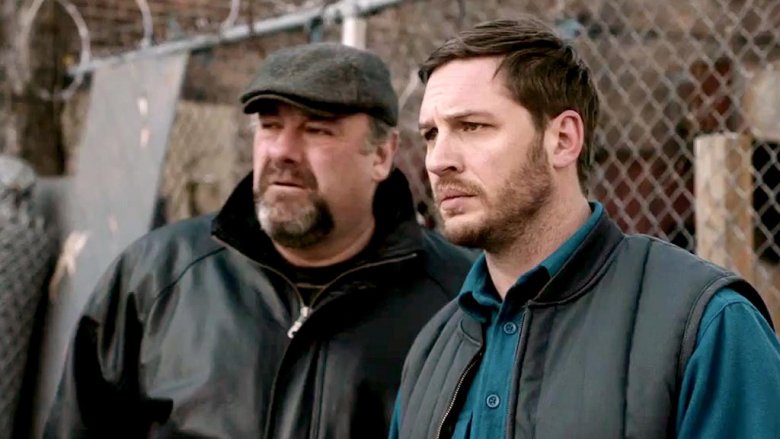 Tom Hardy became well known as an actor willing to take audacious risks in blockbuster fare, but it's the seemingly complete lack of daring that sets his work in 2014's indie crime drama The Drop apart from many of his other roles. Set largely within a dingy watering hole in a tight-knit Brooklyn neighborhood, The Drop finds Hardy portraying Bob Saginowski, a lowly barman tasked with tending to the local drunks and making sure the money drops organized by the Chechen mobsters who own the bar run smoothly. When the bar is robbed and the drop money is stolen, Bob's quiet life is thrown into flux, and his wily cousin Marv (James Gandolfini in one of his final roles) may well be at the center of the chaos.
Adapted by Dennis Lehane (writer of Mystic River, Gone Baby Gone, and Shutter Island) from his own short story, and directed with a stoically steady hand by Michaël R. Roskam (Bullhead), The Drop is that rarest of crime movies — it unfolds with equal parts calculating cool and pulse-pounding thrills. Propelling Lehane's cagey narrative forward is a transfixing, almost entirely internalized performance from Hardy that oozes intrigue and intelligence even as it often outwardly presents the opposite. Without Tom Hardy, The Drop probably would have been a decent movie. With the actor's fiercely understated contributions, it becomes an engrossing character study on par with his most lauded work — even if it was tragically underseen upon release.
Bronson (2008)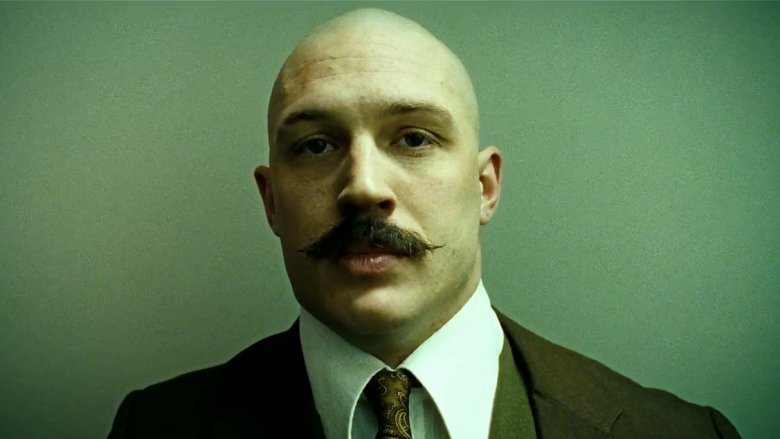 If The Drop proved Tom Hardy capable of delivering a penetrating study in understatement, his work in Nicholas Winding Refn's bonkers, based-on-real-events drama Bronson proves he's just as capable when he unleashes the beast within — and what an unwieldy beast Bronson proves to be. For the uninitiated, the film tells the true story of Micheal Peterson, a reckless U.K. teen who was arrested at 19 for robbing a post office. He was sentenced to seven years behind bars, and has now spent over 40 years in prison — most of them in solitary confinement due to his violent nature. Over that period, Peterson adopted an unhinged persona he dubbed Charles Bronson, and made a name for himself as "Britain's most notorious prisoner."
As you might expect, there's a lot more to the story than that, and Bronson presents every moment of the tale with a giddily over the top blend of the fantastical and realistic. In turn, Bronson becomes an electrifyingly original glimpse inside the warped mind of a deeply disturbed, yet endlessly charismatic man with all the stylistic flourishes one would expect from Nicolas Winding Refn. It also happens to feature a Tom Hardy performance for the ages. To put it plainly, if you haven't seen Bronson, then you haven't seen Hardy at his elegantly uninhibited best, and it's high time you experienced this gloriously bizarre film for yourself.   
Locke (2013)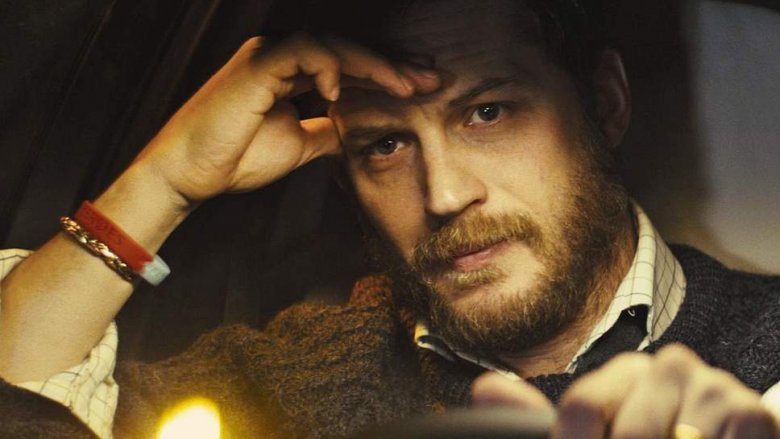 It takes a particular sort of actor to hold your attention for the entirety of a feature film, particularly if they're the only actor in it. As such, it's become a badge of honor among actors to star in a "one man show" of a movie. Tom Hanks did it with Cast Away. Ryan Reynolds did it for Buried, as did Sam Rockwell with Moon, Blake Lively with The Shallows, and Robert Redford in All Is Lost. Those are some heavy hitters to be sure, and yet Tom Hardy holds his own on the list with his accomplishments in Locke.
Written and directed by Steven Night (Dirty Pretty Things, Eastern Promises), Locke unfolds over a single night, and almost entirely within the confines of an SUV. It follows the intensely emotional journey of Ivan Locke as he drives from London to Birmingham for the birth of his child — a trip that leaves him in foul favor with the contractors who hired him to oversee a major construction project, not to mention his adoring family, themselves unaware of the extramarital transgression that's heralded the journey. Yes, there's a lot going on in Locke's tightly woven narrative. Hardy's tortured, sickly face commands the screen for every second of its taut 85-minute runtime, betraying untold depths of longing, regret, and turmoil through every agonizing moment. Odds are you've never seen Locke, which is a shame; words simply can't do justice to Tom Hardy's work in this movie, and you've really just got to witness it to understand.
Dot The I (2003)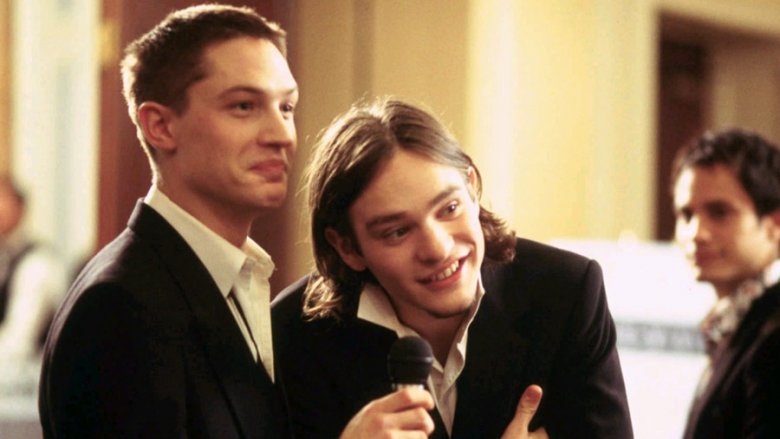 It may not be 100% accurate to qualify Dot the I solely as a "Tom Hardy movie." The film is more obviously a vehicle for a couple of other actors who were also up-and-coming actors at the time — Gael García Bernal and James D'Arcy, specifically — and it even features a winning turn from future Daredevil Charlie Cox to boot. Still, like many actors, Hardy's early career is spotted with strong supporting performances in memorable projects, and even though you've probably never seen it, this 2003 indie is one of the first films where people started taking notice of his talents.
If you've never heard of Dot the I, don't worry, because you're not alone. The little-seen film follows a temperamental Spanish woman whose impending marriage to a strait-laced man (D'Arcy) is tested when she meets an alluring stranger (Bernal) during her bachelorette party. From there, Dot the I unfurls in a tangled web of lies, lust, and intrigue that never leads quite where you think it will. Start to finish, Dot the I finds Bernal all but stealing the show as the charming, sexy stranger, with a fresh-faced Hardy making the most of the moment as one of his best mates. While Dot the I's overly twisty narrative doesn't always work, it's nonetheless a clever, mostly satisfying romantic thriller that happens to offer a look at some of the bigger names in Hollywood long before they broke through.
Warrior (2007)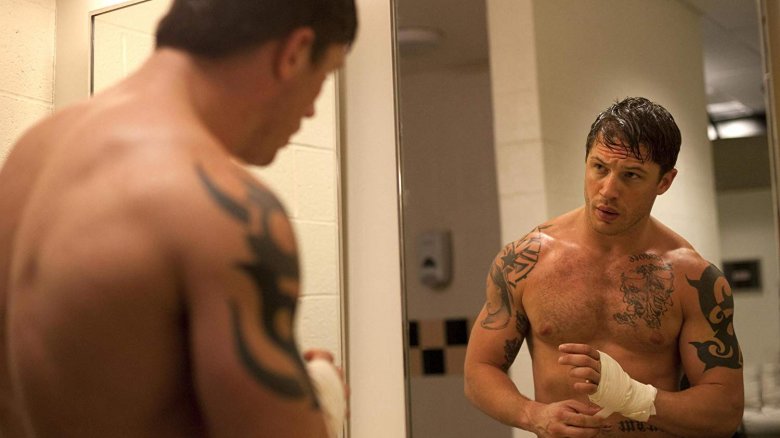 Prior to appearing in Christopher Nolan's mind-bending thriller Inception, Tom Hardy had yet to find much success Stateside. After a scene-stealing turn as Eames the forger, Hardy found himself an actor in demand, and he took the opportunity to eschew blockbuster roles, booking smaller, character based projects instead — like the drama Sergeant Slaughter, My Big Brother, which he followed by joining an all-star U.K. ensemble in Tinker Tailor Soldier Spy. Still, it was Hardy's turn as an enigmatic young MMA fighter in Gavin O'Connor's Warrior that proved him a leading man with undeniable dramatic punch.
The film follows the travails of the Conlon clan — brothers Brendan (Joel Edgerton) and Tommy (Hardy) and their alcoholic father Paddy (an Oscar-nominated Nick Nolte) — as they fight the demons of their past and try to mend the deep-rooted traumas their family suffered along the way.
By fight, we mean actually fight. The film finds the estranged brothers entered into the same MMA tournament, and pits them on a collision course for a fateful/brutal showdown in the ring. While Warrior makes bold use of bone-breaking action, it's the action outside that drives it, with O'Connor mining each tangled narrative for maximum dramatic effect. It's Edgerton that ultimately sees the bulk of the screen time, but the film hinges entirely on Tom Hardy's galvanizing turn as Tommy. He more than carries the weight, delivering a powder keg of a performance crafted of equal parts brute physicality and simmering emotional intensity — and although you've likely never seen it, Warrior remains one of his finest moments onscreen.  
Marie Antoinette (2006)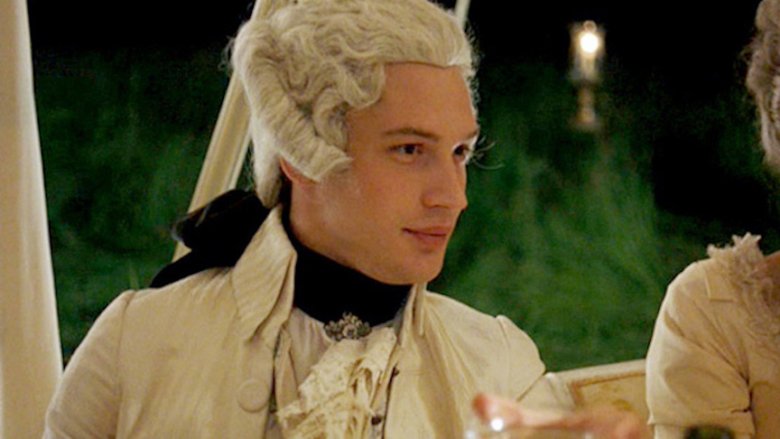 Fueled by a soundtrack culled as much from the annals of post-punk/new wave pop as period-specific chamber music, and possessed of an oblique, pastoral reverie, Sofia Coppola's marvelous Marie Antoinette stands as one of the most original yet critically divisive biopics ever produced. As is often the case with such uniquely realized confections, Coppola's film didn't exactly connect with audiences. In fact, it was a legitimate bomb in the U.S., and barely managed to turn a profit once worldwide box office numbers were tallied. Still, Marie Antoinette remains a staggering achievement in stylistic indulgence, and stands as one of the more misunderstood films of the 2000s.
For the U.S. viewers who indulged in the film's ethereal delights, Marie Antoinette was likely their first exposure to Tom Hardy as well. Though Hardy appears for just a few protracted moments in the film, he still manages to stand out as a palace reveler named Raumont. Antoinette also provides you an opportunity to catch Hardy in full period regalia, complete with a fancy powdered wig. He cuts quite an impressive figure, and his appearance in the film — alongside other up-and-comers like Jamie Dornan, Rose Byrne, and Steve Coogan — should be enough reason to add this to your "must see" list. If you need another, know that Rip Torn's impish turn as Louis XV is one of the great scene-stealing performances in modern movie history, and it's not to be missed.    
Scenes of a Sexual Nature (2006)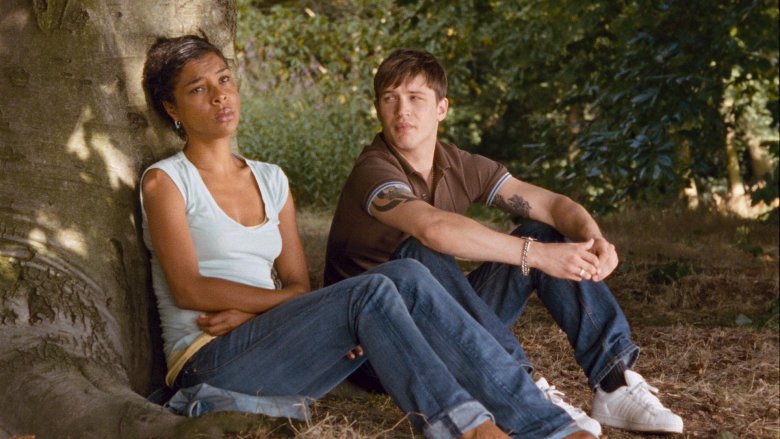 Though Tom Hardy has more than held his own in starring roles over the years, he's often at his best when working within an ensemble — as proven in Tinker Tailor Soldier Spy, Inception, and Dunkirk. That list includes many of his early films, which you likely never got a chance to see as they simply didn't get much attention outside the U.K. Case in point: Ed Blum's charming low-budget romantic dramedy Scenes of a Sexual Nature.
Set over a hazy summer afternoon in Hampstead Heath park in London, the film dots in and out of brief moments in the lives of seven couples at various stages of romantic entanglement. Frank discussions range throughout this talky film, touching on topics like fidelity, chance encounters, casual sex, homosexual adoption, and a dozen or so other subjects.  
While Scenes of a Sexual Nature does its best to give each topic the credence it deserves, the film doesn't always succeed. In turn, it suffers a bit from an incessant need to sound "edgy" — which will almost certainly leave it feeling dated in today's climate. Either way, it's still a skillfully crafted, cleverly realized look at life and love in the vein of Love Actually that sports a brilliant ensemble effort featuring Ewan McGregor, Andrew Lincoln, Sophie Okonedo, Mark Strong, and a baby-faced Tom Hardy, whose oddball character Noel serves as the connecting tissue for the film's seemingly disparate stories.
Lawless (2012)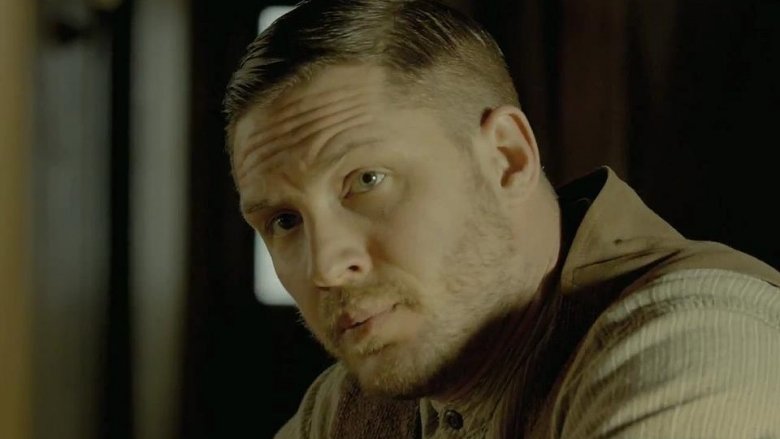 Whether or not you've seen John Hillcoat's pseudo-western moonshiner drama Lawless, you've likely read about what was going on behind the scenes of the film's production. More specifically, you probably read about Shia LaBeouf's (possibly) drunken method acting antics, and a certain off-camera dustup with his costar Tom Hardy. While most PR gurus would tell you there's no such thing as bad press, it seems those stories may have put folks off of the film before it ever hit theaters. A string of middle of the road reviews certainly didn't help, and Lawless sadly debuted to equally middling box office returns.
To be fair, those box office numbers weren't all that terrible, but they were certainly disappointing given the level of talent that brought Lawless to the screen. The film was written by legendary rocker Nick Cave, who'd also penned Hillcoat's near flawless 2005 Western The Proposition. Lawless also sports the formidable acting talents of Jessica Chastain, Mia Wasikowska, Jason Clarke, Guy Pearce, Gary Oldman, and Dane DeHaan.  
Unbeknownst to far too many cinema lovers even today, that talented group of people managed to overcome all the behind-the-scenes turmoil to deliver a thrilling, stylish crime drama. At the heart of that drama is another powerful turn from Tom Hardy, whose fiercely internalized performance only elevates the work of his costars — LaBeouf included. That approach helps keep Lawless' occasionally rangy narrative focused on the characters, and the film's dusty, daring narrative of Depression-era outlaws battling big city gangsters and government corruption is all the more satisfying for it.
Layer Cake (2005)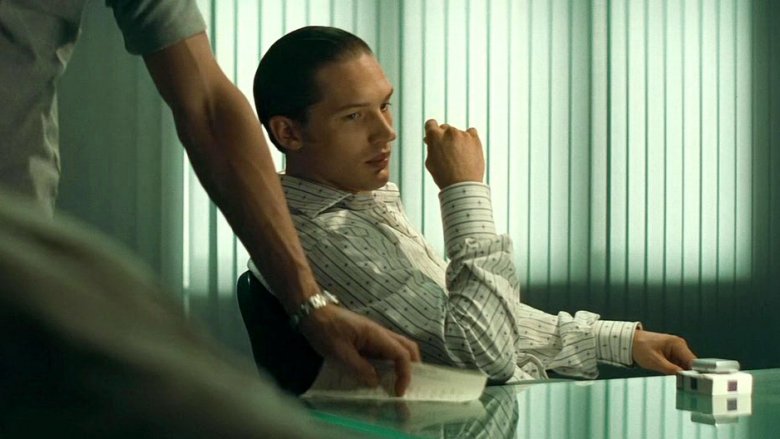 Released in the summer of 2005, Layer Cake was supposed to be the film that put Guy Ritchie (fresh off a pair of flops in Swept Away and Revolver) back at the forefront of the gritty, hyper-stylized, British crime thriller genre. Layer Cake's dodgy tale of a charming drug dealer (played with smarmy glee by a pre-007 Daniel Craig) encountering all manner of sketchy gangster types as he desperately tries to get out of the game seemed tailor made to do just that. The film's supporting cast, rounded out by Tom Hardy, Sienna Miller, Sally Hawkins, Colm Meaney, Ben Wishaw, and Michael Gambon, just seemed like icing on Ritchie's comeback cake.
Only that comeback got put on hold when Ritchie unexpectedly dropped out of the film, leaving his longtime producing partner Matthew Vaughn in charge of bringing Layer Cake to the big screen. Little did we know, but Vaughn (who'd never directed before) was about to step up and prove himself Ritchie's equal in style, wit, and vision. His Layer Cake opens with a crackling, alarmingly prophetic montage/voiceover about the past, present, and future of the drug trade, then takes viewers on a thrillingly tongue-in-cheek ride through the not-so-dark corners of the underworld that continue to prop it up. Hardy appears in that world as Clarkie, the no-nonsense chief chemist behind Craig's mini-empire. He delivers another brief but impactful performance among Vaughn's brilliant ensemble, and helps make Layer Cake one of the better crime films of the early 2000s.   
RocknRolla (2008)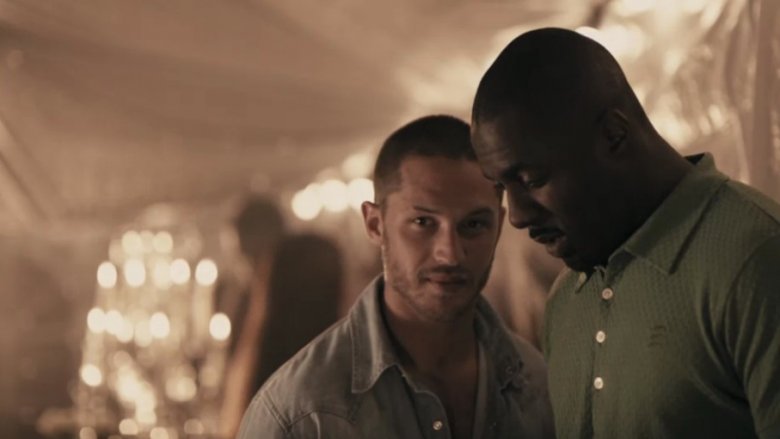 Don't worry about Guy Ritchie — he reclaimed his spot as king of the gritty British crime flick a couple of years later with the cheeky, action-packed gangster outing RocknRolla, and he did it with Tom Hardy in tow. Billed as "a story of sex, thugs, and rock 'n roll," the movie tells the tale of a London mob boss whose dodgy real estate dealings leave a few million pounds up for grabs on the underground market, and the mad dash of the criminal underworld to lay claim to the booty. That's as much as we'll say about the film's head-spinning plot because, well, plot really isn't the point in RocknRolla. To be blunt, RocknRolla is hardly a great movie. The fun of it is that it's not really trying to be.
Rather, Ritchie shamelessly indulges every fit of fancy he can conjure for this madcap tale of criminals running amok, and delivers a recklessly energetic, brutally violent, and occasionally hilarious crime caper on par with his own classics Lock, Stock, & Two Smoking Barrels and Snatch along the way. Like those films, RocknRolla relies heavily on the contributions of its cast to round out the edges of its giddily unsavory characters. With the stars like Idris Elba, Jeremy Piven, Thandie Newton, Tom Wilkinson, Gerard Butler, and Hardy (who has charisma to burn as the smooth-talking Handsome Bob) on board, you can be assured those characters — and the film itself — are fully formed and ready for action. But are you ready for RocknRolla?