The Day When The Fast & Furious Team Knew A Hobbs And Shaw Spin-Off Had To Happen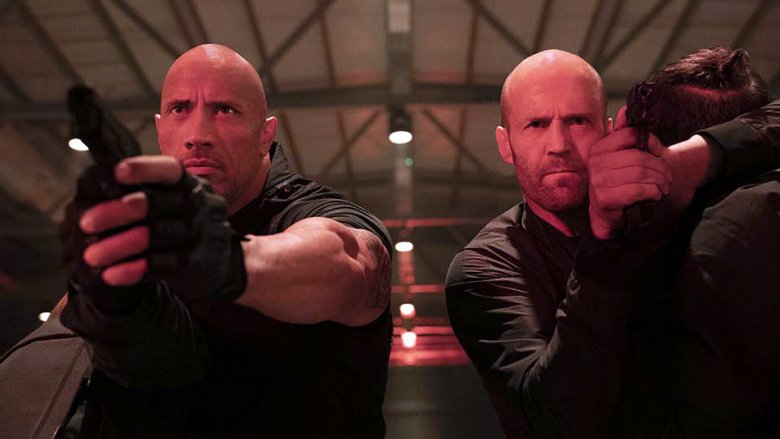 Writers, directors, actors — creatives of any kind, really — all hear tales about magical moments that spark inspiration and change the trajectory of their careers forever. The Fast & Furious team experienced one such moment while shooting the eighth entry into the high-octane franchise, The Fate of the Furious. One fateful day on set, the crew knew that they absolutely had to make a spin-off film featuring frenemies Luke Hobbs and Deckard Shaw. 
Longtime Fast & Furious film series scribe Chris Morgan, who also wrote the script for the soon-to-launch spin-off Hobbs & Shaw, detailed to Entertainment Weekly in a deep-dive interview the moment that he and his colleagues officially decided to get the ball rolling on a movie starring Dwayne "The Rock" Johnson and Jason Statham's franchise characters. 
Morgan explained that there has "always been an agenda to expand the Fast universe," and conversations about building the franchise with spin-offs really kicked up after the 2011 release of the fifth film, Fast Five. That chatter only happened in the background, with Morgan admitting that it took years to settle on the right story to tell in a spin-off, but everything changed during the filming of The Fate of the Furious. There was a day where Morgan and director F. Gary Gray let Johnson and Statham, who respectively play Hobbs and Shaw, go all-in during the prison sequence where their characters trash talk each other. What resulted was like nothing Morgan had ever seen before, and it convinced everyone that Hobbs and Shaw were the perfect pair to have their own spin-off movie. 
"Leaving that set, my cheeks were hurting because I had been laughing so hard all day. And from that moment, everybody said, 'If we're going to do [a spin-off], those are the two guys," said Morgan. "They're fun and kind of perfect for what a spin-off should be."
It was only a matter of weeks after The Fate of the Furious debuted in theaters in April 2017 that Universal Pictures announced a spin-off starring Johnson's federal agent and Statham's ex-British Special Forces assassin. In October 2017, the studio dated the film for a summer 2019 release, tapped Morgan to pen the script (naturally), and was eyeing Predator reboot director Shane Black to get behind the helm. A couple of months later, Deadpool 2 filmmaker David Leitch was confirmed to direct the flick. Then, before we knew it, Leitch got Hobbs & Shaw in front of cameras, filming wrapped, trailers dropped, and the promotional cycle began. 
Now, critics have let be heard their thoughts on Hobbs & Shaw prior to the pic's August 2 launch. Turns out, most reviewers feel the same way Morgan did during that remarkable day on set: Johnson and Statham are a duo like no other. Sure, Hobbs & Shaw is over-the-top and a little ridiculous, but what Fast & Furious movie isn't? A common takeaway amongst pre-release reviews is that anyone who loves the tit-for-tat rapport between Hobbs and Shaw should race to the theater to see the spin-off. Like Elements of Madness' Douglas Davidson said, "Cinematic powerhouses Dwayne Johnson and Jason Statham return as Lucas Hobbs & Deckard Shaw, two characters whose depth of disgust for each other belies a strange respect, and the fate of the world has never been so certain, so bombast, or so ridiculous."
Hobbs & Shaw hits theaters on August 2.