What The Critics Are Saying About Hobbs & Shaw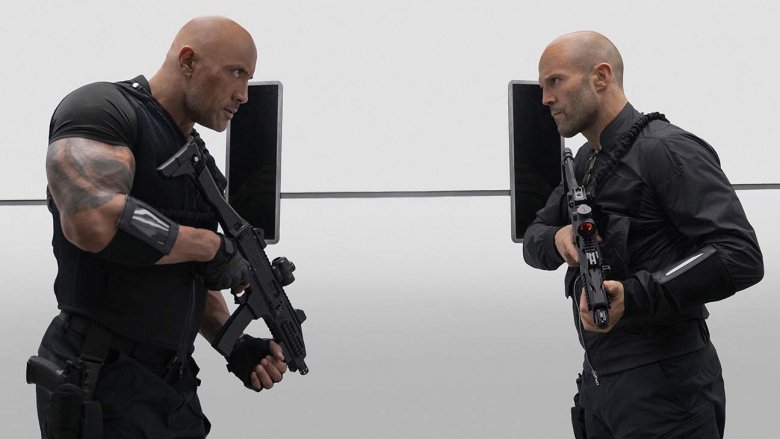 Universal Pictures
Get ready for a fast and furious dose of summer action.
Critical notices are pouring in for Fast & Furious Presents: Hobbs & Shaw, and it's generally agreed that the flick delivers what it promises: plenty of high-octane, over the top set pieces, held together with a glue of witty banter and awesome chemistry between its leads. It currently stands at 77% on Rotten Tomatoes.
Hobbs & Shaw sees the titular duo (who have never been each others' biggest fans, to put it mildly) teaming up to address a serious threat: Brixton Lore (Idris Elba), a superpowered terrorist and self-proclaimed "black Superman" intent on unleashing a potent virus on the world. Back in January, star Dwayne Johnson promised that the film would be "the biggest showdown the Fast & Furious universe has ever seen," and it certainly has the right pedigree. It was penned by Chris Morgan, the scribe behind The Fast and the Furious: Tokyo Drift, Fast & Furious, Fast Five, Fast & Furious 6, Furious 7, and The Fate of the Furious; suffice to say that the man known what this franchise's audience wants. In the director's chair for Hobbs & Shaw is David Leitch, who delivered a similarly off-kilter blast of craziness with last year's Deadpool 2. 
According to the critics, Leitch and company have come through with an exciting, entertaining popcorn flick that takes full advantage of the stellar onscreen chemistry between Johnson and co-star Jason Statham. Praise was also reserved for the performances of Elba and Vanessa Kirby, while the film's detractors tended to focus on the outlandishness of its action sequences, a criticism which will do exactly nothing to dissuade Hobbs & Shaw's target audience.
Entertainment Weekly's Leah Greenblatt certainly understood that the ultra-bonkers quality of the flick's action was the point. "[Hobbs & Shaw is] a testosterone motherlode so relentlessly, ridiculously adrenalized, it doesn't so much unfold as steadily defibrillate you," she wrote. "Helicopters are lassoed like runaway Holsteins and dragged down from the sky; Kevlar vests outlast both a nuclear warhead and a double-decker bus. Bodies crumple; metal clangs; and anything that doesn't get punched or shot or stabbed on sight just stands by patiently, waiting to explode. When it's not all completely brain-numbing, it's actually pretty fun."
Brian Tallerico of RogerEbert.com was another observer happy to let the movie's relentlessly kinetic vibe wash over him. "What are audiences really here for?" he asked. "They want some banter between stars Jason Statham and Dwayne Johnson? Check. They want them to beat each other up a few times? Check. A physics-defying car chase or two would be nice? Check and check... The truth is that the Summer of 2019 has been ridiculously thin when it comes to mindless fun. And there's something to be said for merely bouncing four movie stars as charismatic as [Johnson, Statham, Elba, and Kirby] off each other for just over two hours."
Cleveland Plain Dealer's Chuck Yarborough called the film "one of the most entertaining action movies you'll see this year," in a review that made clear where his fandom lies. "What makes this film work is the humor that pours from Johnson — and what he's able to elicit from his fellow actors," he wrote. "Particularly good are the insults in what we used to call the 'slip fights' between him and Statham. Drawing on the trash-talking expertise he honed as... 'The Rock,' Johnson [is] responsible for many of the third-degree burns in the script and 90 percent of the laughs."
Of course, there were a goodly number of critics who came away from the movie less than impressed, and many of them leaned hard into snark in their reviews. "After just half an hour, I was tempted to spread foam across the screen and scrape off the stubble that was already breaking through," wrote Donald Clarke of the Irish Times. "The awful banter is something else. Neither man has, to be fair, much to work with... Statham delivers his lines in discrete chunks, none of which varies in emphasis from that before or after."
Jake Wilson of The Age similarly heaped scorn on Morgan's screenplay and its plethora of quips and jabs. "The action regularly grinds to a halt so [Hobbs and Shaw] can trade elaborate putdowns, which give every sign of having been crafted by writers whose practical experience of brawling has occurred mostly on Twitter," he wrote, before setting his sights on Statham, whom he called "a cook who knows just one dish."
For the most part, though, those critics willing to take the movie on its own terms were pleased with what they saw. Candice Frederick of The Wrap summed it up best: "Hobbs & Shaw is definitely about as ridiculous as a movie can be, for better or worse," she opined. "[It's] very cognizant of what it is, which is also in line with what Fast & Furious has always been: an opportunity for alpha men (and women) to exchange insults then eventually hug it out for the sake of some good old-fashioned whoop-ass."
We must say, we're pretty big fans of good old-fashioned whoop-ass, and nobody opens up cans of that quite like Johnson and Statham. Fast & Furious Presents: Hobbs & Shaw opens on August 2, and we'll be there with bells on and popcorn in hand.