More Fast & Furious Spin-Off Movies Could Happen, Teases Hobbs & Shaw Writer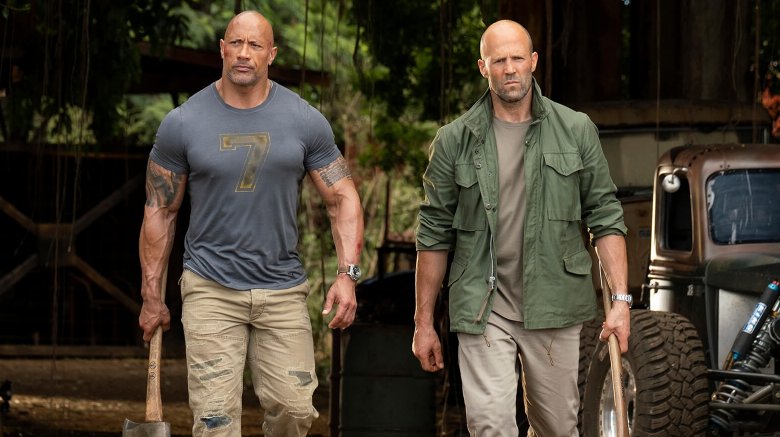 Luke Hobbs and Deckard Shaw may not be the only members of the Fast & Furious crew to get their own feature.
In a recent conversation with Entertainment Weekly, Hobbs & Shaw screenwriter Chris Morgan revealed that he's hoping for more spin-offs from the main franchise in the future — and he even has an idea or two as to who should be next on deck.
The scribe related that the pairing of Hobbs and Shaw for the first departure from the main series (The Fast and the Furious: Tokyo Drift notwithstanding) was a virtual no-brainer, given the amazing comedic chemistry between Dwayne Johnson and Jason Statham. While a spin-off flick had existed in the "hey, we should do this someday" realm for years, it became clear to Morgan what course of action to take one day while on the set of 2017's The Fate of the Furious, the eighth installment in the franchise. Watching the two play off one another, Morgan and everyone else on set knew a Hobbs & Shaw spin-off had to happen. 
The scribe continued to explain how Hobbs and Shaw's different backgrounds, but similar approaches to their tasks, resulted in a delightful friction which heightened both the action and comedy elements of Hobbs & Shaw. 
"They're fun and kind of perfect for what a spin-off should be," he said. "We have a very large ensemble crew for the main-line Fast films, and it doesn't give you enough time to dig in to the backstories of some characters. So highlighting two characters, we're able to get into where they come from, what are the things that haunt them in their past. They're both alpha kind of hero characters, they want to do things their own way, they don't like each other."
Morgan also acknowledged the fun that he's had ramping up the stakes for every successive film in the Fast & Furious franchise; in Hobbs & Shaw, the titular duo face off against the genetically engineered, superpowered terrorist Brixton Lore (Idris Elba), who is intent on unleashing a killer virus upon the world. By contrast, the job around which 2001's inaugural film The Fast and the Furious was centered was a bit more down-to-earth: the theft of a truck full of DVD players and stereos.
"We always take a bit of a genre trip in the Fast films, and for us, with Idris, he's an imposing guy who is able to take very heightened situations and ground them in a real way, which let us push it a little bit farther than we normally could," Morgan explained. "The decision to make him a genetically engineered super-soldier was a step a little bit into sci-fi, and a little bit into the superhero genre, since he's going to have to step in and beat down two of the biggest heroes in film history."
While the ninth and tenth entries in the main series are already in the works, Morgan definitely sees more spin-offs coming down the pipeline, as he envisions the Fast & Furious universe as a "giant spiderweb" with each strand connected to the main franchise as well as to each other. "The thing I love about the spin-offs is that it lets you delve deeper into these characters," he said. "I would love to see more of that with some of our other core characters as well. I think they have incredible backstories and journeys and gauntlets that I would love to run them through. We just have to wait and see how everyone responds. We've had an idea for a [spin-off centered on Ludacris' Tej Parker and Tyrese Gibson's Roman Pearce] for a lot of years. It's a really fun idea, so we'll see what happens down the road."
So far, everyone has been responding pretty darn enthusiastically. Critics have generally had praise for Hobbs & Shaw, citing the complementary performances of its stars and well-executed action sequences courtesy of director David Leitch (Deadpool 2). Industry analysts expect the flick to clean house with a domestic opening weekend in the neighborhood of $60 million dollars, and a global bow that could approach the $200 million dollar mark. That would put it on par with 's Fast Five, the fourth-highest grossing film in the franchise, which debuted to a $209 million dollar global take en route to a $626 million dollar total.
If Hobbs & Shaw is even in that ballpark, we can expect a lot more spin-offs to come our way in the near future. Shall we all start looking forward to Fast & Furious Presents: Parker & Pearce? That has quite a ring to it.
Hobbs & Shaw opens tomorrow, August 2.