James Wan's Next Film Is A Secret Horror Project At New Line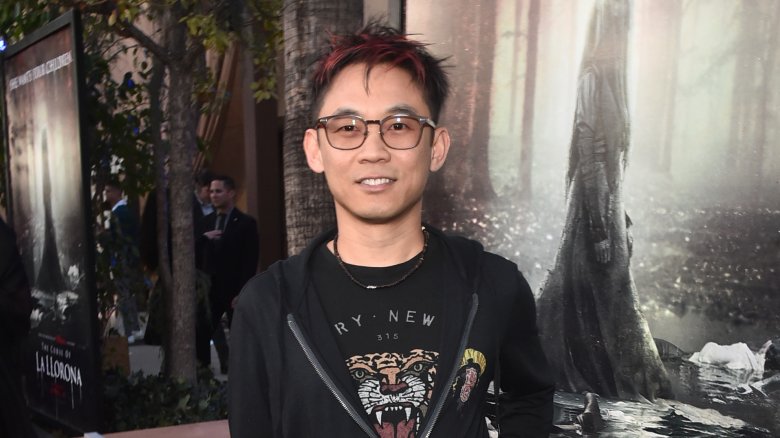 Alberto E. Rodriguez/Getty Images
Get ready for another round of jump-scary good times. James Wan is prepping to unleash another big-screen tale of terror on genre lovers everywhere.
Per Variety, the director of Aquaman and The Conjuring will indeed get back to his horror roots for his next project. Though few details have been released about the secretive new film so far, we can tell you that Wan will shoot the as-yet-untitled flick before heading back to Atlantis for that highly-anticipated Aquaman sequel. We can also tell you that Wan will re-team with New Line Cinema — a.k.a. the studio behind The Conjuring films — to release the upcoming project, though there's no word yet on whether the new movie will have any ties to the ever-expanding Conjuring universe.
According to the same report, Wan will co-write the new film with his partner and The Nun co-star Ingrid Bisu. Though it's unclear whether or not Bisu (primarily know as an actor) will also appear in the forthcoming movie, we do know the turnaround time on the screenplay for this secret horror flick will need to be quick. Wan plans to shoot the film sometime this fall, then head straight into pre-production on the already announced Aquaman sequel.  
This should come as good news for Aquaman fans, as it means this top-secret (and presumably smaller-scaled) project will not interfere with Wan's plans to direct the highly-anticipated sequel to his billion-dollar franchise baby, currently slated for a December 2022 release.  
Wan's return to genre fare should be welcome news to horror fans as well. Though the director has branched out into the realm of big-budget, action-forward flicks of late with the likes of Furious 7 and Aquaman, he's shown a preternatural knack for scaring the hell out of moviegoers since breaking onto the scene with his subversive 2004 horror classic Saw. Wan followed that breakthrough with a couple of overlooked, B-movie-tinged genre gems in Dead Silence and Death Sentence before finding a wider audience with the unsettling supernatural stunner Insidious. 
Of course, Wan officially reached the mainstream when he unleashed onto the masses the "based-on-true-events" chiller The Conjuring. While that film spawned a most unlikely (and surprisingly successful) franchise, it also helped Wan cement an equally fruitful working relationship with the folks at New Line, who have continued to support the perpetually busy director-slash-writer-slash-producer's projects in the years since — which have included the Michael Chaves-directed The Conjuring 3, the upcoming sequel to The Nun, another Conjuring spin-off entitled The Crooked Man, and the recently announced Mortal Kombat reboot.  
Even if Wan is acting solely as a producer on those films, that stacked slate would be more than enough to keep any filmmaker on their toes, and we're more than happy he's carved out a little time between blockbusters to direct something wholly his own. As for what Wan has in mind for this secret new project, well, we're not using the term "secret" lightly. Outside of the generalities we touched on above, almost nothing is known about the just-announced movie. For now, we'll have to wait and see if Wan has been holding a new creeper of a Conjuring tale in his back pocket, or if he and Bisu have some wild new nightmare-inducing story to regale us with. Stay tuned for details.