Black Panther: Wakanda Forever - What We Know So Far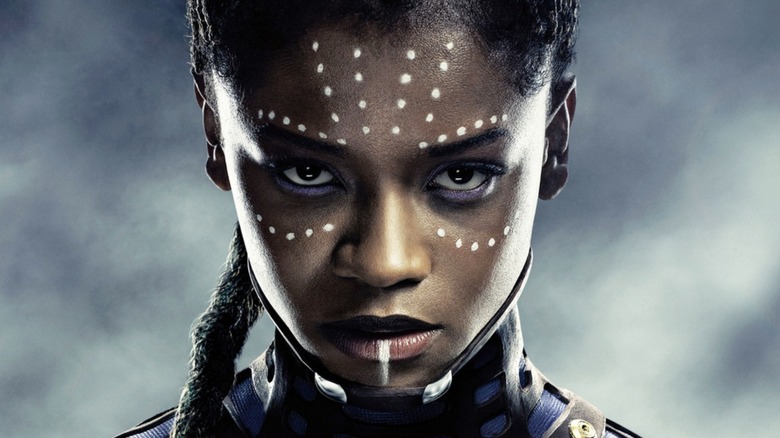 Kevin Mazur/Getty Images
It's time to return to Wakanda in "Black Panther: Wakanda Forever," with Ryan Coogler back in the director's chair for the highly anticipated sequel. Considering the first film raked in $1.347 billion (via Box Office Mojo), it's fair to say that the follow-up will probably get a lot of attention from audiences worldwide. Obviously, "Wakanda Forever" will be a bittersweet experience due to the tragic death of Chadwick Boseman, who died of cancer four years after being diagnosed with the disease.
His death is a huge loss for audiences around the world, largely because he always delivered powerful performances in every role. Marvel fans were understandably devastated by Boseman's passing, as he was an integral part of the Marvel Cinematic Universe as T'Challa/Black Panther. But this poses a tough question: Who should be the next person to step into the Black Panther costume? There's been plenty of debate about the various candidates like Shuri (Letitia Wright), Nakia (Lupita Nyong'o), M'Baku (Winston Duke), and Okoye (Danai Gurira).
But the Wakandans will need to make a choice sooner rather than later because a surprising new threat surfaces from the depths of the ocean. Luckily, we know quite a lot about "Black Panther: Wakanda Forever" thanks to the official first trailer, plus plenty of interviews from the cast and crew. Here's everything you need to know about the upcoming sequel.
Updated 9/20/2022: This article has been updated to reflect new information about the production of "Black Panther: Wakanda Forever" and Phase 4 of the MCU.
What is the release date of Black Panther: Wakanda Forever?
Obviously, Marvel Studios had to drastically change its plans for "Black Panther: Wakanda Forever" following Chadwick Boseman's death, and it pushed its original May 6, 2022, release date to July 8, 2022. Angela Bassett — Queen Ramonda herself — told Entertainment Tonight that there had been five drafts of the script after his passing. She explained, "I don't know what it's going to look like at all. There have been about five incarnations of the script and I hear another one's coming. Of course, with our dear king [Boseman] going on to glory, a lot of things had to be shifted and changed."
"So, thankfully, Ryan [Coogler] and [writer] Joe Robert Cole, they're just such masterful storytellers that they've found a way into this world and hopefully it will be satisfying, I think, for the fans and it will be honorable of our Chad," Bassett added. "We love our king." This all meant that production had to be pushed back until the summer of 2021, and it lasted until March 2022. The film was pushed again to November 11, 2022, amongst a number of other Marvel movies, with Variety reporting that these delays were due to production issues. Thankfully, the film is still on track to arrive in theaters later this year.
Letitia Wright is back as Shuri
One of the biggest questions fans have about "Wakanda Forever" revolves around the identity of the next Black Panther. After all, T'Challa leaves some very big shoes to fill as the nation's leader and a key member of the Avengers. The easiest option is obviously Shuri since she gets her own Black Panther costume in the comics, and British star Letitia Wright is reprising her role as the king's sister in the sequel. There's been some controversy surrounding Wright over the course of the pandemic, as she previously retweeted some supposedly anti-vaccination opinions, which was understandably met with heavy backlash from fans.
The Hollywood Reporter would later claim that the actress was making her anti-vax stance known while working on the "Black Panther" sequel in Atlanta. Wright later refuted these reports on Instagram, saying, "I honestly assert that this was completely untrue." So it'll be interesting to see whether she does get her own suit, although a new Lego set seemingly suggests that she'll follow in her brother's footsteps.
Wright previously told Black Girl Nerds that Shuri throws herself into her work as a way of processing her grief for T'Challa, so expect to see plenty of new technology. She explained, "So there's so much new technology to look forward to, and I think that's where her sweet spot is at the moment. Like, 'How do I process this?' And she just throws all of her energy, even more so, into technology. So, there's a lot of cool new things to look out for."
Tenoch Huerta makes his Marvel debut as Namor the Submariner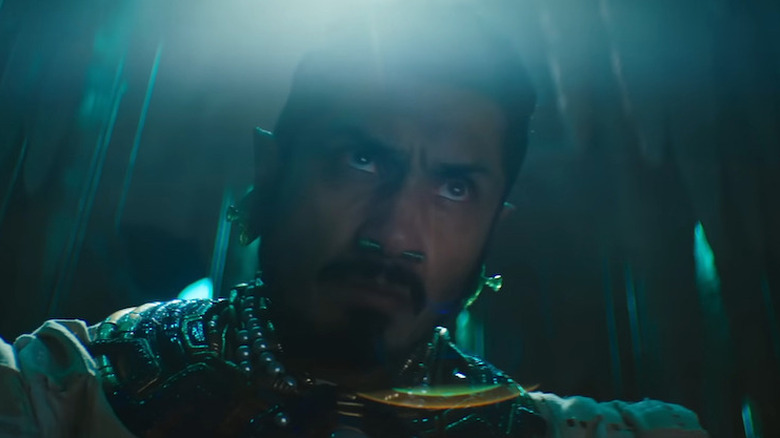 Marvel Studios/YouTube
Rumors swirled online that Mexican star Tenoch Huerta would be joining the film as Namor the Submariner, but this wasn't confirmed until San Diego Comic-Con 2022 when Kevin Feige brought the star onstage during Marvel Studios' Hall H presentation. Huerta was pretty enthusiastic about joining the MCU, telling the audience, "I'm so happy to be here. It's an honor. I want to say something really fast about inclusion: Thanks to inclusion I am here. I wouldn't be here without inclusion. And a lot of kids are there looking at us grinning at us because we're here. Btw Namor is amazing!"`(via IGN).
A listing for Hasbro's Namor figure also revealed a surprising fact about his home, because while he's from Atlantis in the comics, Marvel Studios has renamed the underwater kingdom to Talocan. This was later confirmed in a press release about the "Black Panther: Wakanda Forever" prologue album from Ludwig Goranson. It's largely because Marvel has worked in Mayan/Aztec culture into Namor's people — and this can be seen in his design, which is complete with winged ankles and green trunks from the comics.
Huerta's hero is joined by the likes of his cousin, Namora (Mabel Cadena), and fierce warrior Attuma (Alex Livinelli), who are both part of his supporting cast in the comics. So it sounds like the Wakandans are going to need all the help they can get.
Dominique Thorne will debut as Ironheart
The MCU is quickly racking up a number of younger heroes across Kevin Feige's grand superhero tapestry, and there's another one on her way: Riri Williams, played by Dominique Thorne. Williams is a genius inventor and a relatively new character in the comics, first arriving in "Invincible Iron Man Vol. 3" #7. She builds her own version of the Iron Man armor, and eventually suits up as her own hero, Ironheart. Feige revealed that Williams/Ironheart is getting her own TV show at the 2020 Disney Investory Day presentation, which was incredibly exciting news in itself.
But it wasn't until August 2021 that Feige revealed to ComicBook.com that Thorne will also have a supporting role in "Wakanda Forever," saying, "We're shooting Black Panther: Wakanda Forever, right now, and the character of Riri Williams, you will meet in Black Panther 2 first. She started shooting, I think, this week before her Ironheart series." For the moment it's not clear how Williams gets involved with the Wakandans, mainly because her comics origin starts when she's at college at the Massachusetts Institute of Technology.
Winston Duke is returning as M'Baku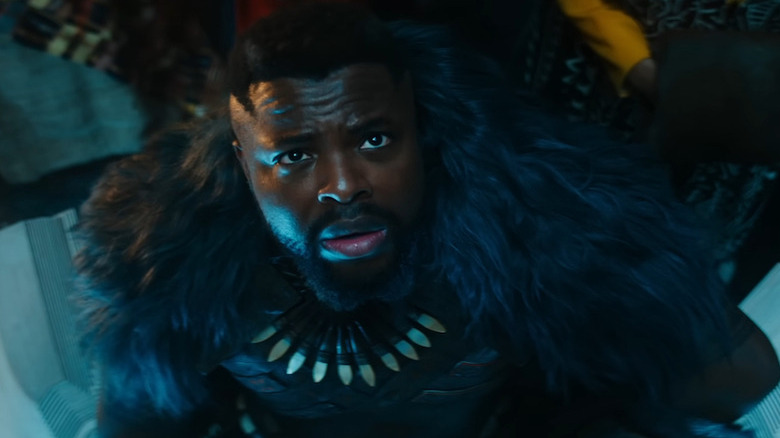 Marvel Studios/YouTube
One of the most memorable supporting characters in Wakanda is the formidable M'Baku (Winston Duke), the leader of the Jabari tribe. They're the most traditional clan in the isolated nation because they've turned away from the country's reliance on vibranium and advanced technology. Instead, M'Baku and his tribe live high up in the mountains — only descending to meet other groups for occasions like T'Challa's ascension to King, where the leader challenged him for the title of Black Panther. Obviously, he winds up becoming one of T'Challa's allies after Killmonger (Michael B. Jordan) usurps the hero, even saving him from certain death after he was thrown from the top of a cliff.
It seems like M'Baku has brought the Jabari into the 21st century, as Duke previously told Screen Rant, "I think the events of 'Infinity War' and 'Endgame' really showed that the Jabari are now full-fledged members of Wakanda. M'Baku was a part of every single conflict; every event, and I don't think they could really exist in isolation anymore. They have open borders, and we saw that M'Baku was really Wakandan. His entire community has expanded."
It sounds like he'll be at the forefront of a lot of action this time around, as The Hollywood Reporter previously revealed that Duke has negotiated a bigger salary for an expanded role in the sequel.
But Daniel Kaluuya isn't coming back as W'Kabi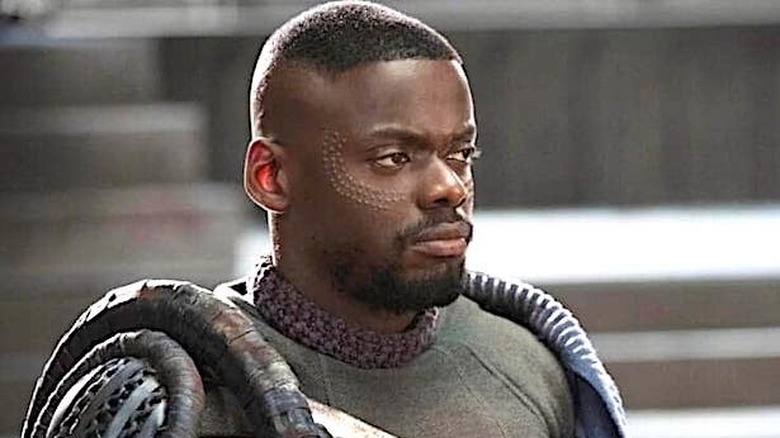 Marvel Studios/Disney+
2018's "Black Panther" is stacked with a truly talented cast, including British star Daniel Kaluuya, who was previously nominated for Best Actor at the Oscars for his role in Jordan Peele's "Get Out," before winning Best Supporting Actor for "Judas and the Black Messiah." He appears in "Black Panther" as T'Challa's confidant and best friend, W'Kabi, a member of the Border tribe whose father was killed by Ulysses Klaue (Andy Serkis) years before the events of the film. This is part of the reason that he sides with Killmonger when he delivers Klaue's body as a way of getting into Wakanda.
Although W'Kabi's new alliance forced him against his friends and family, he manages to stay alive by the end of the film. However, W'Kabi won't show up in "Wakanda Forever" because Kaluuya was already set to work on Peele's science-fiction horror flick, "Nope," and the schedules for both films clashed at the time (via Rotten Tomatoes' Jacqueline Coley). It's not surprising that Kaluuya opted to stay onboard for "Nope," since he did some of his best work with Peele in "Get Out."
Who else is starring in Black Panther: Wakanda Forever?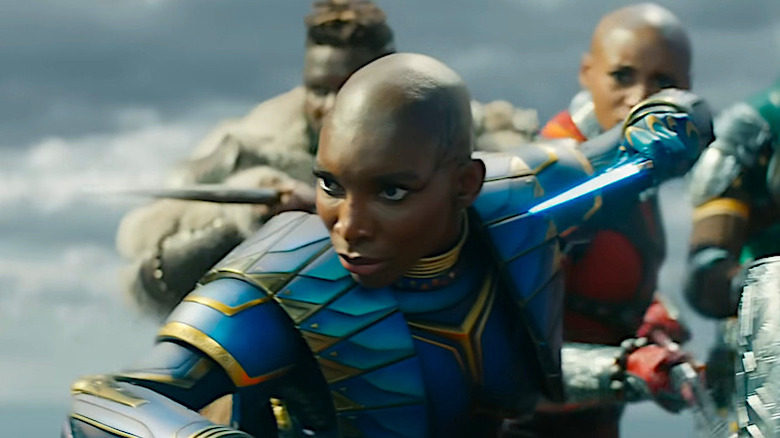 https://www.youtube.com/watch?v=RlOB3UALvrQ
Marvel Studios has a great knack for attracting Hollywood legends alongside up-and-coming talent — but "Black Panther: Wakanda Forever" is a stacked cast full of huge names with years of experience behind them. Angela Bassett is obviously back as Queen Ramonda, while "The Walking Dead" alum Danai Gurira will don her Dora Milaje uniform again as Okoye. She'll be joined by Florence Kasumba's Ayo, who was last seen in "The Falcon and The Winter Soldier."
"I May Destroy You" lead actress Michaela Coel is joining the MCU as Aneka, who is a former member of the Dora Milaje in the comics. Likewise, Martin Freeman is back as CIA agent Everett Ross. Meanwhile down in Talocan, Tenoch Huerta's underwater forces are bolstered by Mabel Cadena's Namora and Alex Livinelli's Attuma.
The late Dorothy Steele has also reprised her role as the Merchant Tribe leader in one of her final performances before her death in October 2021 at the age of 95.
Who is directing Black Panther: Wakanda Forever?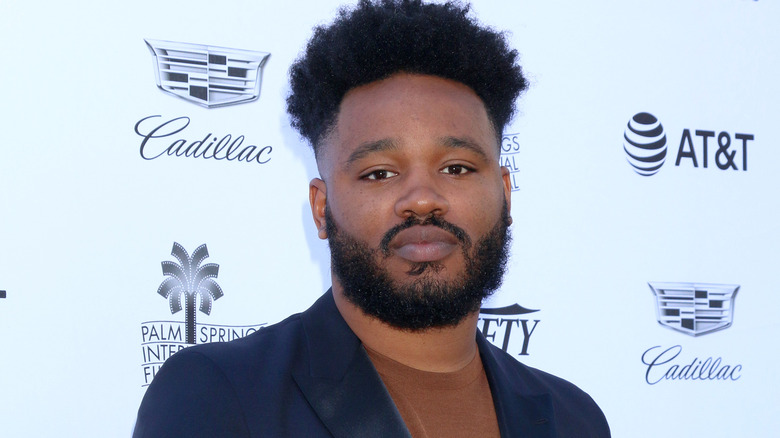 Kathy Hutchins/Shutterstock
Ryan Coogler is back on directing duties for "Wakanda Forever" — which is a complete no-brainer from Marvel Studios considering the first film earned over $1 billion worldwide and was a critical hit as well as a commercial one. Thankfully, the man behind "Fruitvale Station" and "Creed" isn't short of ideas for the MCU, and he clearly works well within the system alongside the likes of Kevin Feige and Victoria Alonso. As per Forbes, the director signed on for the sequel back in 2018 — not long after the first film raked in all that profit.
He's obviously had a very difficult job of steering the ship after Chadwick Boseman's untimely passing and it's not something he's taken lightly. While speaking to The Hollywood Reporter, Coogler explained that he feels the star would want him to carry on. "It's difficult," he admitted. "You've got to keep going when you lose loved ones. I know Chad wouldn't have wanted us to stop. He was somebody who was so about the collective." He later added, "So it would be harder for me to stop. Truthfully. I'd feel him yelling at me, like, 'What are you doing?' So you keep going."
Thankfully, the first teaser suggests that Coogler has once again helmed an adventure that could be truly special.
Is there a trailer for Black Panther: Wakanda Forever?
The first "Black Panther: Wakanda Forever" teaser is an enlightening look at the sequel without actually giving too much away. The emotional footage is scored to Tems' cover of Bob Marley's "No Woman No Cry," as Wakanda mourns its fallen king while Shuri, Queen Ramonda, Nakia, and Okoye all grieve for their loved one. Wakanda is in a very weak position, so it isn't long before Namor shows up and starts causing trouble for Shuri and her family. Unfortunately, it isn't clear why this war has erupted between Wakanda and Talocan, but it probably has something to do with Talocans seeing the water as their realm.
There are brief shots of some kind of giant research ship lowering two people in mechanical suits into the ocean, so perhaps they've trespassed on the Talocans' territory — or damaged something which has enraged them. Either way, there are several glimpses of Namor and the Talocans warring with the Dora Milaje, so let's hope for some thrilling fights on land and at sea. It's entirely possible that outside forces are manipulating the two nations, but there's nothing in the trailer to suggest a secret big bad just yet — even if the internet thinks otherwise. But we'll get to that.
The most important takeaway from the teaser is that it ends with someone else wielding a brand new Black Panther suit, which is decked out in gold details this time around. There are plenty of candidates out there, but if that Lego set is to be believed, it might be Shuri getting some new duds.
Who is Namor anyway?
Believe it or not, Namor is actually Marvel's very first mutant in the comics, chronologically speaking. He's a combination of Atlantean DNA and human DNA, which grants him the powers of the Talocans while also maintaining a typically human appearance. It's an impressive mix of genes, and aside from breathing underwater, Namor can also fly, which also leads back to his mutant makeup. It's no wonder that he formed the Invaders during World War II to defend New York from the Nazis.
He fought alongside Captain America and the original Human Torch and was known for his hot temper and brute strength which helped label him as an anti-hero. However, his powers do depend on staying hydrated enough, otherwise he slowly gets weaker and weaker. Namor is an incredibly powerful figure in the MCU, and although he's previously sat on the Illuminati alongside Black Panther, they've also clashed a few times in the comics. Mainly because in the "Avengers vs. X-Men" arc, Namor flooded Wakanda while being possessed by the Phoenix Force.
Although the MCU is a few years away from properly introducing the X-Men and concepts like the Phoenix Force, it wouldn't be surprising if they cherry pick from some of their squabbles over the years, like "Avengers vs. X-Men," just because of the powerful imagery in there.
Where does Black Panther: Wakanda Forever fit into the MCU timeline?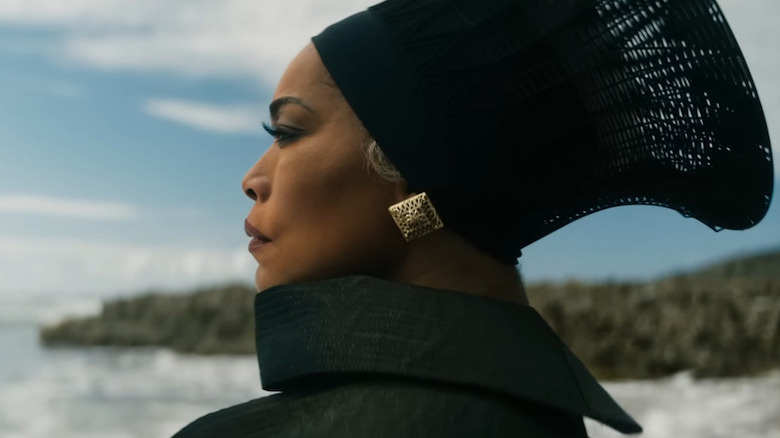 Marvel Studios/YouTube
Let's face it, the MCU timeline is a sprawling tapestry that is very hard to keep track of — especially when you consider all the time-travel shenanigans that the Avengers and Loki (Tom Hiddlestone) get up to in the movies and shows on Disney+. All of that is only going to get more complicated as the studio jumps head-first into the multiverse with future projects like "Loki" Season 2, "Avengers: The Kang Dynasty," and "Avengers: Secret Wars." Thankfully, "Black Panther: Wakanda Forever" seems to be more of a grounded movie rather than involving cosmic concepts and alternate realities.
Because it's also the final film of Phase 4, it seems likely that it's set in the present day of the MCU, after the likes of "Ms. Marvel," "Thor: Love and Thunder," and "She-Hulk." Although, considering it's introducing Namor to the big screen for the very first time we can probably expect to see some flashbacks to his origin and how Talocan became the sunken city that it is now.
This isn't to say that it won't lead up to bigger plot points and movies, but it seems like a safe bet that it'll be focused on the here and now because it'll honor the legacy of both Chadwick Boseman and T'Challa.
What's up with those Doctor Doom rumors?
Okay, let's address the Doctor Doom in the room. With movies like "Fantastic Four" and "Avengers: Secret Wars" on the horizon, it doesn't seem long until we can predict when and where legendary villain Doctor Doom finally returns to the big screen. But there are a few rumors online suggesting that a new version of the Latverian bad guy is on the way — which makes sense if Marvel Studios borrows from Jonathan Hickman's 2015 event series, "Secret Wars." In fact one persistent rumor says that Doctor Doom will be revealed in some capacity towards the end of "Black Panther: Wakanda Forever."
A report from Bleeding Cool (via The Direct) claims that Doom puppeteers the war between Wakanda and Talocan for his own ends, although it's not clear why. The site noted that while Doom's apparent role won't be big, it will "imply that the war between Wakanda and Atlantis was down to Doom's interference." Interesting. He's one of many villains who's tried to overthrow Wakanda for many years, so it would hardly be surprising if he's just looking to get his metal gauntlets on all that vibranium.
It would be easy to imagine Doom taking his rightful place in the MCU, but to introduce him solely as an overarching character would be disappointing — unless he's going to start showing up more frequently over the next few years. We'll just have to wait and see whether Doctor Doom is coming.
Potential MCU cameos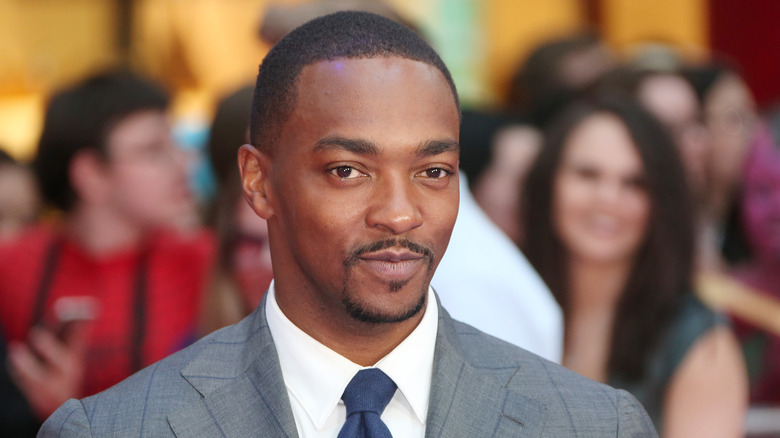 BAKOUNINE/Shutterstock
When it comes to the Marvel Cinematic Universe, one can always expect a cameo or two. Bridging heroes from one film to another is the backbone of how this comic book-inspired universe handles itself. However, with the roster of the MCU franchise constantly expanding, it has become more difficult to guess which characters might appear in which movies. Aside from the confirmed cast list, there are some knowledgeable guesses as to who may pop up in "Black Panther: Wakanda Forever."
As confirmed at San Diego Comic-Con 2022, "Black Panther: Wakanda Forever" will be the official end of Marvel's fourth phase (although James Gunn stated on Twitter that "The Guardians of the Galaxy Holiday Special" would serve as an epilogue). Looking back at Marvel's latest stories, one character has helped to thread the phase together: the Sorcerer Supreme, Wong. Sneaking his way into multiple Phase Four outings, including "Shang-Chi and the Legend of the Ten Rings," "Spider-Man: No Way Home," and "She-Hulk," it would not be unexpected to see the master sorcerer make another appearance.
Meanwhile, another name that has been closely linked to "Black Panther 2" is the MCU's newest Captain America, Anthony Mackie. Despite the actor stating that he is not in the film, he did confirm that he visited the set (via the Twitter account Black Panther News), leading to speculation that this may be the first time audiences see Mackie in his new uniform since "Falcon and the Winter Soldier."
How will the movie handle Chadwick Boseman's death?
Of course, the tragic fact is that the upcoming "Black Panther" sequel is missing its star, Chadwick Boseman. The character of T'Challa quickly became a fan-favorite with his debut in "Captain America: Civil War." Aside from headlining his own feature in 2018, Boseman continued his reign as the king of Wakanda over the course of two "Avengers" movies. Sadly, at 43 years old, Boseman died of colon cancer in August of 2020. Losing such an integral piece of the franchise was undoubtedly difficult for the cast and crew in moving forward with a sequel. However, Chadwick's brother Derrick Boseman confirmed to TMZ that the late actor would have wanted the legacy of "Black Panther" to continue.
Though talks about recasting briefly swirled, they were put to rest by Marvel Studios president Kevin Feige, who confirmed that bringing in a new face to play T'Challa was never an option. Further, Fiege told Deadline in 2021 that the actor would not be inserted into the movie through CGI. Most fans can agree that Marvel made the right decision in proceeding with a sequel that honors Boseman rather than replacing or simulating him. But that doesn't change the fact that for the cast and crew, there's a notable absence. "At the heart of it," Martin Freeman, who will reprise his role as CIA Agent Everett Ross, told Collider, "there's quite a gap now, and you felt it." Based on Freeman's remarks, audiences can expect Boseman's presence to be felt throughout the film, especially as the plot centers around his character's legacy.
What is the plot of Wakanda Forever?
With the premiere of "Black Panther: Wakanda Forever" fast approaching, fans began receiving their first clues to the plot and premise of the sequel in 2022. The official synopsis released by Marvel Studios reads: "Queen Ramonda, Shuri, M'Baku, Okoye, and the Dora Milaje fight to protect their nation from intervening world powers in the wake of King T'Challa's death. As the Wakandans strive to embrace their next chapter, the heroes must band together with the help of War Dog Nakia and Everett Ross and forge a new path for the kingdom of Wakanda."
At the conclusion of the first "Black Panther" movie, the King of Wakanda chose to reveal the secret nation to the world and share their advancements with the rest of society. The aftermath and revelations of this reveal will significantly impact the sequel's plot, especially as the nation of Wakanda is left leaderless. It's also easy to guess that a new Black Panther will be crowned during the events of "Wakanda Forever," with T'Challa's sister Shuri or Jabari Tribe leader M'Baku at the forefront of those rumored to become the next monarch (per Black Girl Nerds).
Will Wakanda Forever have a post-credit scene?
The short answer to whether "Black Panther: Wakanda Forever" will have a post-credit scene or not is: Why wouldn't it? As chronicled by Film School Rejects, Marvel Studios may not have invented the after-credit teaser, but they sure have mastered the art. There hasn't been an MCU feature without a post-credit scene since the second entry — 2008's "Incredible Hulk" — and "Black Panther 2" is not about to break tradition. Additionally, with the sequel set to be the final feature in Marvel's Phase Four, the implications of the post-credit scene in "Wakanda Forever" will likely set up a big future for the franchise.
As mentioned, there is an ongoing theory that longstanding "Fantastic Four" villain Doctor Doom will make an appearance in "Black Panther: Wakanda Forever." And there is a standing tradition of introducing new characters during or after the credits of MCU projects; just check out "Eternals," "Guardians of the Galaxy Vol. 2," or "Doctor Strange in the Multiverse of Madness." While there is some weight to the Doctor Doom theory, it would also make the ideal decoy. Arguably, it would make more sense for Marvel to bring in its next big baddie, Kang the Conqueror, for his first big-screen appearance. However, until the film makes its official debut, any post-credit scenes will be the realm of theories -– and considering the wild things that have happened after the credits in Marvel movies, the last moments of "Black Panther: Wakanda Forever" could contain just about anything.