Creed 3 - What We Know So Far
Warner Bros.
Some films revitalize entire franchises; 2015's Creed, written and directed by indie filmmaker Ryan Coogler, resurrected one. Audiences hadn't seen Sylvester Stallone's Rocky Balboa onscreen since his eponymous 2006 film, the first in the series in 16 years; while it had been (perhaps surprisingly) well-received, nobody was expecting the Italian Stallion to make one more box office comeback.
That all changed with Creed, which told the story of Adonis "Donnie" Johnson (Michael B. Jordan), the illegitimate son of Rocky's greatest friend and rival, Apollo Creed (portrayed by Carl Weathers in the original Rocky series). Pushed into a fight against a more formidable challenger, Donnie — who takes on his father's surname to secure the bout — is trained by Rocky, whom the young man must convince to seek treatment for his advancing cancer. Much like Rocky did in the 1976 Academy Award-winning original flick, Adonis goes the distance — losing the fight, but gaining the respect of the entire boxing world.
2018's Creed II upped the emotional stakes, with now-light heavyweight champ Donnie taking on Viktor Drago (Florian Munteanu), the son of Ivan Drago (Dolph Lundgren) — the man who killed his father in the ring. The flick ended on an upbeat note, with Donnie winning the fight and making peace with his legacy as the son of Apollo.
Both films were critical and box office successes, and it didn't take long after the second flick's release for the wheels to start turning on Creed III. While details are still relatively scarce, we know that it's happening — and we also know enough to start piecing together what it could look like, and who could be involved. Here's everything we know so far about Creed III.
What is the release date of Creed 3?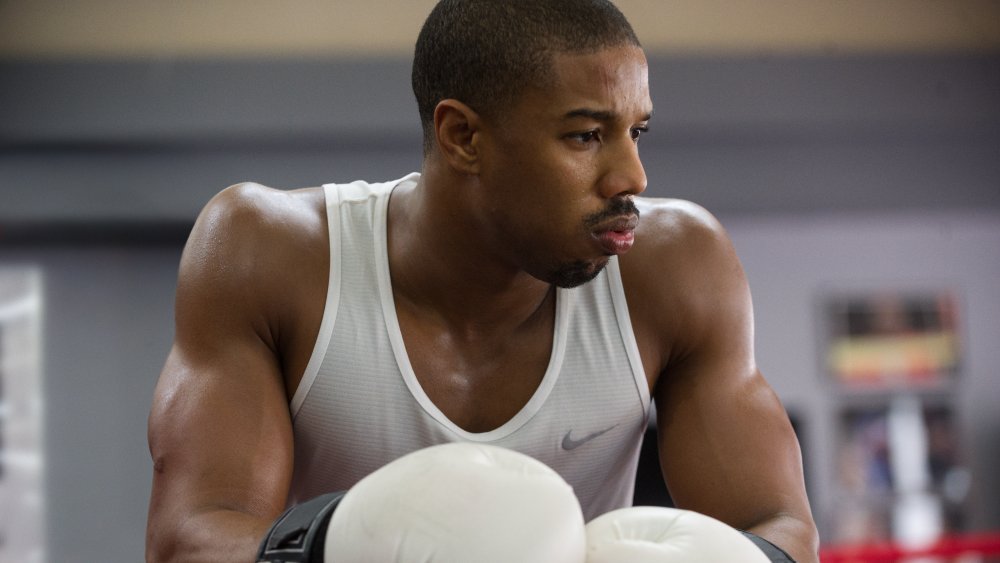 Warner Bros.
As of now, the threequel doesn't yet have a release date — but we expect that to change quite soon. The film is moving full steam ahead, with screenwriter Zach Baylin (who penned the upcoming sports drama King Richard, which will center on the father of the legendary Venus and Serena Williams) having been assigned to the project in February 2020 (via The Hollywood Reporter).
One question mark, though: who will be filling the director's chair. Coogler sat out Creed II, having been busy helming the Oscar-winning superhero smash Black Panther (in which Jordan also starred); the sequel was directed by Steven Caple, Jr., who had only a single feature (2016's The Land) under his belt at the time.
While Caple acquitted himself just fine on Creed II, the rumor mill has recently suggested that a new helmer might be taking over for Creed III — Jordan himself. The rumor sprang from producer Irwin Winkler, whose recent memoir Life in Movies: Stories From 50 Years in Hollywood revealed that Jordan had been promised the job, if he wanted it (via MovieWeb).
Once that particular detail is ironed out, we should have a better idea of when we can expect to see Creed III hit the big screen; if we were to hazard a guess, though, we find it unlikely that the flick will find its way to theaters anytime before the winter of 2021.
Who is in the cast of Creed 3?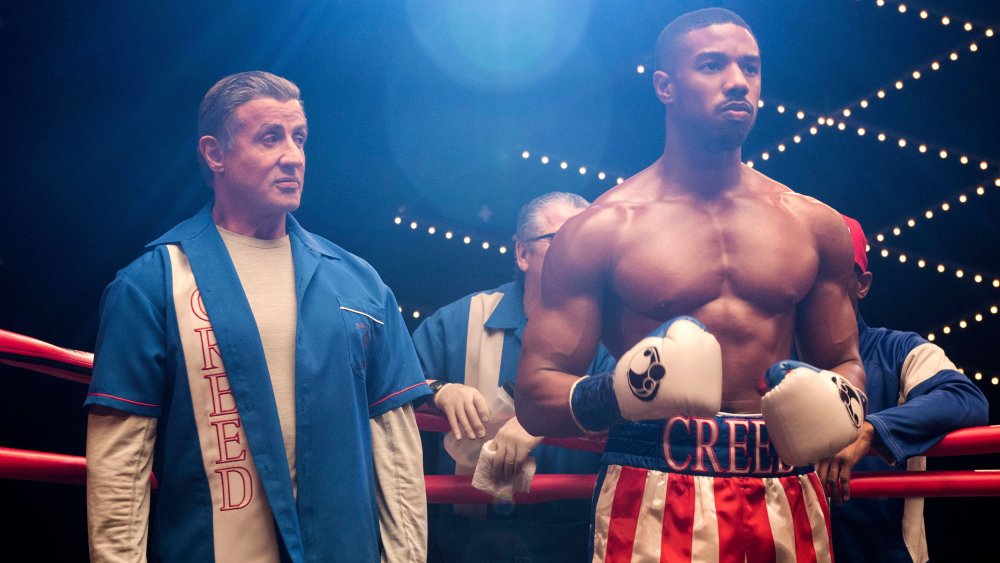 Warner Bros.
While Jordan is obviously a lock to return in the role of Adonis Creed, Indie Wire is also reporting that he is deep in talks to make his directorial debut with Creed III, as well. As of December 2020, it seems like those talks are going well; co-star Tess Thompson confirmed to The Daily Mail that Jordan will indeed be direction the Creed threequel. "He is directing the next Creed. It's going to be ammo," Thompson said.
It's uncertain what other returning players we might see in in the film. One actor reportedly not returning for the threequel is Rocky Balboa himself, Sylvester Stallone. Per a post uploaded to his Instagram page, Stallone was satisfied with his series bow in Creed 2, and felt it was time to let the young Adonis Creed stand in the ring on his own two feet. Stallone apparently has a few ideas how he could bring his famous character back for a potential Rocky 7, but Creed 3 is officially out.
On a happier note, it seems likely that Tessa Thompson (Thor: Ragnarok) will obviously be back as Donnie's fiancée Bianca, since the pair just became engaged at the conclusion of Creed II. Of course, this will depend on Thompson's workload; she's pretty in-demand, with a recurring role on HBO's Westworld, a part in the upcoming feature Passing, and a return to the Marvel Cinematic Universe in Thor: Love and Thunder all filling the actress' schedule.
Also up in the air: whether we'll see Munteanu's Viktor Drago or Milo Ventimiglia's Robert Balboa return for the next chapter. Stallone, however, has dropped one interesting tidbit about whom he would like to see join the cast: heavyweight champ Deontay Wilder, whom Sly has suggested could portray the son of the infamous Clubber Lang (Mr. T), Rocky's nemesis from Rocky III (via CBS Sports). If this were to come to fruition, it stands to reason that Mr. T could also join the cast — and frankly, we pity the fool who isn't totally psyched at that notion.

What's the plot of Creed 3?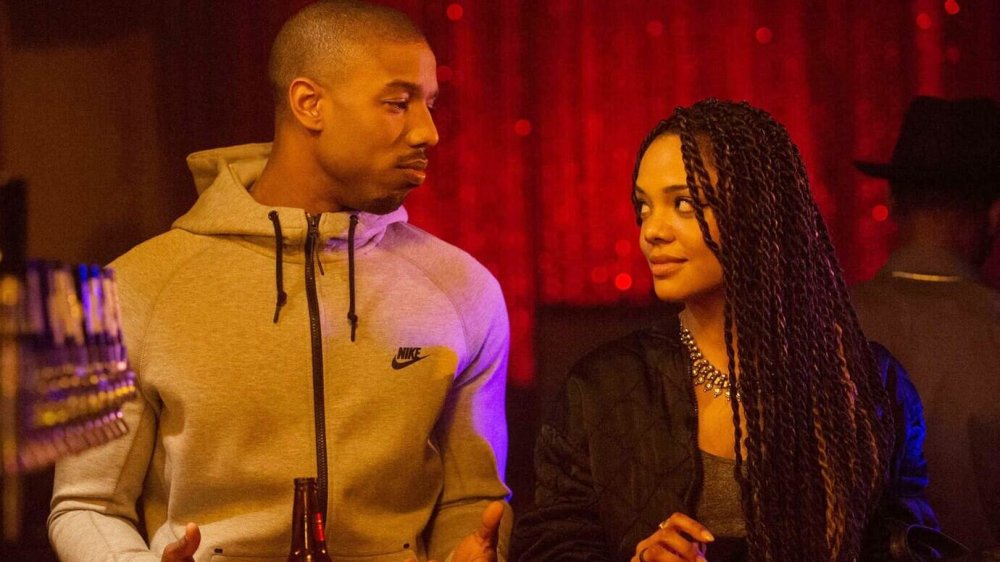 Warner Bros.
Since Baylin is still hard at work on the script, we don't have any idea where Donnie's story will take him next. While it might seem a little repetitive to bring back another son of one of Rocky's old enemies, we've got to say that we'd still be totally on board with the Deontay-Wilder-as-Clubber's-son idea — although, if we're being honest, we don't find that to be too likely.
Unless Thompson is unable to be involved, we find it to be a near-certainty that Creed III will have a strong focus on the relationship between Donnie and Bianca. Also, we're pretty sure there will be at least one boxing match.
At any rate, we're just going to have to wait for more details until the project is further along in development. We suggest bookmarking this page, though, because we'll be updating it with any and all news concerning Creed III as soon as it breaks.