Agents Of S.H.I.E.L.D. Ending After Season 7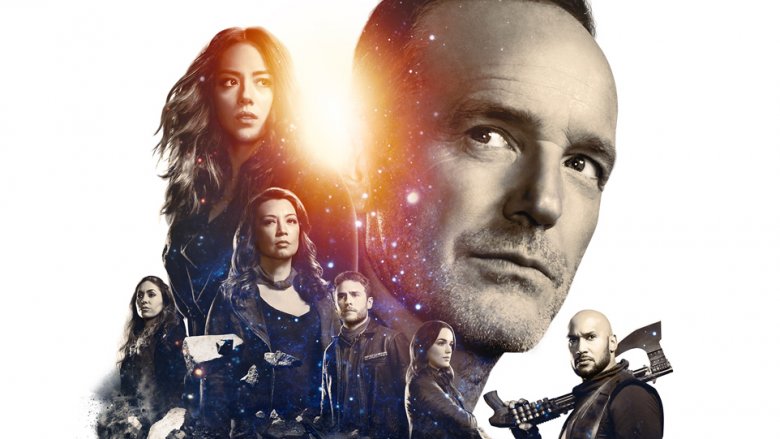 Marvel Television/ABC
The Agents are about to embark on their final mission. 
Hours before the official panel for Marvel's Agents of S.H.I.E.L.D. at San Diego Comic-Con 2019 on Friday, July 18, it was announced that the superhero-slash-super-spy series will end after its upcoming seventh season. 
Deadline confirmed Agents of S.H.I.E.L.D.'s impending conclusion, also providing an official statement from Marvel Television head Jeph Loeb.
"When you know that's what you're doing, you can take greater risks, of life and death. Those kinds of decisions suddenly now are real on the table because you're not playing how do we undo this when we get to the next season. You're playing that this is going to be the end of the story," Loeb said. 
Just before the news went public, Loeb spoke with Deadline about the situation at hand. 
He noted that season 6, which is currently airing on ABC, "ends really delightfully," and in knowing that there are only 13 more stories left to tell, "you really do get a chance to see what that writers' room is going to do when they can do anything." This suggests that the beloved series will go out with a bang rather than a whimper, sending off its characters in fantastic fashion and tying up every last hanging plot thread in sight. That Agents of S.H.I.E.L.D. is ending is bittersweet, but Loeb noted that "it was the best kind of creative situation" for the writers of the show to experience, as they could do things they otherwise might not have. 
Throughout his discussion, Loeb seemed to hint that it's simply time for Agents of S.H.I.E.L.D. to end — a suggestion that came into focus when he shared his belief that all good stories need a conclusion and that the show will forever be the flagship Marvel TV series upon which fans can look fondly. 
"Every single show has a fan who doesn't understand why it has to go away. By the same token, the sweetness, which is it will always be there. It's like a great novel, it's always on the shelf, you can take it down, interact with it. You know that's the joy now the world of streaming, which is you can watch the whole thing for the rest of your life all at once and not have to really look around for it, and so 136 hours of being able to enjoy these stories over and over and over again," he said, also noting that Agents of S.H.I.E.L.D. will wrap up in a perfectly Marvel-like way. "I personally believe that every great Marvel story ends to be continued, but the short answer is, yes, it will conclude in a way that is incredibly emotional and in the best ways. It's funny [and] it's heartbreaking."
Loeb then teased that fans will have to "wait and see" whether big-name Marvel stars — namely Samuel L. Jackson, who plays S.H.I.E.L.D. boss Nick Fury in the Marvel Cinematic Universe — will appear on Agents of S.H.I.E.L.D. season 7. 
Though Loeb's assessment that the series is reaching its natural end, especially after its up-and-down ratings, feels completely earnest, we can't help but wonder whether the impending launch of Disney+ and Marvel Studios' slate of superhero streaming series has anything to do with Agents of S.H.I.E.L.D. concluding with season 7. Marvel Television isn't involved with the new shows — which include Loki, WandaVision, a Falcon-Winter Soldier team-up series, and a Hawkeye show –  but Marvel Studios, the production arm behind the MCU, is. Marvel's parent company Disney is likely hoping to draw into its soon-to-release Disney+ streaming platform millions of subscribers with the promise of four (and likely counting) superhero shows. Agents of S.H.I.E.L.D. isn't part of that line-up, so it stands to reason that maybe — just maybe — the bigwigs at Disney and/or Marvel Studios had a chat with the show's team to talk about wrapping it up in the near future to streamline Marvel's television content. Something similar happened with Netflix's Marvel series: all of them, save for the limited ensemble The Defenders, were cancelled. Perhaps this is what's going on here. 
The silver lining to this news is that there is more Agents of S.H.I.E.L.D. coming. As Loeb said, "Season 6 isn't over, and you've seen none of season 7. That's the celebration: there's still more. It's not as though we're going to walk off the stage and say goodbye [and] you're never going to see another one of these new stories again. You have to see how this ends, you have to."
We'll update you with a premiere date for Agents of S.H.I.E.L.D. season 7 as soon as it's announced.