First Mindhunter Season 2 Photos Tease Series' Long-Awaited Return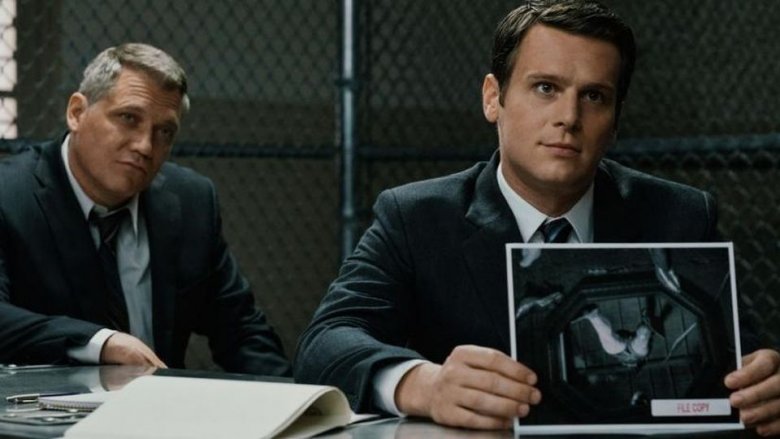 We may receive a commission on purchases made from links.
Netflix has teased the upcoming second season of Mindhunter — with an appropriate catch.
Members of the press were presented with an interactive package by the streamer, consisting of over 200 photos that had to be meticulously combed through in order to unlock a teaser trailer. While the general public isn't yet privy to the spot, the intrepid scribes at The Hollywood Reporter were able to get to the bottom of the mystery and provide us with a few details, as well as several of those images, which you can check out below.
The first season of Mindhunter, set in 1977, followed the efforts of FBI agents Holden Ford (Jonathan Groff) and Bill Tench (Holt McCallany), who — along with psychologist Wendy Carr (Anna Torv) — found the Bureau's Behavioral Sciences Unit, which used then-unprecedented methods in an bid to understand the inner workings of the minds of serial killers. (In the series, it is in fact Ford who originates that term.) Specifically, the trio set out to conduct face-to-face interviews with some of the most notorious murderers of the time, compiling the data and using it to analyze unsolved crimes for potential patterns which may lead them to the culprits.
The series was inspired by the 1995 true-crime novel Mindhunter: Inside the FBI's Elite Serial Crimes Unit, and in the first season, Ford (a rough analog for the book's author, John E. Douglas) and Tench ran up against a laundry list of notorious real-life criminals. They included: Montie Rissell (Sam Strike, Chernobyl), who as a mere teenager sexually assaulted at least a dozen women and murdered five between 1976 and 1977; Jerry Brudos (Happy Anderson, Bird Box), who killed four women over the course of a rampage that began in 1968; Richard Speck (Jack Erdie, Outsiders), who murdered eight women on the fateful night of July 13, 1966; and Ed Kemper (Cameron Britton, The Umbrella Academy), the infamous "Co-Ed Killer," who killed his grandparents as a youth and went on to murder at least eight more after his release from a mental institution.
Britton's performance was a terrifying highlight of the first season, not only for his terrifyingly casual characterization, but for his shocking physical resemblance to the real-life Kemper. In season 2, Ford and Tench will continue to use him as a Hannibal Lecter-style resource in their attempts to pursue other criminals. According to THR's analysis of the trailer, the new batch of episodes will see the pair visit Kemper in prison, and the murderer poses them a very Lecter-esque question. 
"Have you got somebody, Holden?" he asks. "Somebody you can't catch?" The spot shows us a woman under siege by a mysterious party in her home, as Kemper's voiceover continues, "This person you are after, he has an overwhelming fantasy life. Fantasies of what he's done. What he wants to do. His dreams will consume him. Soon, the real world will be too much to bear."
"How do we catch a fantasy?" Tench asks, and Kemper's answer is as chilling as it is simple: "If he's any good, you can't."
Serving as a through line on the new season will be the Atlanta child murders, which were carried out by Wayne Bertram Williams between 1979 and 1981. The lives of 29 children were claimed by Williams in that short period, and Douglas' profiling of the responsible party proved to be instrumental to his capture.
There is, however, another story line which may come into play in season 2. The first season offered, with no context, a series of vignettes in which an ADT serviceman meticulously scouts the properties he's servicing for victims; while it's not stated outright, this can only be a reference to Dennis Rader, the "BTK Killer," who murdered ten people between 1974 and 1991. Rader is remembered not only for the brutality of his crimes (BTK stands for "Bind, Torture, Kill"), but their stark contrast with his image as a straight-laced, upstanding family man. Also, in a bizarre turn of events, Rader managed to elude capture during his initial reign of terror — but returned years later to taunt authorities for their failures by way of anonymous packages which he sent to various media outlets. Rader wasn't arrested until 2005; he is currently serving ten consecutive life sentences.
While Rader's activities may continue to be featured in Mindhunter season 2, the Atlanta child murders will be its focus; that doesn't mean, however, that Ford and Tench won't run across more real-life baddies in their research efforts. Confirmed to be featured are Charles Manson (serendipitously portrayed by Damon Herriman, whom Quentin Tarantino independently cast in the same role in his forthcoming Once Upon a Time in Hollywood) and David Berkowitz, the "Son of Sam," who killed six in New York City between 1976 and 1977. 
It likely won't be long before that trailer is released to the public, but in the meantime, have a look at a few of the images the press was tasked with poring over. The second season of Mindhunter premieres on Netflix on August 16.