Russo Brothers Just Dropped A Tease That's Driving Fans Bonkers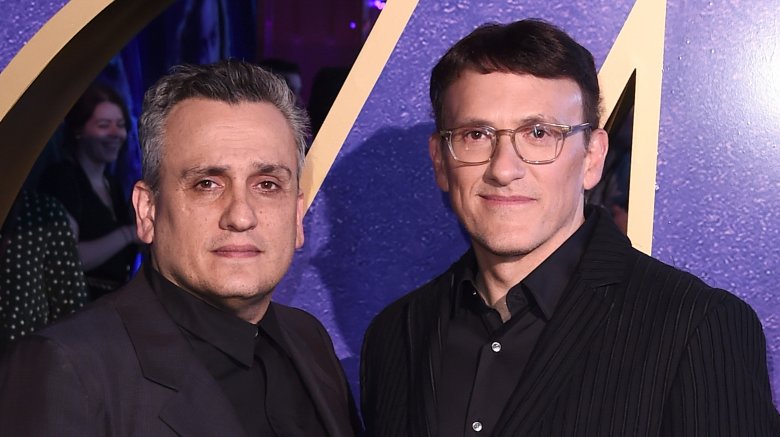 Eamonn M. Mccormack/Getty Images
The Russo Brothers are back at it again. 
In the days leading up to their appearance at this year's San Diego Comic-Con, which takes place from July 18 to July 21, Avengers: Infinity War and Avengers: Endgame directors Joe and Anthony Russo have taken to social media to tease what they'll be showing off at the highly anticipated entertainment convention. What started off simply has turned into something much bigger, and fans are going absolutely bonkers over the Russos' most recent tease. 
Things began innocently when the sibling filmmakers shared to Instagram a photo of the San Diego Comic-Con logo as a way to confirm that they'd be presenting their own panel — "A Conversation with the Russo Brothers," which will be held on Friday, July 19 at 11 AM PST. Then, the teasing evolved when the Russo Brothers shared a video with text that read "07/19/19" and background audio from 2017's San Diego Comic-Con, where a snippet of Avengers: Infinity War played out for the attendees in Hall H. 
Naturally, Marvelites began speculating that the Russos' panel could include some exclusive footage from past Marvel movies. That theory changed when the directing duo posted another video of audio from Community, the sitcom they executive produced in the years before they became MCU icons. Fans' minds began racing a mile a minute, then went into overdrive with the Russo Brothers' third and most recent SDCC tease: a video containing audio from Arrested Development, yet another television series the two worked on pre-Marvel. In the video, Jeffrey Tambor's character Oscar Bluth delivers his iconic mini-monologue, "How much clearer than I say? There's always money in the banana stand!"
By fans' estimations, this all could mean that the Russo Brothers' San Diego Comic-Con panel scheduled for Friday morning will feature an announcement of a Community-Arrested Development crossover. Some are of the opinion that the Russos might confirm that a Community film is in the works, that they'll announce season 6 of Arrested Development, or that they'll give an update on the Arrested Development movie that's been coming together since 2009. 
One fan pointed out that the Russos definitely have the money to fund a crossover project, a Community movie, or an Arrested Development film (or all three), and might be using their earnings from Avengers: Endgame, which has grossed over $2.78 billion worldwide as of July 16, to revisit their old works. The pair seemingly also have the time to do something like create a crossover between Community and Arrested Development, given that they aren't attached to any upcoming Marvel movies (at least not that we know of) and wouldn't have to dedicate a huge chunk of their year to the MCU.
Any way you toss it, fans are flipping over the Russo Brothers' pre-San Diego Comic-Con teases. But there truly is no telling exactly what they have planned for their convention panel. All we know is that Collider's editor-in-chief Steve Weintraub is moderating the presentation, which is officially billed as being a reflection of the Russos' time filming Avengers: Endgame and a look into how they will transition into "life beyond Marvel" with their production company AGBO, "which happens to include an exciting array of new and old creative friends" and "develops and finances filmed projects in any medium, while keeping creative control within the hands of artists." There's a chance that AGBO could be the studio behind a Community-Arrested Development crossover, a Community movie, or an Arrested Development film, and that when the panel discussion shifts to AGBO, the Russos will unveil one or all of those projects. 
What likely won't be featured during "A Conversation with the Russo Brothers" is any talk of Marvel's Phase 4 plans, since that will presumably be reserved for Marvel Studios' Hall H panel on Saturday, July 20 at 5:15 PM PST. The notoriously secretive studio hasn't confirmed anything about its film schedule past Spider-Man: Far From Home, the Phase 3-ender that swung into theaters at the start of July. A handful of movies — notably The Eternals and the Black Widow solo film — have already begun taking shape, but Marvel is essentially pretending that they don't exist for the time being. Whatever happens at the Russos' personal panel, it probably won't be MCU-related.
Those lucky enough to attend San Diego Comic-Con would be silly to miss out on the Russo Brothers' panel, so if you're there and can get your butt in a seat, don't pass up the opportunity. For the folks at home, keep your eyes glued on Looper, as we'll update you with all the biggest news from the convention — and let you know whether Community will ever get its six seasons and a movie and if there really is any money in the banana stand.