Pose Star Angelica Ross Joins Cast Of American Horror Story: 1984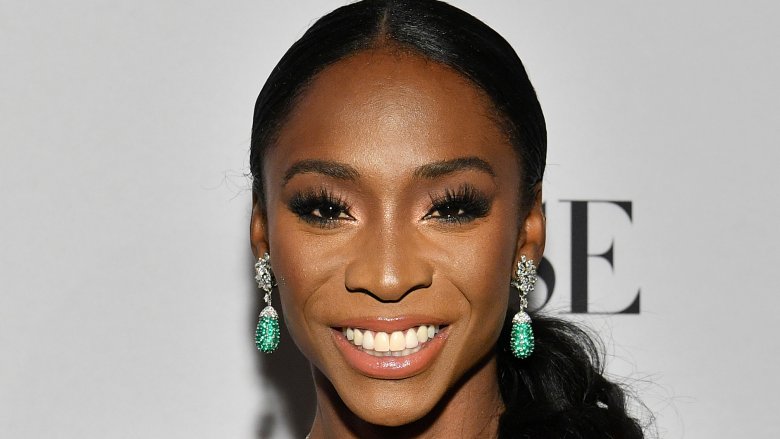 Dia Dipasupil/Getty Images
A star on the rise is headed back to the '80s once again for her next gig.
Angelica Ross, star of the hit FX series Pose, is joining the cast of American Horror Story: 1984, the upcoming season of the long-running anthology series. AHS Creator Ryan Murphy broke the news in a post to his Instagram account.
Pose, which was also co-created by Murphy, has been fawned over by critics and has received multiple award nominations for its eight-episode first season. The series focuses on gay, transgender, and non-gender conforming black and Latinx denizens of the ballroom scene in New York in the 1980's, and much of its praise has been earned due to the fact that there's nothing else quite like it on television. Murphy and co-creators Brad Falchuk and Steven Canals also assembled a strong and appropriately representative writers' room and roster of acting talent, and Ross — who portrayed Candy Ferocity, strong-willed co-founder of the House of Ferocity — had been singled out early and often for stealing any scene she's been a part of.
Murphy's post came the day after the latest installment "Never Knew Love Like This Before" aired, and his emotions were obviously running high due to the fact that Candy — a transgender woman, like Ross herself — had met a violent end during the episode's events.
"Last night's episode of Pose required us all to dig deep — @janetmock as writer, myself as writer and director, but most of all our incredible leading ladies," Murphy wrote. "I must applaud @angelicaross for her tour de force of a performance as Candy Abundance Ferocity. It has been a gift to watch her blossom as a true star and undeniable talent. Though she will always be our Candy, and our show suffers this incredible loss, I am elated that the world will get much more Angelica. She is joining the American Horror Story family in another unforgettable role. Congrats Angelica for making history, leaping from #PoseFX to #AHS1984. Welcome to the #AHS family!"
In moving on to her next gig after the heartbreaking demise of her Pose character, Ross can at least take solace in the fact that she'll be continuing to work with Murphy on an FX series set in the '80s. The latest edition of AHS is said to carry a distinct throwback vibe to the slasher films of that decade, and if the seriously creepy teaser trailer we got in April is any indication, fans of the show will be in for a creepy, gory good time.
What they won't be in for, however, is the return of the complete ensemble cast that they've come to know and love. Series regulars Evan Peters and Sarah Paulson are both sitting out this round, and while Emma Roberts (who has starred in four AHS seasons previously) is back on board, the only other cast member to be announced before today is Olympic freestyle skier Gus Kenworthy.
Ross celebrated the news of her casting with a tweet which rightly pointed out that Murphy's decision to hire her on for American Horror Story: 1984 was a historic one. "I am ELATED to make history as the first trans actor to secure 2 series regular roles, leaping from #PoseFX to #AHS1984," she wrote. "Thank you @MrRPMurphy for the gift of playing Candy & creating my newest role on American Horror Story!"
Although the latest edition of AHS will begin dropping episodes in just a couple short months, the casting news has been curiously sparse. Perhaps today's announcement will be the first of many in coming weeks, or maybe Murphy just wants to keep us in suspense (which is, you know, kind of his style). We'll be keeping an eye out for any further news, and we'll keep you up to speed; American Horror Story: 1984 airs its first episode on FX on September 18.
UPDATE: And just like that, the main cast for AHS: 1984 has been announced. Murphy once again took to Instagram to share a short video with his featured players decked out in the most '80s garb imaginable. Check out our report here.