American Horror Story: New Season Gets Teaser, Title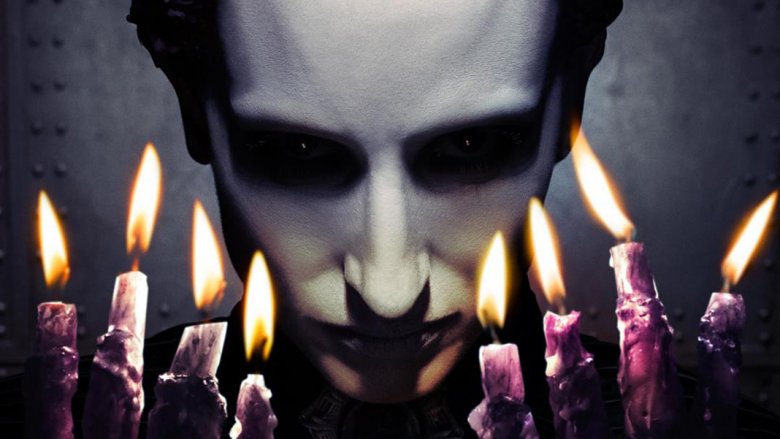 American Horror Story is going throwback.
The series' creator Ryan Murphy posted a short teaser video for the new season to his Instagram account this morning, and the footage has the bloody fingerprints of the Golden Age of Slashers all over it. This is obviously by design, as the video also teased the title of the latest batch of episodes, and it is AHS 1984.
Any critic will tell you that AHS has always been a bit of a mixed bag, but nobody has ever accused it of ever being anything less than wildly ambitious. Featuring a revolving cast of performers who (usually) play different roles in each season, the series has found atmospheric creepiness in such well-worn genre fodder as haunted houses (Murder House), mental institutions (Asylum), the enduring legacy of brutal crimes (Roanoke), and — in the latest outing, Apocalypse — the looming threat of the end of the world. That season brought together characters from several previous ones in the series' first true crossover event, and due to its title and theme, some assumed it would be the last go-round for Murphy and his stable of talented actors. They were wrong, as it appears that AHS will now scale back its ambition just a touch in favor of a return to a simpler time: a time when hulking, machete-wielding brutes chased scantily-clad Final Girls through the woods; girls who always seemed to end up at one of those lonely cabins that seemed like they might offer some semblance of safety, but which decidedly never did.
Indeed, the trailer shared by Murphy seems like it could be an actual outtake from one of the dozens of slasher flicks that never failed to get butts in seats in the '80s, featuring as it does a scenario exactly like the one we just described. The season's title, meanwhile, invokes the year in which the genre arguably hit its peak. In 1984, Hollywood gave us (excuse us while we check our notes): A Nightmare on Elm Street, Silent Night, Deadly Night, C.H.U.D., Children of the Corn, Splatter University, The Initiation, and Friday the 13th: The Final Chapter, considered by many to be the best film in the series. Non-slasher horror from that year included Neil Jordan's excellent The Company of Wolves, the zombie freakout Night of the Comet, and Joe Dante's immortal Christmas classic, Gremlins.
After juggling just a ton of characters in last season's giant crossover, it could serve AHS well to focus on a leaner, meaner storyline with a pared-down cast. Some critics found Apocalypse to be little more than a collection of the series' greatest hits, and while that may have been satisfying for longtime fans, it also contributed to a sneaking suspicion that the series was running out of juice creatively. While it can be argued that returning to the halcyon days of splatter-y slasher fare isn't exactly the most inspired direction, AHS has long been known for putting its own singularly weird, sometimes confusing, but always interesting spin on classic horror tropes. If you ask us — especially after, in our humble assessment, the absolute trainwreck that was Roanoke and the well-meaning but supremely jumbled Cult — a look back at the roots of the modern horror genre sounds like just what the doctor ordered for the series, particularly if Murphy can scare up a truly terrifying masked killer to stalk his cast.
Speaking of that cast, it should be noted that Evan Peters — who has appeared in every single season of AHS thus far, and killed it more often than not — has recently indicated that he's going to sit out this latest outing. Not a huge surprise, considering that his star is on the rise: he'll be reprising his role as Quicksilver in the upcoming X-Men: Dark Phoenix, is currently shooting the Helen Reddy biopic I Am Woman, and is slated to appear in the action comedy Snow Ponies — currently in pre-production — alongside Jon Bernthal, Josh Gad, and Charlie Plummer.
Also unconfirmed is Sarah Paulson, the only actor besides Peters to appear in every season. In fact, the only alumnus known to be returning so far is Emma Roberts, who made her first appearance in season 3 and subsequently returned for the fourth, seventh, and eighth outings. Also, we know of one interesting name who will be making his AHS debut: Gus Kenworthy, the freestyle skier and Olympic silver medalist whose previous acting credits consist of a single appearance as himself (not a huge stretch) in a 2018 episode of RuPaul's Drag Race All-Stars. 
Now that Murphy has started dropping teasers and such, however, we can probably expect an announcement any old time now letting us know which of the AHS players we can expect to see back on board this time around. We're going to go ahead and make a suggestion here, just in case Mr. Murphy hasn't thought of it already: cast Kathy Bates as the killer. Just do it, Ryan. Rewrite the whole damn season if you have to. 
We'll keep you apprised of details on the upcoming season of American Horror Story as they become available; in the meantime, check out the teaser below.
View this post on Instagram

A post shared by Ryan Murphy (@mrrpmurphy) on Apr 10, 2019 at 6:38am PDT