Saw: Samuel L. Jackson Joins Cast Of Chris Rock's Spin-Off Movie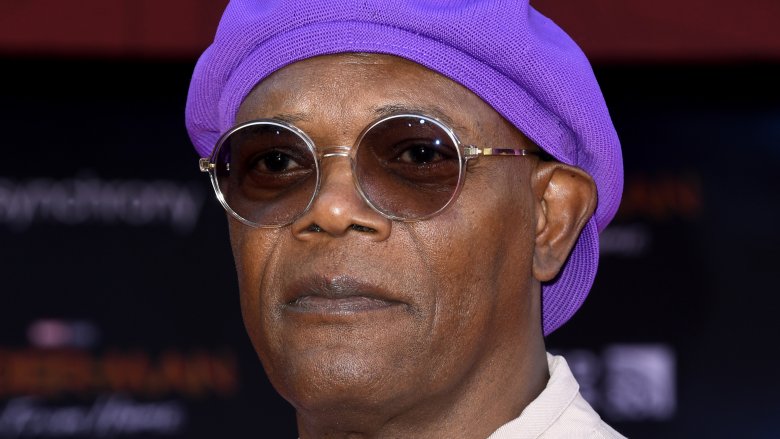 Frazer Harrison/Getty Images
Chris Rock's Saw reboot just got a lot more badass.
Ubiquitous and universally loved actor Samuel L. Jackson has joined the cast of the upcoming film, in which he'll play the father of Rock's character, a police detective on the trail of a fiendish, puzzle-building serial killer. (via Collider)
The spin-off/reboot is currently before the cameras, so at this point we can officially confirm that, no, it wasn't a weird dream we all had — Chris Rock is actually making a Saw movie, like, right now. Also among the announced cast are Max Minghella (The Handmaid's Tale) as the partner of Rock's character, and Marisol Nichols (Riverdale) as the pair's boss. 
Before we go any further, we feel the need to point out that casting Jackson as Rock's father, in any project, is the kind of absolute masterstroke that frankly makes us wonder why the heck nobody has ever thought of it before. To see that pair as father and son, shouting profane insults at each other — which we can only assume will be the case — will be worth the price of admission, in our book. The movie in question could be a Cutthroat Island remake, and we'd probably still be on board.
Of course, fans of the Saw flicks could be forgiven for wondering just how on Earth Rock — one of the funniest guys who has ever lived — got it into his head to dive into the franchise, a development that sounds quite a bit more like one of the comedian's punchlines than anything else. The answer, apparently, is rather simple: he just straight-up loves the movies, and he found himself with a killer (pun totally intended) idea for a story. When the project was announced back in May, Rock had this to say about his foray into the world of horror: "I've been a fan of Saw since the first film in 2004. I am excited by the opportunity to take this to a really intense and twisted new place."
As with the previous entries, studio Lionsgate will be producing the picture, and its chairman Joe Drake was completely won over by Rock's pitch. "When Chris Rock came to us and described in chilling detail his fantastic vision that reimagines and spins off the world of the notorious Jigsaw Killer, we were all-in," Drake said at the time of the project's announcement. "Saw is one of the highest-grossing horror franchises of all-time, and it's one of Lionsgate's most successful film series. This upcoming film will still be as mind-bending and intense as all the previous Saw films. Chris conceived this idea, and it will be completely reverential to the legacy of the material while reinvigorating the brand with his wit, creative vision and passion for this classic horror franchise." (via Deadline)
Rock's idea may have set Lionsgate executives' heads on fire, but they smartly hired a sort of all-star team of franchise regulars to help shepherd his vision to the screen. Longtime series producers Oren Koules and Mark Burg are returning, as is director Darren Lynn Bousman, who helmed the second, third, and fourth entries. Handling scripting duties are Pete Goldfinger and Josh Stolberg, who together penned 2017's Jigsaw.
As for Jackson, he must feel like Rock and crew are cooking up a heck of a movie, because it's not like he's hard up for work. The man has been a Jedi Knight, the director of S.H.I.E.L.D., and a muse to Quentin Tarantino, and the hits just keep on coming: aside from Saw Redux (or whatever it ends up being titled), the actor has no fewer than five projects in the pipeline, and those are just the ones that have been made public. (Come on, we all know Nick Fury is coming back for the Marvel Cinematic Universe's Phase 4.) These include The Banker, a historical drama from director George Nolfi (The Adjustment Bureau); The Hitman's Wife's Bodyguard, the sequel to the 2017 comedy hit The Hitman's Wife; and Spinning Gold, a biopic of Casablanca Records founder Neil Bogart in which Jackson will portray (brace yourself for maximum awesomeness) the legendary funk icon George Clinton.
At the end of the day, we've got to say that every time news breaks concerning Chris Rock's Freakin' Saw Movie (which will almost certainly not be the title), it just sounds more and more interesting. We'll keep our finger on the pulse of this one, and report any new developments as they become available.