Why Serena Joy From The Handmaid's Tale Looks So Familiar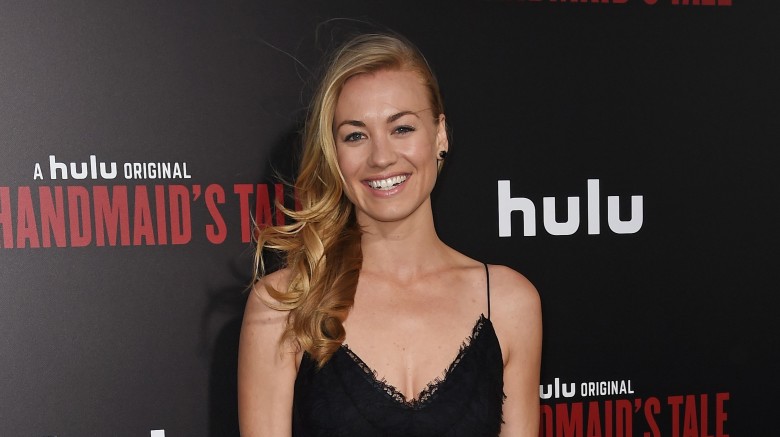 Getty Images
When The Handmaid's Tale premiered on Hulu on April 26, 2017, you might have noticed quite a few familiar faces—including Yvonne Strahovski, who plays Serena Joy in the TV adaptation of Margaret Atwood's novel. If you're wondering where you've seen Strahovski before, then you're in luck—we've put together a list of her most visible roles over the years, along with a couple of projects you'll be seeing soon on the big screen.
Chuck (2007-2012)
For five years, Strahovski played CIA agent Sarah Walker on the NBC action spy comedy Chuck. Agent Walker is one of the agents assigned to protect title character Chuck Bartowski (played by Zachary Levi) after he accidentally downloads secret government information into his brain. While her primary mission was to keep Chuck safe from the rogue groups trying to capture him, her relationship with her charge soon turned into more when they developed feelings for each other. Her cover as Chuck's "girlfriend" eventually became the real deal, which added a whole new set of complications to her job. Strahovski's character on Chuck was a fan favorite, and she'd go on to win both a Teen Choice Award and two TV Guide Awards for her work.
Mass Effect (2009-2012)
Strahovski first lent her voice to the character of Miranda Lawson in Mass Effect Galaxy, then returned to the franchise two more times, providing both her voice and her likeness for the role in Mass Effect 2 and Mass Effect 3. Miranda Lawson is a high-level operative in pro-human organization Cerberus, and her history is explored further in Mass Effect 2, where she revives Commander Shepherd and becomes part of his team.
We learn that she was genetically engineered by her father, and a large part of her storyline revolves around her history with him as well as her sister Oriana, who her father created after Miranda ran away. Strahovski was nominated for a Spike Video Game Award for her role as Lawson, and Lawson has frequently been included in "Hottest Video Game Character" lists. If that Mass Effect movie project can ever get off the ground, here's hoping Strahovski will be back.
Killer Elite (2011)
When killer-for-hire Danny (played by Jason Statham) decides to retire from his mercenary career, he returns to his native Australia and reconnects with childhood friend Anne (Yvonne Strahovski), who is conveniently single. Their attempt to start a romance runs into a few roadblocks along the way, however—like a contract job he's coerced into accepting in order to save his mercenary friend Hunter (Robert De Niro) from execution. The complications get even worse when his new employer learns of Anne's existence, and makes plans to have her kidnapped to ensure Danny does the job.
The Guilt Trip (2012)
In a twist on the traditional road trip movie, The Guilt Trip chronicles the cross-country adventure of Joyce (Barbra Streisand) and her adult son, Andy (Seth Rogen). Along the way, of course, two discover a lot more about themselves than they planned. After all, what's a family road trip without making (or remembering) painfully embarrassing memories?
In one of those embarrassing moments, Joyce calls up one of Andy's old girlfriends (now married and pregnant) to rescue them when their car breaks down; naturally, this reunion between Andy and Jessica doesn't exactly turn out the way Joyce had hoped. While it's a relatively small part, Strahovski definitely helps Streisand turn the awkward up to 11 during this cringe-inducing scene.
Dexter (2012-2013)
On the hit Showtime crime drama Dexter, Strahovski played Hannah McKay during seasons seven and eight. McKay has a criminal history and secrets nearly as bad as Dexter's, and throughout the final two seasons of the show, she plays an important part as her very complicated romantic relationship with Dexter evolves—eventually forcing Dexter to choose between protecting his sister Debra and his feelings for Hannah. While we're not sure how many real relationships start with attempted murder, we're glad Dexter and Hannah manage to work things out, although the series finale leaves a lot of unanswered questions about whether they'll see each other again.
24: Live Another Day (2014)
Although she plays CIA agent Kate Morgan in 24: Live Another Day, the character of Kate Morgan couldn't be further from the more lighthearted role of Sarah Walker on Chuck. Morgan is the widow of another CIA agent, who committed suicide after he was accused of treason. After spending months being questioned about her husband's activities, Kate is allowed back on the job, crosses paths with Jack Bauer shortly after he's arrested, and is one of the first to suspect his true motives. Through the rest of the 12-episode season, Morgan pursues and assists Jack, as well as learning the truth behind her husband's alleged treason.
I, Frankenstein (2014)
In the action/thriller/fantasy film I, Frankenstein, the reanimated monster of Victor Frankenstein is actually immortal, and is drawn into an eternal struggle between good and evil as a band of demons led by Naberius (Bill Nighy) tries to discover the secret of bringing the dead back to life. Caught in the middle of this conflict is Yvonne Strahovski's character, Terra, a scientist conducting experiments on reanimation for Naberius—not realizing his true nature as a demon or what he intends to do with the knowledge. Frankenstein's monster must do his best to not only defeat Naberius and foil his plans, but also save Terra before the demon prince can use her to create an army of undead at his command, which his demons trapped in Hell can then use as hosts.
The Astronaut Wives Club (2015)
The Astronaut Wives Club was an ABC miniseries which chronicled the lives of the wives of the "Mercury Seven"—America's first astronauts. While obviously dramatized for television, it's a intriguing look at women thrust into the spotlight simply because of who they were married to. Set during NASA's most tumultuous period, the show covers everything from the first manned American flight in space to the first moon landing, including the death of astronaut Gus Grissom during a launch test failure in 1967. Strahovski co-stars as Rene Carpenter, wife of Scott Carpenter, who flew in the second orbital mission, after John Glenn.
Manhattan Night (2016)
In this crime drama from 2016, Strahovski pairs up with The Pianist star Adrien Brody, who plays Porter, a crime reporter in New York City. He's approached by Strahovski's character, Caroline, who's trying to find out information about her husband's recent mysterious death, and the pair start an illicit romance, which Porter is worried is only motivated by Caroline's desire to get the information she wants. At the same time, a dangerous love triangle emerges when Porter's boss reveals he's seeking some of the same information as Caroline, and expects Porter to bring it to him first. Porter is left deciding where his true loyalties lie—with the beautiful Caroline, with his boss, or with his own wife and children.
He's Out There (2017)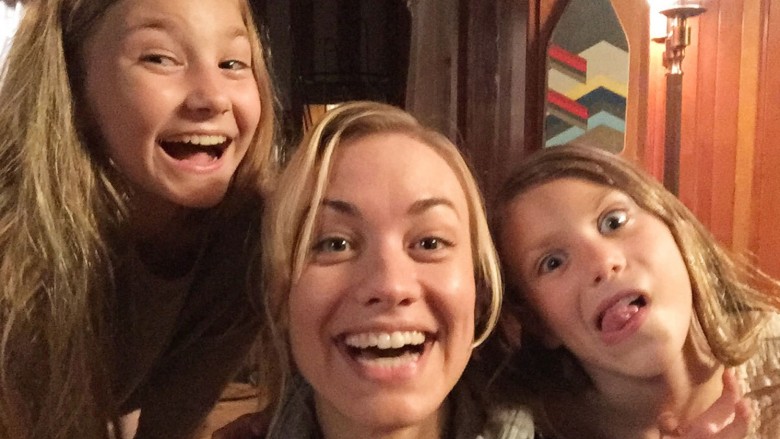 In this horror film directed by Dennis Iliadis, Strahovski stars as a mother who takes her two young daughters on a retreat to a cabin on a lake. After arriving, the family must contend with a psychopath who'd like nothing better than to murder them all. "Something comes up for the father, so he's going to be a bit late, and the mother and daughters get there—and they're not quite alone," teased producer Adrienne Biddle. "It's very simple, but very, very frightening; the uniqueness of the film lies in its details, which I will not share." Whatever you do, Yvonne, don't go into the basement/shed/woods alone!
The Predator (2018)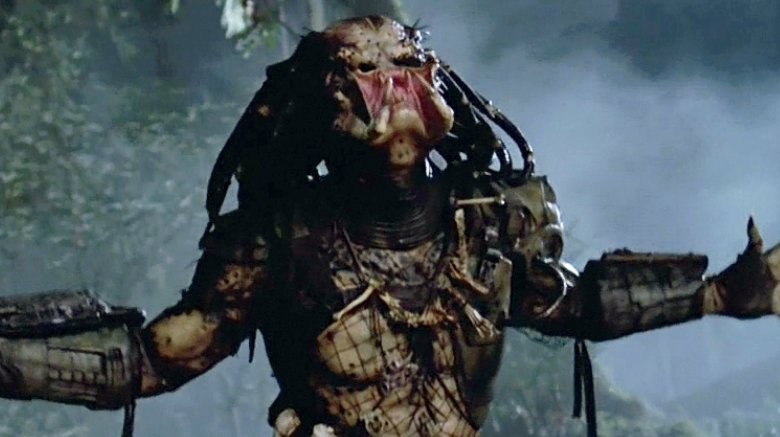 Science fiction fans have a lot to celebrate right now, between the upcoming 2017 movies Alien: Covenant and Blade Runner 2049 and The Predator, due to premiere in 2018. We don't know much about the plot of The Predator yet, but we do know it's set chronologically between 1990's Predator 2 and 2010's future-set Predators. Strahovski stars as the ex-wife of lead character Quinn McKenna (Boyd Holbrook), as Quinn and their autistic son Jacob work together to help repel the Predators as they attempt to launch a larger-scale invasion.