San Diego Comic-Con 2019 To Feature Agents Of S.H.I.E.L.D., Dark Crystal, Star Trek, The Witcher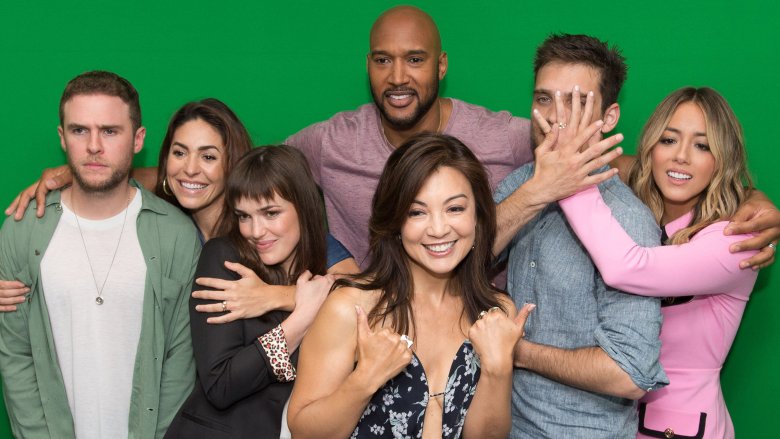 Small-screen stars are getting ready to take over San Diego Comic-Con.
The 2019 edition of the hallowed event will feature presentations from ABC's Agents of S.H.I.E.L.D., CBS All Access' Star Trek properties, and the Netflix original series Dark Crystal: Age of Resistance and The Witcher.
For the first time, the cast of Agents of S.H.I.E.L.D. will be taking over Hall H, the San Diego Convention Center's largest room and a place where many a highly-anticipated announcement has been made over the years. In attendance will be Clark Gregg (now playing the mysterious "Sarge" after a long tenure as the beloved, recently deceased Phil Coulson), Ming-Na Wen (Melinda May), Chloe Bennet (Daisy "Quake" Johnson), Elizabeth Henstridge (Jemma Simmons), Iain De Caestecker (Leo Fitz), Henry Simmons (Alphonso "Mack" Mackenzie), Natalia Cordova-Buckley (Elena "Yo-Yo" Rodriguez), and Jeff Ward (Deke Shaw), along with executive producers Maurissa Tancharoen, Jed Whedon, Jeff Bell, and Jeph Loeb. The panel promises to reveal to attendees a sneak peek at season 6's conclusion, as well as a few details about the upcoming seventh season; it'll take place on Thursday, July 18, at 3:30 PM. (via Collider)
Also new to Hall H this year: CBS All Access, which will field a presentation centered around their growing Star Trek television universe. Select cast members from Star Trek: Discovery will be on hand, including Sonequa Martin-Green and Tig Notaro, along with executive producers Alex Kurtzman, Michelle Paradise, and Heather Kadin. Producer Mike McMahan will also appear to give fans a sneak peek at the forthcoming animated series Star Trek: Lower Decks — but the real treat will come when the cast of the upcoming Star Trek: Picard, including Sir Patrick Stewart himself, take the stage.
Sir Patrick will be joined by co-stars Alison Pill (Scott Pilgrim vs. the World), Michelle Hurd (Marvel's Daredevil), Isa Briones (American Crime Story), Santiago Cabrera (Transformers: The Last Knight) and Harry Treadaway (Mr. Mercedes), along with producer Akiva Goldsman and newly-minted showrunner Michael Chabon. Also featured will be an exhibit entitled Jean-Luc Picard: The First Duty, which will display costumes, props (including Picard's beloved Ressikan flute), and models of ships which have been under the command of the legendary captain. The panel will take place on Saturday, July 20, at 11:30 AM. (via Deadline)
Netflix is also bringing two highly-anticipated original series to Hall H. First up: The Witcher, based on the acclaimed series of fantasy novels of the same name and starring Henry Cavill (Batman V. Superman: Dawn of Justice), Anya Chalotra (Sherwood), and Freya Allan (Into the Badlands). Here's Netflix's official description of the panel, which takes place Friday, July 19, at 2:15 PM: "The Witcher is an epic tale of fate and family.  Be among the first to get the exclusive scoop on the highly anticipated new Netflix original series centering around famed monster hunter, Geralt of Rivia. Be introduced to the world of The Continent, where humans, elves, witchers, gnomes, and monsters battle to survive and thrive, and where good and evil is not easily identified." No announcement was made as to which cast and crew members would attend.
Immediately following the Witcher panel, Netflix will present The Dark Crystal: Age of Resistance, the limited prequel series to Jim Henson's classic 1982 film, at 3:30 PM. While its cast includes a laundry list of famous names including Sigourney Weaver, Taron Egerton, and Mark Hamill, there was likewise no word on who would be in attendance. The official description: "Netflix presents an exclusive sneak peek at the highly-anticipated fantasy series, The Dark Crystal: Age of Resistance, based on Jim  Henson's groundbreaking 1982 feature film, The Dark Crystal. In this stunning new prequel, three Gelfling discover the horrifying secret behind the Skeksis' power, and set out on an epic journey to ignite the fires of rebellion and save their world. Realized using classic puppetry with cutting edge visual effects, the cast and creators discuss all of your burning questions about bringing Thra to life." (via Collider)
All told, we're looking at four exciting additions to what already promises to be an event full of huge stars, fascinating details on hotly anticipated upcoming movies and TV shows, and (of course) just so much amazing cosplay. For a complete schedule of all of San Diego Comic-COn 2019's events, you can check out our exhaustive breakdown.