Fast & Furious 9 Begins Filming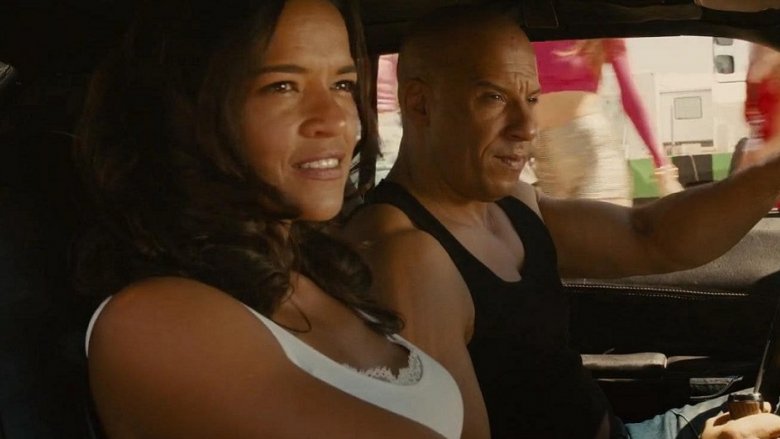 The rubber has met the road on Fast & Furious 9.
The latest installment in the hard-driving, unstoppable action series has officially gone before the cameras, and several of its stars took to social media to celebrate and offer some kind words for the fans. (via Entertainment Weekly)
Longtime series director Justin Lin returns to helm his fifth entry in the series, having previously presided over 2006's The Fast and the Furious: Tokyo Drift, 2009's Fast & Furious, 2011's Fast Five, and 2013's Fast & Furious 6. Lin is apparently running a very merry set, because his stars seem really psyched to be there.
Vin Diesel (sporting an auto mechanic's jacket embroidered with "Toretto") posted a video to Instagram with co-star Michelle Rodriguez by his side. He opened his remarks by literally saying the word "wow" seven times as Rodriguez beamed. "Can you believe it, Letty?" he asked Rodriguez, addressing her by her character's name. "Nine!" Rodriguez — er, Letty — said, repeating the number for emphasis. "We just completed our first day," Dielsel continued. "It feels like a miracle, one hard-earned, but it feels like... we're just so grateful. We're grateful to [studio] Universal, we're grateful for our whole team, incredible crew, incredible cast, and most importantly, we're so grateful to you, world, that has adopted this franchise." 
Diesel seemed to have more thoughts along those lines, but was sidetracked by his disbelief. "And... can you believe it?" he asked Rodriguez, who was blowing kisses at the camera, once again. "I can, actually," she replied. "It's so awesome," Diesel continued. "We're so blessed, and we love you so much."
Nathalie Emmanuel, who joined the crew beginning with 2015's Furious 7, took to Twitter to shout out her co-stars by way of a series of emojis. It looks to us like Emmanuel is pumped to once again be at work with Diesel, Rodriguez, Tyrese Gibson, Jordana Brewster, and Ludacris.
Day one of shooting Fast and Furious 9 today... The team is back together 👨🏼‍🦲👩🏻👨🏿‍🦲🙋🏻‍♀️👨🏾‍💻👩🏽‍💻

— Nathalie Emmanuel (@missnemmanuel) June 24, 2019
Speaking of Ludacris, he kept it simple with his Instagram post, a photo of the flick's script posted with the caption, "It's SHOWTIME," along with a few choice emojis.
View this post on Instagram

A post shared by @ ludacris on Jun 24, 2019 at 4:52am PDT
Obviously, this is a cast that enjoys taking part in these pictures, and why not? If only we could all pull handsome paychecks to star in movies where cars go really fast, things blow up a lot, and everybody speaks almost exclusively in badass one-liners.
Of course, a couple key members of the Fast & Furious crew will be sitting out this round. Dwayne "The Rock" Johnson's Luke Hobbs and Jason Statham's Deckard Shaw will be off on their own, dealing with the machinations of "genetically enhanced anarchist" Brixton (Idris Elba) in the spin-off flick Fast & Furious Presents: Hobbs and Shaw, which hits theaters on August 2. Subbing in for the pair, however, will be John Cena, who has started to make his mark on the acting world in earnest with standout roles in flicks like last year's Blockers and Bumblebee as well as the recent Fighting With My Family. At the moment, all we know about Cena's character is that he will be "a badass," which sounds about right.
Speaking with EW earlier this month, Cena gushed over the opportunity to be a part of the venerable franchise. "There are countless ways to describe the upside of an opportunity like this," he said. "First and foremost, I'm a car guy, and that is what the franchise was built off of. They have a way of weaving this family narrative and making it a truly successful and globally reaching franchise. They're also known for delivering the larger-than-life action and continue to outdo themselves, but they never shy away from story and the narrative that they've developed. They're constantly redefining the franchise but not redefining the ethos. Literally, I'm surrounded by a group of people who are better than I am and such skilled people with so much experience, so what a great environment to learn from. It really is a tremendous opportunity."
We're sure that the endlessly charismatic Cena will acquit himself nicely; in our humble opinion, producers couldn't have picked a better addition to the franchise. We don't have a great deal of word on the upcoming movie's plot, but with filming now underway, we're bound to see some juicy details come down the pike sooner rather than later. Fast & Furious 9 is already slotted for a May 22, 2020 release; we'll keep our ears to the ground for more news, and keep you filled in.