How Much Money The Avengers: Endgame Re-Release Needs To Beat Avatar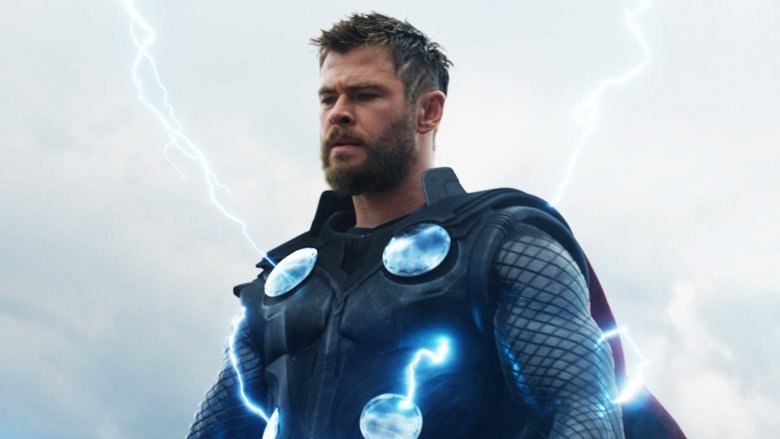 Disney and Marvel's surprise re-release of Avengers: Endgame is upon us, and it looks as though the companies have a single goal in mind: rake in enough money to make the superhero ensemble the highest-grossing movie of all time. There's just one big, blue problem standing between Endgame and that highly sought-after top spot: Avatar. 
Directed by James Cameron, Avatar earned a whopping $2.749 billion worldwide when it launched in 2009. The flick, a sci-fi epic starring Sam Worthington as a former marine named Jake who travels to Pandora and befriends the Na'vi people, including Zoe Saldana's Neytiri, went on to score even more money at the box office when 20th Century Fox decided to re-release it in 2010. In its second theatrical outing, Avatar surpassed Cameron's disaster romance epic Titanic to become the biggest film in history based on global revenue. Avatar now stands tall atop a pile of cash that amounts to $2.788 billion. 
Avengers: Endgame, the culmination of over 10 years of the Marvel Cinematic Universe brought to life by sibling filmmakers Joe and Anthony Russo, quickly soared past the $2 billion benchmark at the box office after its debut. During its initial theatrical release that officially began on April 26, Endgame effortlessly beat out Titanic, which took home $2.187 billion worldwide, to become the second best-grossing movie in cinematic history. Though Endgame's commercial success slowly tapered off following its massive opening, the film currently posts a staggering $2.751 billion in global revenue, with screenings still happening as of Monday, June 24. 
Clearly, Avatar and Avengers: Endgame are neck and neck. The latter needs roughly $37 million more in global profits to push past the former and be crowned as the highest-earning movie ever. 
But is that possible? Can Endgame really make nearly $40 million worldwide when Disney and Marvel kick off the re-release that will purportedly begin on Friday, June 28? 
It seems tough but not unfeasible. 
When Fox put Avatar back in theaters a year after its original release, showing off nine minutes of never-before-seen footage that cost more than $1 million per minute to produce, the film took home just over $33 million globally. Accounting for the rise in ticket prices, from an average $7.89 per ticket in 2010 to an average $9.01 per ticket in 2019 according to Box Office Mojo, the Avatar re-release would have made about $37.7 million had it been rolled out this year. 
There's arguably a much bigger market for Avengers: Endgame than there was for Avatar, given that A) the film has an established base of fans who are interested in both the Avengers films and the many standalones and hero trilogies that are part of the overall Marvel Cinematic Universe, and B) the movie appeals to audiences of all ages. That will certainly factor into how much money the Endgame re-release pulls in, as its second round of success is largely down to how many people head out to theaters to see the new version of the movie. 
Something else to take into consideration is how long the new version of Avengers: Endgame will play in theaters. If it's a one-weekend-only engagement, the film is going to have an incredibly tough time making the money it needs to surpass Avatar's lifetime earnings. If it sticks around for several weeks, Endgame has a much better chance of taking in the requisite $37 million or so.
The extra content included in the re-release of Avengers: Endgame should draw viewers back in — even those who have already watched the super-sized superhero movie several times. Marvel Studios president Kevin Feige clarified in an interview with Screen Rant when news of the re-release went public that the new version of the movie isn't an alternate or extended cut; instead, it features extra footage that's tacked onto the end of the three-hour film fans have likely already seen before. 
As Feige explained, "[It's] not an extended cut, but there will be a version going into theaters with a bit of a marketing push with a few new things at the end of the movie. If you stay and watch the movie, after the credits, there'll be a deleted scene, a little tribute, and a few surprises."
It's assumed that the tribute Feige spoke of is one dedicated to Marvel Comics maestro Stan Lee, who passed away at the age of 95 in November 2018. The mystery surrounding the deleted scene and the "surprises" that await fans after the credits roll still remains — and Marvel is probably banking on that intrigue translating into ticket sales. Staying quiet on what viewers can expect from the Avengers: Endgame re-release isn't just characteristic of the studio's secret-keeping habit — it's also a clever marketing tactic to make it basically impossible for fans to resist finding out what the deleted scene entails, just how heartwarming the tribute is, and how many extra bits of Endgame goodness they can feast their eyes upon. Normally, curiosity kills the cat, but in this case, it could be the key to Avengers: Endgame shattering the biggest movie record there is.
The Avengers: Endgame re-release is said to begin on Friday, June 28. It's unclear how long the new version will stay in theaters.