How Zoe Saldana Went From Ballet Dancer To Gamora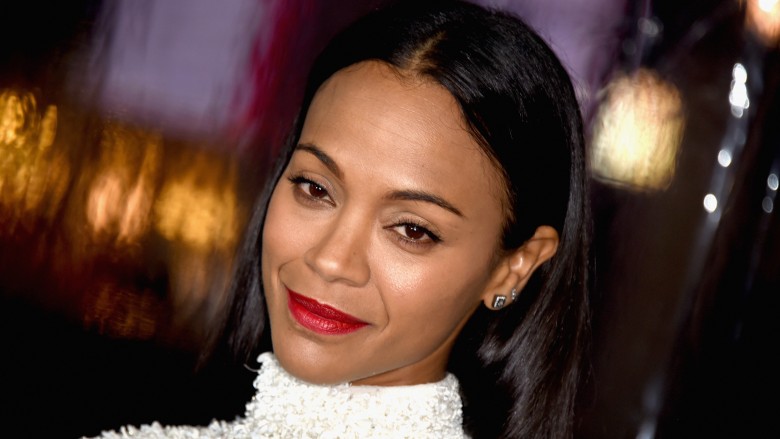 Getty Images
We're willing to bet most of you know Zoe Saldana as the green-skinned, universe-saving, "deadliest woman in the whole galaxy" Gamora from Guardians of the Galaxy. But you likely don't know about Saldana's storied past. Long before she became a staple in the Marvel Cinematic Universe, a single pair of ballet shoes and a multi-pleated tutu set her on a trajectory toward superstardom.
Dancing in the Dominican Republic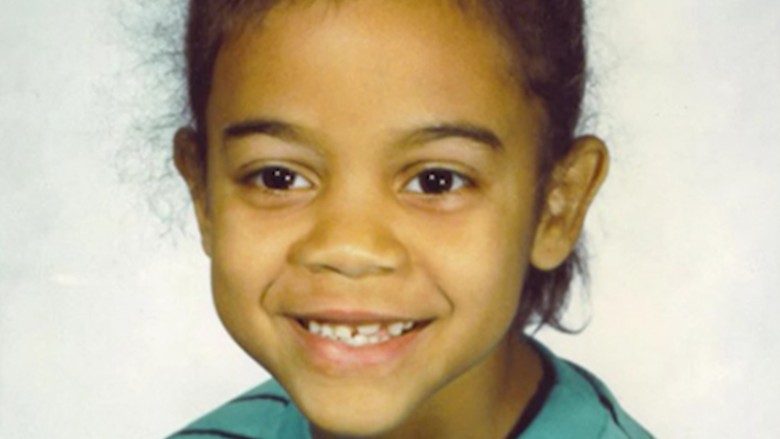 Born Zoe Yadira Zaldana Nazario in 1978, the actress we know and love was hit with tragedy at a young age. Her father, Aridio Saldaña, died in a car accident when Saldana was just nine years old. After spending her childhood in Jackson Heights, New York in a mixed-ethnicity household (her late father was Dominican, her mother Puerto Rican), Saldana was uprooted and relocated to the Dominican Republic following her father's passing. With her mother and her sisters Cisely and Mariel, Saldana settled into life in the DR, even discovering her love of dance. She enrolled in the Santo Domingo-based ECOS Espacio de Danza Academy, where she studied various dance forms and styles. But one stood out far more than others: ballet, Saldana's "first passion."
Saying goodbye to the ballet world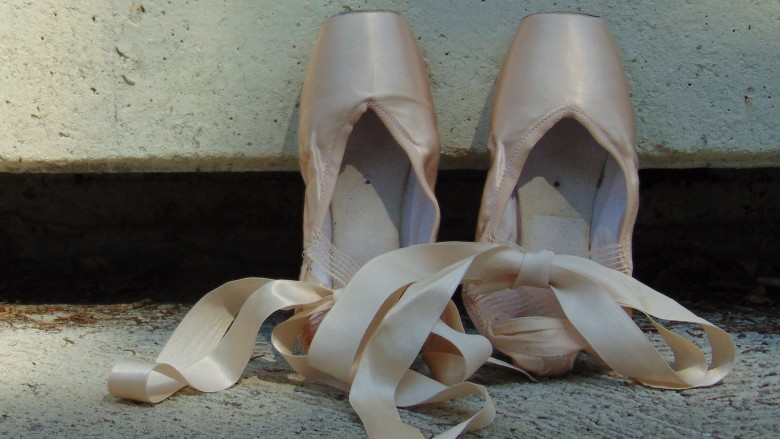 Shutterstock
Though ballet allowed Saldana an outlet for expression and helped kindle the flames of her creativity, the fire soon dwindled and was later snuffed out completely. In the debut issue of Cosmopolitan for Latinas magazine in 2012 (via The Huffington Post), Saldana dished on why she ditched the dancing dream, and it had a lot to do with the intense self-restraint that comes with the art form. "I had to quit ballet because it felt like a part of me was dying inside," she explained. "It takes a lot of courage to face up to things you can't do because we feed ourselves so much denial."
And it wasn't just her heart that was missing from ballet; her body struggled to stay present, and her voice was all but silenced; as she put it, "In dance you use every party of your body except your voice." The relentless full-body immersion took a toll, and she soon realized she "didn't have the feet" for ballet, likely referencing the extreme arch flexibility and toe tenacity needed to master pointe technique. Beyond the corporeal, Saldana grappled with the notion of being a non-soloist dancer in the corps de ballet, recalling in conversation with Vanity Fair, "I have way too much pride and ambition to just be in the corps." Thankfully for her, the perfect solution—the world that would give her back her voice and allow her to soak up the spotlight—lingered on the horizon.
Back to the Big Apple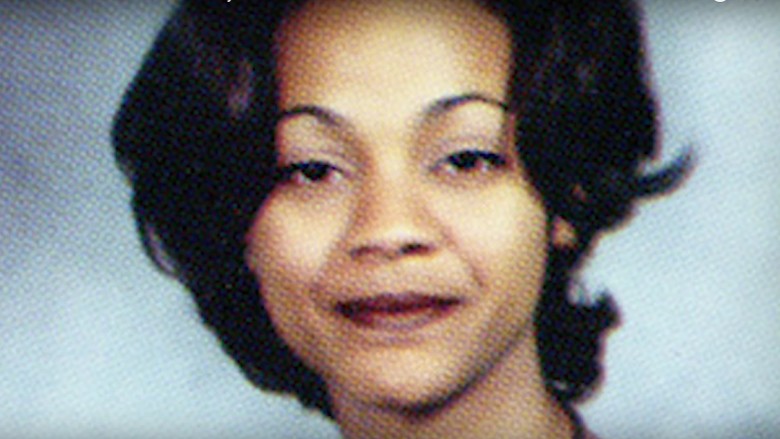 In 1995, the Saldana family packed their bags and returned home to New York, where the budding actress joined the Brooklyn-based FACES theater group, a band of young performers focused on shows that promoted "positive messages" to children and their peers. Where the initial fire she felt for ballet proved fleeting, acting quickly resonated, allowing Saldana to finally put to use what she couldn't in dance. "I wanted to start acting because I wanted to use my voice," she explained in a 2012 interview. It's here Saldana found her true calling.
Zoe and the Amazing Technicolor Opportunity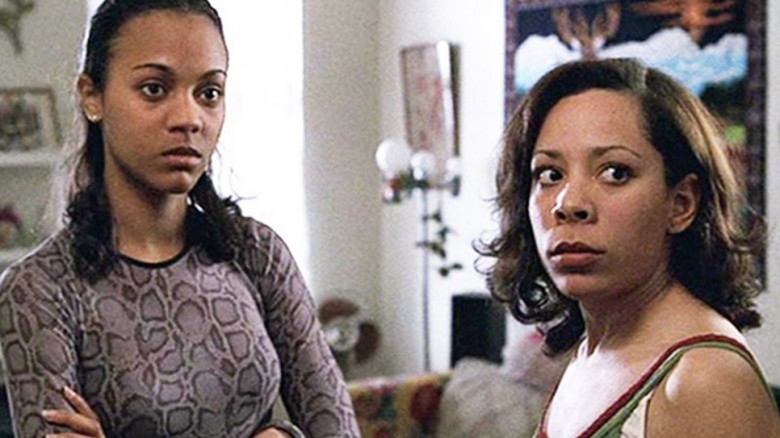 FACES didn't just give Saldana her voice back, it gave her a platform for success. She matured from the troupe and started working with the New York Youth Theater, starring in a production of Joseph and the Amazing Technicolor Dreamcoat. Her performance in the play was so moving, it landed her an agent, one who helped snag her guest roles in everyone's favorite show to binge on a lazy Sunday: Law & Order. Saldana popped up in two 1999 episodes, "Merger" and "Refuge: Part 2," as Belinca, alongside Orange Is the New Black star Selenis Leyva. Though she went uncredited for her first L&O appearance, her next gig made "Zoe Saldana" a name to watch.
She sat center stage in Center Stage
Saldana broke through to the mainstream in a big way: starring in Nicholas Hytner's teen drama Center Stage, a film, ironically enough, all about ballet. As the wickedly talented but sour-tongued student Evanna "Eva" Rodríguez, Saldana showed off her expert dance technique, grand jeté and grand battement combinations, and stellar acting chops. Though it opened to mostly wishy-washy reviews, Eva was the role that served as a launchpad for Saldana's career. Saldana herself has even noted that ballet trained her for action, a telling notion considering what came next on her acting agenda.
She acted with mega-stars early on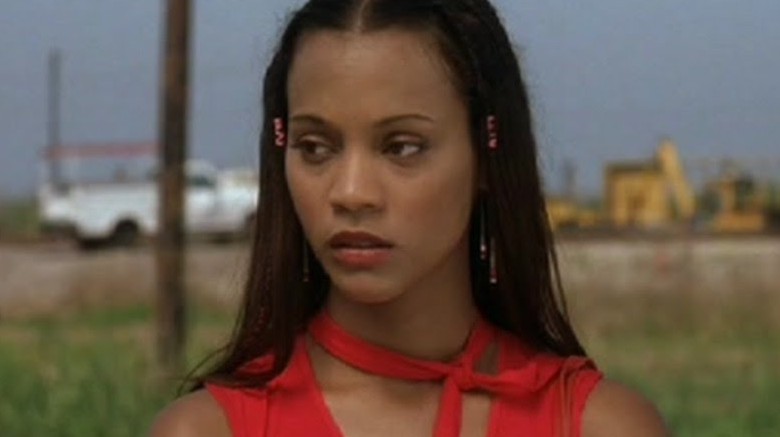 Center Stage set Saldana up for increasingly prominent roles, and she quickly started appearing alongside early aughts icons like Britney Spears and Nick Cannon. In Spears' 2002 coming-of-age road-trip drama Crossroads, Saldana heard wedding bells as the bride-to-be Kit. Just 10 months later, she went back to her dancing roots to play Laila, the mysterious love interest to Cannon's college freshman Devon, in the musical dramedy Drumline. But Saldana wasn't just banking on a ballet background and undeniable beauty; she soon scored a lead in what became one of Disney's biggest movie franchises to date.
Pirates of the Caribbean almost made her quit acting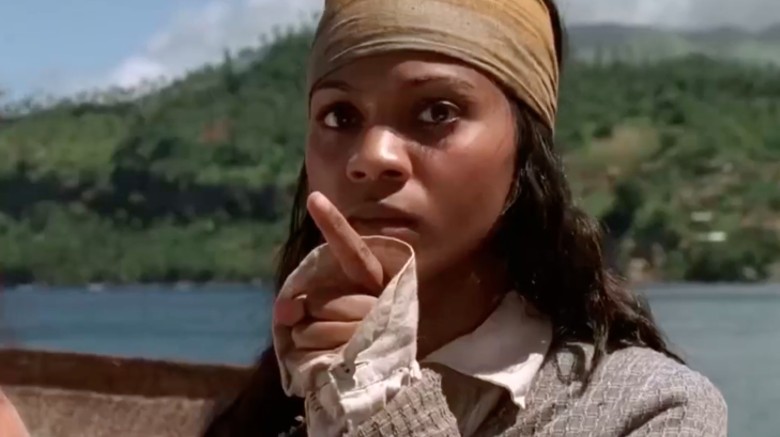 Headscarf tightly wrapped, accent refined down to the vowel, and right hand ready to fake slap Johnny Depp's Captain Jack Sparrow during a one-on-one scene, Saldana stepped into the swashbuckling Pirates of the Caribbean: The Curse of the Black Pearl to play Anamaria, former owner of the Black Pearl and victim of Sparrow's thieving ways. Though the role saw her brush shoulders with costars Orlando Bloom, Geoffrey Rush, Keira Knightley, and Kevin McNally and offered her the chance to work with acclaimed horror director Gore Verbinski and producer Jerry Bruckheimer, it was one that nearly ruined her relationship with acting forever.
During her time shooting the first Pirates installment, she learned her worth as a female in the business. Speaking with The Hollywood Reporter, Saldana explained that unpleasantries behind the scenes were enough to taint her outlook and tempt her to quit acting for good at just 23 years old.
"Those weren't the right people for me. I'm not talking about the cast. The cast was great. I'm talking about the political stuff that went on behind closed doors," Saldana explained. "It was a lot of above-the-line versus below-the-line, extras versus actors, producers versus PAs. It was very elitist. I almost quit the business. I was 23 years old, and I was like, 'F— this!' I am never putting myself in this situation again. People disrespecting me because they look at my number on a call sheet and they think I'm not important. F— you."
Star Trek stardom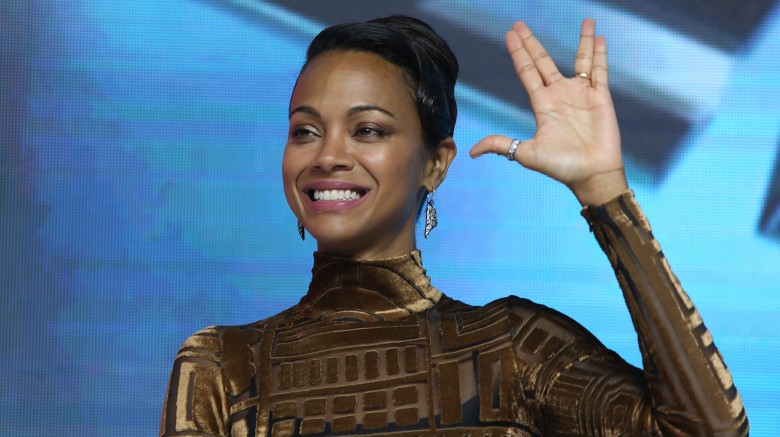 Getty Images
Following a string of rom-coms like The Heart Specialist and After Sex and a small part in the thriller Vantage Point, in 2009, Saldana boarded the Enterprise to voyage through space in J.J. Abrams' Star Trek reboot. Abrams himself asked Saldana to join the project, and after he complimented her abilities, she was sold. "For an actor, that's all you need, that's all you want," she said of the interaction. "To get the acknowledgment and respect from your peers."
Just as her ballet experience had done for her in Center Stage, Saldana's past with the original Gene Roddenberry-created series prepared her to play Nyota Uhura. While not exactly a Trekkie herself, having never seen the '60s show, Saldana portrayed Star Trek fanatics in the 2004 Steven Spielberg-directed drama The Terminal and a year later in Guess Who alongside Ashton Kutcher and the late Bernie Mac. Saldana can even back up the claim that "mother knows best," as her own mom was a huge fan of the show and would often call Saldana on set to give her advice on how to approach the character.
"I'm not afraid to say my mom is a Trekkie—it's really cool. She was the one who helped me tap into my role," Saldana said, speaking with MTV. "She'd leave voicemails as I was driving to set, and she speaks with a very cute Spanish accent. She'd be like, 'Zoe, so for this scene when you are in front of Spock, Uhura has to be stoic because she is elegant and remember she's a translator so she is very sociable. Okay?' She would leave these messages and I was like, 'Who is this lady?' She's such a sci-fi geek!"
Saldana's flesh and blood wasn't the only one over the moon about her performance in Star Trek. One critic even called her Uhura "brilliant." We can't say we disagree.
She broke records with Avatar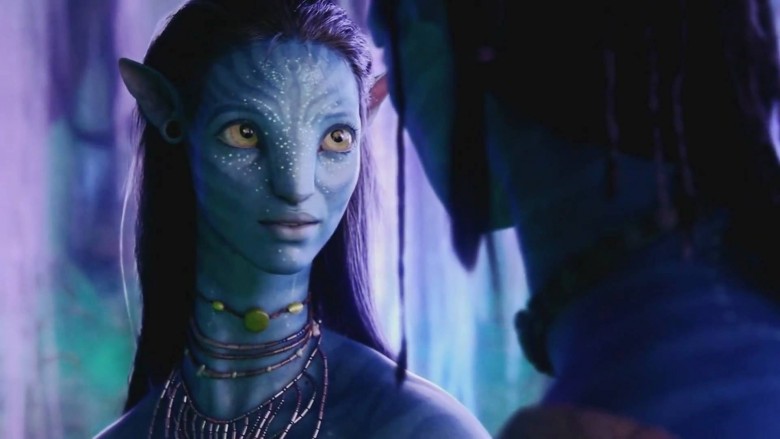 It's putting things mildly to say that Saldana's role in the James Cameron sci-fi epic Avatar raised her profile to a new level. The film received nine Oscar nominations—winning the 82nd Academy Awards for Best Art Direction, Best Cinematography, and Best Visual Effects—secured the Golden Globe for Best Motion Picture – Drama at the 67th awards ceremony, and earned praise from critics such as the esteemed Roger Ebert, who compared it to Star Wars in his review. Along the way, Avatar shattered Cameron's own 12-year record for the highest-grossing film in history, dethroning Titanic.
Avatar was a blockbuster, but it wasn't a paycheck gig for Saldana. "You just gravitate naturally to what your heart yearns for," she said of the film. "I grew up in a very science fiction-driven household. It was odd for me to grow up and go out in the world and not see other women going crazy for science fiction." One thing's for certain: plenty of people, not just women, went crazy for Saldana's Neytiri and can hardly wait to see her reprise the role in future installments. (Hurry up with the sequels, Cameron!)
A rocky relationship led to a romantic elopement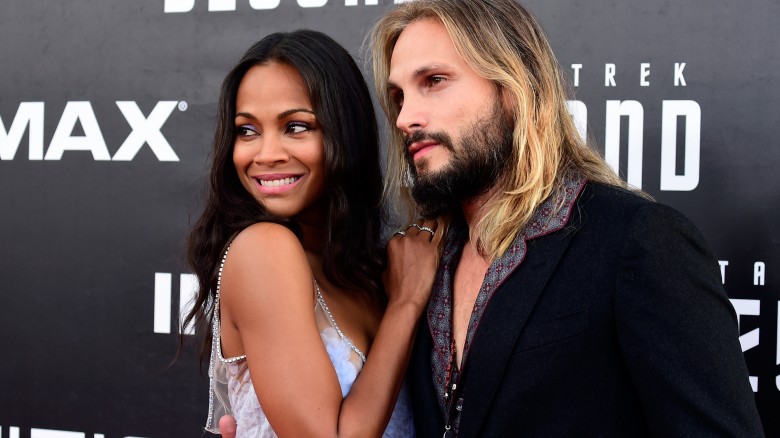 Getty Images
Saldana made gossip headlines in December 2011, when she coupled up with her The Words costar Bradley Cooper. Unfortunately, he may have ended up being an example of what Saldana didn't want in a life partner. With Marie Claire magazine, she went on record to state that she'd "been in relationships where a man has disrespected [her]" and many speculated she was talking about Cooper. "There's a reason why you're called an ex. I crossed you off my list. Moving on. You cross a line, you need to know that you're going to walk this earth knowing that there's an individual who has no respect for you."
But life after Cooper was, in Saldana's own words, bliss. "I was finally able to spend time without being in a relationship and even though it was a short period of time, it was beautiful," she told FASHION magazine. "Where I lost that fear of being alone. It was bliss. Then I met my partner when I was in a really beautiful place in my life. It was like I found all my answers with him not in him. I was finding answers on my own."
That partner is, of course, Italian artist Marco Perego, whom Saldana met in March 2013. A three-month rendezvous was quickly followed by a secret summer wedding in London. Today, the pair share not only last names, Saldana becoming Zoe Saldana Perego and Perego becoming Marco Perego Saldana, but also three sons: twins Cy Aridio and Bowie Ezio, and the littlest one, Zen. Of motherhood and her marriage to Perego, Saldana has said, "We're a good team... we also have a great village."
Going green as Gamora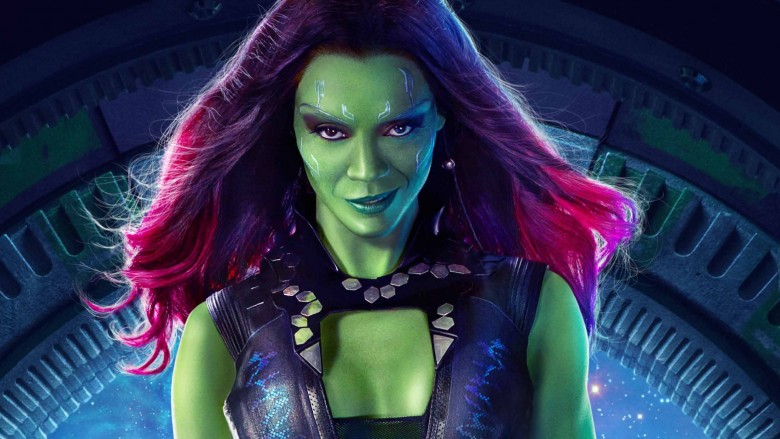 We we end our journey at Saldana's most recent scene-stealing role: as Guardians of the Galaxy's badass, bad guy-destroying, galaxy-saving gal Gamora. Presumably having seen Saldana in back-to-space sci-fi epics, director James Gunn approached her about possibly playing the green-skinned heroine, but her sister had to get her up to speed on who the characters even were. "I didn't know about the comic, as I normally am clueless that way," Saldana admitted to MTV. "My sister sort of informed me of it, I read the script and I was blown away with it." Even with nearly four hours in the makeup chair every day looming, the actress knew the role would be "very rewarding."
But she'd be lying if she said she didn't have concerns about the role. During screen tests, Saldana stressed Gamora stay "pretty" to draw teenage boys into seeing the film, something she doesn't usually put stock into when conceptualizing a character. "That's usually a thing that I don't think about with other characters that I play but for some reason because I was going to be green and I was going to be the lead girl, I just wanted teenage boys to find me attractive," Saldana explained in an interview with Collider. "I don't know why I was stressing this a lot but I really was when we were testing... I'm like, 'Pretty. Teenage boys, please. We gotta get their vote.'"
In retrospect, her fears seem fairly obviously unfounded—the superhero adventure nabbed the approval of millions of adoring fans, not just adolescent guys, and pundits worldwide. Called by one critic a "refreshing confection of entertainment," Guardians of the Galaxy brought the MCU to a new legion of superhero-loving viewers.
And being a part of the Guardians is something Saldana truly cherishes. "We're kind of like the Rolling Stones of the whole Marvel comics that I find so f—-ing appealing," she once stated. "We're like the ones who always fail in class but for some reason we can burn the house down, and I like that." So say we all.