Red Sonja Feature In The Works From Transparent Creator Jill Soloway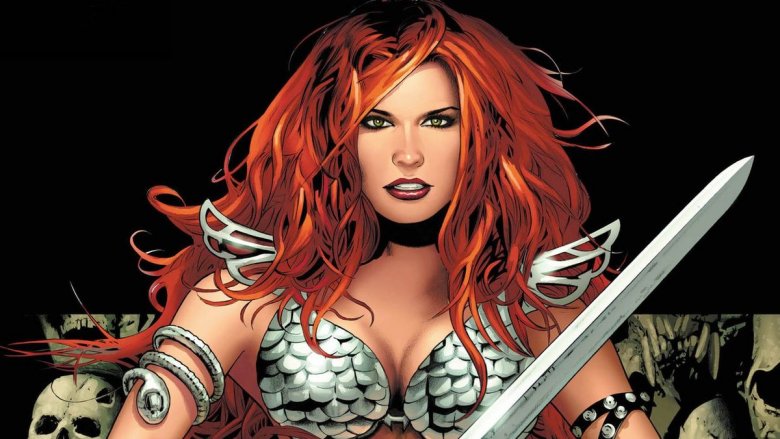 The She-Devil with a sword is headed back to the silver screen.
Transparent creator Jill Soloway has been tapped to write and direct Red Sonja, an updated feature film adaptation of the fearsome warrior who debuted in the pages of Marvel comics. Soloway replaces X-Men director Bryan Singer, who had been attached to the project since last year. (via Deadline) 
Red Sonja is a character who could really, really use a modern take. The character debuted in Marvel's Conan the Barbarian in 1972, and made an immediate splash due to her fierce nature, fire-red locks, and... shall we say, miniscule amount of armor. The character wasn't given her slightly problematic origin story until later in the decade. As a teenager, Sonja's entire family was murdered (and she herself was "assaulted") by a group of roving mercenaries. In response to her desperate plea to the heavens for vengeance, she was visited by the red goddess Scathach, who gifted her with formidable strength and fighting prowess and unequaled skill with a sword. The price for these gifts: Sonja must never "lay with a man," unless he can defeat her in combat.
Needless to say, there are a few slightly problematic elements to this story, although they were kept largely intact for the 1985 feature film adaptation, which starred Brigitte Nielsen (and featured an appearance by Arnold Schwarzenegger, though not as Conan). The film was supposed to do for Nielsen's profile what the Conan pictures had done for Schwarzenegger's, but there were a few issues. First, the PG-13-rated movie hedged its bets with the comics' violent tone, alienating much of its potential fan base; second, Nielsen's extremely limited acting skills did the picture no favors; and third, the film was frankly awful.
According to The Hollywood Reporter, the remake was conceived by studio Millennium Films after 2017's smash hit Wonder Woman proved beyond a shadow of a doubt that audiences would turn out in droves for a female-fronted actioner. The studio, however, shot itself right in the foot with its first choice of director. Singer entered into talks to direct the flick from a script by Ashley Miller (X-Men: First Class) in September last year, at a time when myriad allegations of sexual assault were swirling around him. Said allegations had already resulted in the director's dismissal from the Freddie Mercury biopic Bohemian Rhapsody, but for whatever reason, Millennium seemed to think that his attachment to Red Sonja — and his reported $10 million dollar salary — would prompt a response other than a fierce backlash.
Needless to say, it did not. Millennium sat with their decision for about six months before, in March of this year, Singer was let go from the project. Although studio head Avi Lerner insisted that the firing was due to the flick's inability to secure a domestic distributor, that explanation sounded like a bunch of malarkey at the time, and with the news of Soloway's hiring, it sounds more like about five or six bunches.
The decision to hand Red Sonja to a very talented woman, however, may very well make up for the Singer boondoggle. Soloway made her bones as a writer, director and producer on innovative television series such as United States of Tara, Six Feet Under, and Dirty Sexy Money before creating the acclaimed series Transparent for Amazon in 2014. (Somewhat ironically, that series may have ended prematurely due to on-set sexual harassment allegations against its star, Jeffrey Tambor.) She has only directed a pair of small indie features, but it's been definitively proven at this point that inexperience in the big-budget tentpole realm does not in any way preclude success — just look at Joe and Anthony Russo, a couple of veteran TV guys who just turned in one of the biggest pictures in history.
In a statement, Soloway was over the Moon at the opportunity to take on the iconic property. "I can't wait to bring Red Sonja's epic world to life," the filmmaker said. "Exploring this powerful mythology and evolving what it means to be a heroine is an artistic dream come true."
While there has not yet been any announcements regarding casting or a time frame for the film's release, news should start flowing a bit more freely now that Soloway is at the controls. We'll keep an eye out for more details, and keep you informed.