Toy Story 4 Scores $12 Million In Thursday Previews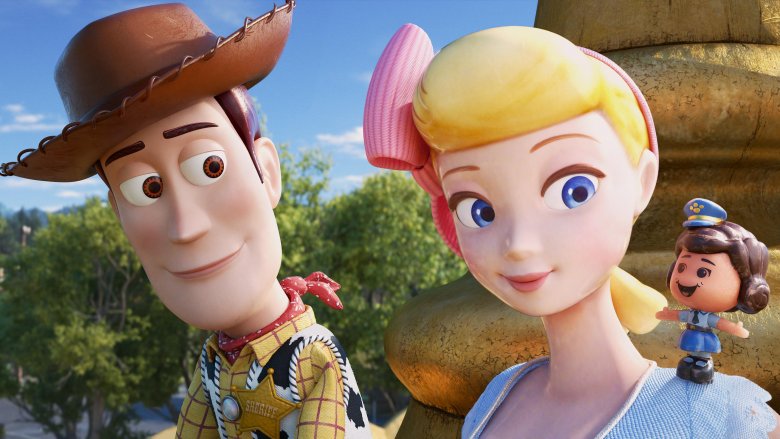 Disney/Pixar
Surprise — Disney and Pixar look to have another mega-hit on their hands.
Toy Story 4 racked up $12 million dollars in preview showings Thursday night, the second-best showing ever for an animated film behind only The Incredibles 2. The figure bodes very well for the movie's opening weekend. (via Deadline)
The fourth installment in the beloved Toy Story franchise has been in the works for nine long years, so it's no surprise that it found a healthy preview audience. Perhaps the only surprise here is that the flick's Thursday total couldn't come close to that posted by the even-longer-awaited sequel to The Incredibles, which raked in an eye-popping $18.5 million dollars in preview sales last summer.
Toy Story 4 follows everybody's favorite cowpoke, Woody, as he attempts to impart the joys of being a toy to his kid Bonnie's art project-turned plaything Forky. When Forky attempts to throw himself away (believing himself destined to be trash), Woody tries to save him — and ends up in the middle of a rip-roaring adventure that sees him meeting some new friends and reuniting with his long-lost buddy, Bo Peep. 
While many fans understandably felt that 2010's Toy Story 3 was the perfect capper to the franchise (not to mention one of Pixar's very best films, which is saying something), any fears that the fourth chapter would turn out to be an unnecessary cash grab on the part of the venerable animation house can be put squarely to bed, judging by the critical response to the film. For a time after its screening for critics, Toy Story 4 was standing at a sterling 100% on Rotten Tomatoes; of course, there always has to be a killjoy or two, and with the bulk of its reviews now in, that score has dropped ever-so-slightly to 98%. The site's Critics' Consensus reads, "Heartwarming, funny, and beautifully animated, Toy Story 4 manages the unlikely feat of extending — and perhaps concluding — a practically perfect animated saga."
The preview total suggests that industry analysts have been right on the money with their predictions for the film's opening weekend. It will face absolutely no competition for the family dollar, and this weekend's other prominent openings are aiming for audiences which are decidedly more niche (although we suppose that those with a specific hankering to see talking dolls might conceivably be torn between Toy Story 4 and Child's Play).
The movie is a sure bet to approach the $60 million dollar mark domestically in its first day of wide release, which will contribute toward what analysts are predicting will be an absolutely massive domestic bow. Estimates are ranging between $150 million dollars on the low end to $200 million dollars or more on the high end, which would hand the flick one of the biggest openings in a year which has seen its share of those so far. The top three mightiest opening weekends of 2019, by the way, have also been posted by Disney; the live-action remake of Aladdin scored a $91 million dollar opening frame, and Captain Marvel checked in with $153 million dollars. Then, of course, there was Avengers: Endgame, which — with a $357 million dollar North American debut — posted not only the biggest opening weekend of 2019, but of all time.
With Toy Story 4, the Year of the Mouse House looks to continue, and it's not like the movie will be Disney's last ultra-high-profile offering of the year; far from it, in fact. Next month will see the debut of yet another live-action remake, The Lion King, which is tracking for a similarly massive opening frame. October will bring us Maleficent: The Mistress of Evil, the sequel to 2014's surprise smash hit starring Angelina Jolie in the title role. Later that month, we'll get Frozen 2, yet another sequel to a box office juggernaut — oh, and in December, we'll see the release of a little movie called Star Wars Episode IX: The Rise of Skywalker.
We're honestly super-pumped for every last one of those films; Disney may be an unstoppable, monolithic cultural force that's seemingly intent on swallowing up every profitable IP that it possibly can, but darned if they don't know how to please audiences. We'll certainly be catching Toy Story 4 this weekend, and of course, you can look forward to a heaping helping of our expert analysis.