First Spider-Man: Far From Home Reactions Call It Best Spidey Movie Ever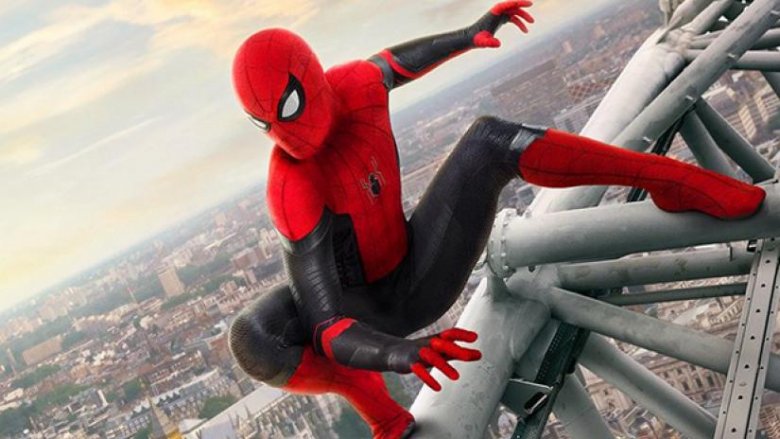 The Marvel Cinematic Universe's streak of near-universally adored releases may one day end — but not this year.
Early preview audiences have taken to Twitter in droves to rave over Spider-Man: Far From Home, with many pegging it as the very best cinematic outing for the wall-crawler so far. This, considering the fact that Sony Pictures Animation's Spider-Man: Into the Spider-Verse recently took home a Best Animated Feature Oscar, is insanely impressive.
While there's still a moratorium on critical reviews, this didn't stop fans who got a sneak preview of the picture from absolutely losing their freaking minds over the film in the vaguest possible terms. Let's kick off the parade of adulation with this post from two-time Emmy Award-winning sports reporter Heather Catlin, who posted her comments alongside a suitably celebratory GIF.
#FarFromHome is by far my favorite #spiderman movie. Warning, you'll have to watch at least twice. @SpiderManMovie pic.twitter.com/Rmuod07ytF

— Heather Catlin (@HeatherCatlin) June 19, 2019
We know what you're thinking: what about Sam Raimi's Spider-Man 2, which was (and, in some quarters, still is) considered to be among the finest superhero films ever made? Twitter user @KevinMcCarthyTV has your answer.
FAR FROM HOME has dethroned Sam Raimi's Spider-Man 2 & is now favorite Spider-Man film.

What's insane is that I can't even tell u why I'm so in love with this film because it would be a spoiler.

Gyllenhaal is incredible. Holland re-confirms as the best Spidey to date. Amazing. pic.twitter.com/pbynxYIEyQ

— Kevin McCarthy (@KevinMcCarthyTV) June 19, 2019
McCarthy followed up with a tweet in which he clarified his opinion just a bit, improbably comparing Far From Home to the stellar recent big-screen outings of horror maestro Jordan Peele while getting us incredibly psyched for those signature post-credits stingers.
I don't think I've been this excited to re-watch a film since Jordan Peele's Get Out & Us. Watts masterfully layers incredible action, storytelling and character development into a film that will be a whole new experience on the 2nd watch. 2 of the best end credits scenes ever.

— Kevin McCarthy (@KevinMcCarthyTV) June 19, 2019
Speaking of those stingers, here's Geek Bomb founder Maude Garrett speaking in praise of Jake Gyllenhaal's Mysterio and promising post-credits scenes that... well, we'll let her tell you.
#Spiderman #FarFromHome is SUCH a good movie! Jake Gyllenhaal suits up & completely embraces his role in its entirety & he's clearly having a blast. This is such a refreshing film after the heaviness of #EndGame. The post-credit scenes are a MUST WATCH & will blow your dang mind! pic.twitter.com/wcTh9iHaYq

— Maude Garrett (@maudegarrett) June 19, 2019
CNET reporter Sean Keane agreed with Garrett's assessment of Gyllenhaal's performance, and also reserved some praise for Zendaya's MJ, who apparently has a lot more to do in this film than she did in Spider-Man: Homecoming.
Major kudos in particular to Jake Gyllenhaal for his super engaging performance as complex character Mysterio, and Zendaya, who brings depth in her massively expanded role as MJ. #SpiderManFarFromHome

— Sean Keane (@SpectacularSean) June 19, 2019
Brandon Davis of ComicBook.com teased the fact that Far From Home has major implications for the future of the MCU while telling an amazing, self-contained story (and he, as well, had kind words for Gyllenhaal, a recurring theme).
#SpiderMan #FarFromHome is an absolute home run. It's SO much fun. It's huge in itself and for the future of the MCU in the most surprising ways. Tom Holland, Jake Gyllenhaal, just a lethal, awesome combo!!

I cannot wait to see this movie again. And again. pic.twitter.com/0hYJvKkdjN

— Brandon Davis (@BrandonDavisBD) June 19, 2019
Ultra-fan Preeti Chhibber stated her intention to see the flick "at least three more times" while referring to it as nothing less than a "paradigm shift," which leads us to believe that the Multiverse reveal promised by the flick's trailers is most definitely not a fakeout.
#FarFromHome: My jaw dropped. And then dropped again. It's a paradigm shift.

— Preeti Chhibber (@runwithskizzers) June 19, 2019
The Playlist editor-in-chief Rodrigo Perez summed up the overall sentiments nicely, while giving us a gentle reminder that if yo don't want the foreseeable future of the MCU spoiled for you, you should take care to avoid anyone in the know who might be prone to dropping spoilers.
#SpiderManFarFromHome: far superior to its predecessor & really delightful, w/a terrific theme of trust well-threaded throughout. Could say more, but it's spoiler-laden, full of fun secrets, so be careful who you follow and what they say. Jake G is great #SpiderMan #FarFromHome

— Rodrigo Perez 📽🎞📺 (@YrOnlyHope) June 19, 2019
Yes, it appears that director Jon Watts, star Tom Holland, and the rest of the crew have absolutely knocked it out of the park on this one, and we can't say that we're surprised. Also, we must say that the comments regarding the flick's post-credit scenes lend credence to a certain rumor that's been bandied about of late, one involving Far From Home's potential introduction of an iconic villain to the MCU canon. (Say there: don't click that link if you don't want this potentially game-changing development spoiled for you.)
In case you can't tell, we are incredibly psyched for this film, which we have already predicted will be Marvel Studios' third billion-dollar-plus grosser this year (behind Captain Marvel and Avengers: Endgame). The flick drops on July 2, and you can be assured that we'll be here to offer more expert analysis than you can shake a web at.