Avengers: Endgame Director Joe Russo Makes Bold Statement About Robert Downey Jr.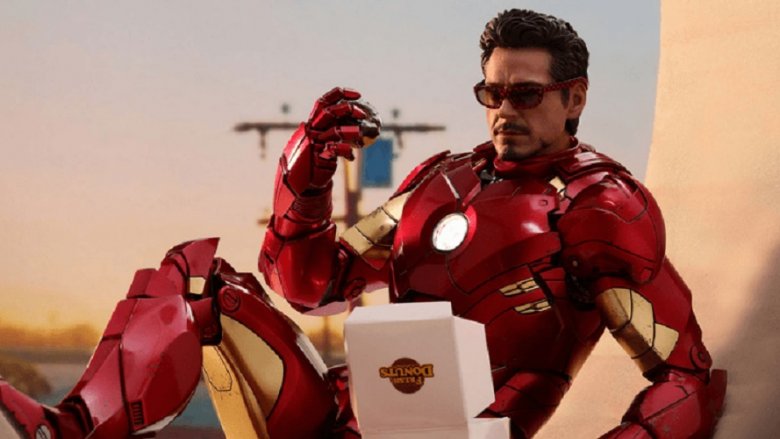 Avengers: Endgame co-director Joe Russo has a few choice words for Oscar voters.
Critics are near-unanimous in their praise of the film and Robert Downey, Jr.'s performance as Tony Stark — but if Russo were to have his way, the MCU's biggest star would take home an Academy Award for the flick. (via The Washington Post) Be advised that spoilers for Avengers: Endgame follow.
During a stop in the nation's capital on a promotional tour for the film late last week, Russo didn't hold back about the contributions his star made not only to Endgame, but to the Marvel Cinematic Universe — by any measure, the biggest film franchise of all time — and thereby, popular culture in general. "His cumulative body of work from these movies is staggering," said the director. "If you look at the work over just even the last four [Marvel] films he's done, it's phenomenal... He deserves an Oscar perhaps more than anyone in the last 40 years because of the way that he has motivated popular culture."
Well, there have been a lot of great film performances in the last 40 years, and that may be one of the boldest film-related statements we've ever heard — but Russo has a point. Downey kicked off the entire MCU with what was seen at the time as an improbably brilliant performance in 2008's Iron Man, and since then, he has added layer upon layer of depth and complexity to a character that could have been a great deal more one-note in the hands of a lesser actor. Indeed, although his casting was seen by industry analysts as a gamble when it was announced in 2007, comic fans were much less skeptical. In the decade leading up to his first triumphant turn as Stark, Downey had struggled mightily with alcohol abuse, a poor public image, and a tendency to confuse and alienate those around him — all issues which had plagued Stark for years in the pages of Marvel comics.
Downey has given his absolute all to the role over the last eleven years, which Russo and his co-director brother Anthony believe should be taken into consideration by the Academy's voters. "He has a very involved process — a more involved process than any actor we've ever worked with," Anthony Russo said. "He digs deeper, and he works harder than anybody... Downey really just goes the extra mile for everything — it's like everything he's doing is something to his core."
That is the hallmark of a great actor, and the same could be said for, say, the late Heath Ledger — thus far, the only actor to win a statue for a performance in a superhero film, for portraying the Joker in 2008's The Dark Knight. Joe Russo also made the point that the Academy seems to have an inherent bias against "popular" films; although Marvel Studios' 2018 effort Black Panther was nominated for seven Oscars (including Best Picture) and took home three, it failed to capture the prize in any major category, and Russo noted that genre films in general have similarly received short shrift from the Academy in the modern era.
"I go back and look at past Oscar winners like Ben-Hur, West Side Story, Lawrence of Arabia, My Fair Lady, The Sound of Music, The Godfather, Godfather 2, The Sting, Rocky — we're talking about some of the most popular films ever made," he said. "It feels like there's now a prejudice against popular cinema. In a way, that's somewhat sad."
Downey has been nominated for Oscars twice before: once for the title role in the 1992 biopic Chaplin (during his first stint at the top of Hollywood's A-list) and again for his incredibly... tricky comedic turn in 2008's Tropic Thunder. But what he's brought to the role of Tony Stark is much more than just an awesome performance or ten; he's imbued the character with his own personality and foibles, and with Endgame, he masterfully brought a close to an arc that has taken over ten years to complete. From the flick's opening shot of a gaunt, beaten-down Stark adrift in space, to his tender moments with his daughter Morgan, to his climactic decision to sacrifice himself for the good of the universe — he hits every note of Stark's journey in Endgame perfectly. If you ask us, he deserves a statue just for the look on his face when he comes face to face with the resurrected Peter Parker, whose tragic dusting near the end of Avengers: Infinity War had haunted Stark perhaps more than any of his other many failures.
It seems almost inconceivable now, but it's worth remembering that at the time the newly-minted Marvel Studios chose to lead off their cinematic universe with Iron Man, the character was so obscure that the choice left industry analysts scratching their heads. In the lead-up to its release, Marvel even commissioned short animated films — helmed by future Deadpool director Tim Miller — intended to raise the character's public profile, as market research had shown that their flick's intended audience wasn't even clear on whether Iron Man was an actual robot, or a guy in a suit.
There's absolutely zero confusion on that point or any other having to do with Tony Stark today. The character has become a household name, one of the most popular in all of mainstream cinema — and it almost certainly would never have happened if Downey had not poured his heart and soul into the character every time he stepped before the cameras for Marvel. He's elevated Iron Man from C-list bench character to worldwide icon; he's thrilled us, challenged us, broken our spirits, and mended them again — and along the way, he's given us proof that, yes, Tony Stark has a heart. Over the last decade-plus, Downey has simply delivered an acting performance unlike any in film history — and for that, we agree that he deserves his industry's highest honor.