Time Bandits: Taika Waititi To Co-Write, Direct Pilot For Apple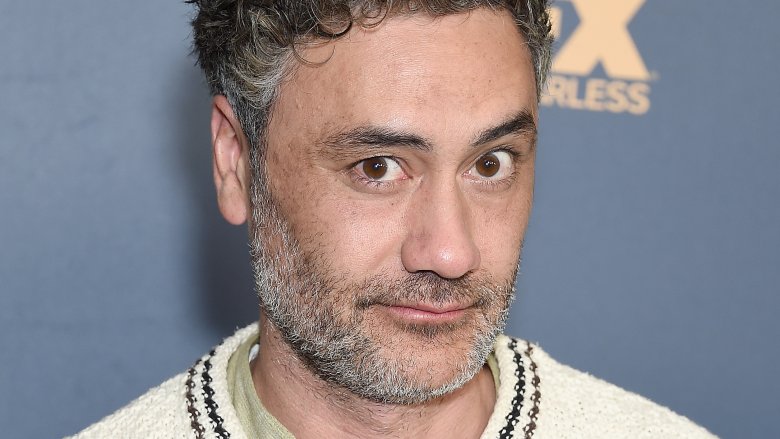 Getty Images
It's about time for a reimagining of Time Bandits.
Red-hot filmmaker Taika Waititi has signed on to executive produce, co-write, and direct a pilot for a potential series based on Terry Gilliam's 1981 cult classic film for Apple's forthcoming streaming service. (via Collider)
The movie, which Gilliam directed and co-scripted with fellow Monty Python alum Michael Palin, told the story of an eleven year-old aficionado of history named Kevin who discovers that within his wardrobe is a mysterious portal to other times and places. He finds himself saddling up for a series of time-hopping adventures with a band of six dwarves, who are in possession of a map belonging to their ex-employer — the "Supreme Being" — which they use to pilfer riches and wares from across all periods of history. Their actions draw the unwanted attention of the Supreme Being and of a nefarious entity simply known as Evil, who wants the map for itself.
The flick was a moderate financial success and firmly established Gilliam's reputation as a highly capable, if exceedingly quirky, filmmaker. Apple was announced to be developing a series based on the picture last summer, and in Waititi, they have secured a talent who perhaps comes closer than any filmmaker working today to Gilliam's bizarre sensibility.
The New Zealander got his feet wet directing episodes of Flight of the Conchords and The Inbetweeners before announcing himself with a pair of singularly weird indie films: 2014's What We Do in the Shadows (following the comedic adventures of a pack of modern-day vampires) and 2016's Hunt for the Wilderpeople (in which a misunderstanding sees a young boy and his foster uncle become the unlikely targets of a nationwide manhunt by New Zealand authorities). Something in the director's comic voice and talent for character development convinced the folks at Marvel Studios that he was ready to make the leap from quirky indies to even quirkier bid-budget tentpole films, and in 2017, he delivered the MCU's most overtly hilarious action-packed blockbuster in Thor: Ragnarok.
That flick's box office-smashing success saw Waititi's stock go through the roof, and in the intervening period, he's found himself with no shortage of projects to fill his time. Aside from shepherding a TV adaptation of What We Do in the Shadows to the screen for FX, he'll be helming multiple episodes of The Mandalorian, a Pedro Pascal-starring series set in the Star Wars universe, for upcoming streamer Disney+; he's also behind the feature Jojo Rabbit, set for release later this year, in which a young boy growing up in Nazi Germany copes with the demands of life under the regime with the help of an imaginary friend: Adolf Hitler (portrayed by Waititi himself).
Needless to say, the lighthearted yet plot-twisty machinations of Time Bandits seems a perfect fit for Waititi, and his hiring constitutes further evidence that Apple is serious about building a quality slate of original programming for its streamer. Previously announced scripted series include an as-yet untitled drama revolving around the set of a morning news show, produced by Reese Witherspoon and Jennifer Aniston and starring Steve Carell; a series based on the upcoming memoir Life Undercover: Coming of Age in the CIA, starring Captain Marvel actress Brie Larson; Defending Jacob, a limited series based on the novel of the same name, starring Chris Evans; and a mysterious sci-fi series from X-Men: Dark Phoenix director Simon Kinberg.
It's safe to say that Apple is gearing up to make a splash with its new streaming service — what isn't clear is when, or on which platforms it will be available. The tech monolith has been characteristically tight-lipped about these details, but we should be getting a clearer picture very soon; according to a recent Bloomberg report, Apple will host a star-studded launch announcement event in Cupertino, California on March 25, although industry analysts don't expect the streamer to debut until sometime this fall.
When it does, though, it promises to pack a startlingly deep library of interesting originals right out of the gate — and the addition of Time Bandits illustrates that, in addition to fielding the standard dramas and crime procedurals, Apple won't be afraid to go weird. Gilliam's original film might not loom particularly large on the cultural radar, but it's a beloved classic to many, and Waititi may very well be the only filmmaker working today capable of recapturing its bizarre, playful vibe. We'll keep an eye out for casting and production details, and we'll also make sure to fill you in on the launch of AppleStream (or whatever it ends up being called) as the news breaks; Tim Cook, if you're reading this, we'd sure appreciate an invite to the big party in Cupertino later this month. We won't be mad if we don't get one, just really disappointed.
[UPDATE: We didn't get one.]