Luke Perry's Final Role Will Be In Once Upon A Time In Hollywood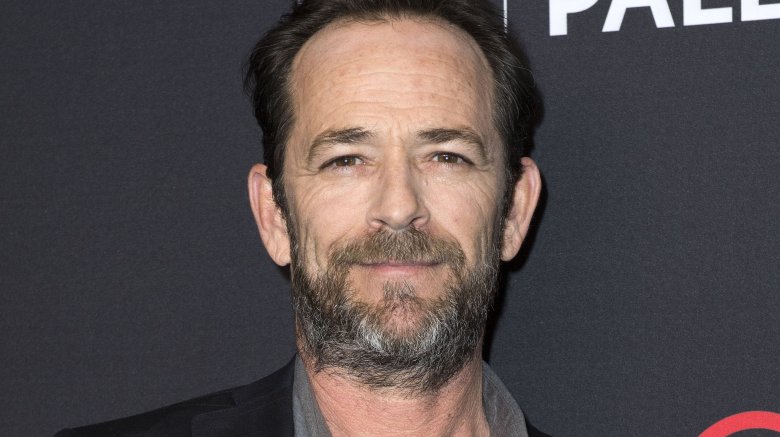 Getty Images
When actor Luke Perry sadly passed away at the age of 52 on March 4, shortly after suffering a massive stroke on February 27, many assumed that the last they would see of the actor would be on Riverdale, on which Perry played the kind-hearted father Fred Andrews. But, as it turns out, upcoming episodes of the CW's deliciously over-the-top, soap opera-esque teen drama won't mark Perry's final performance. There's one more project he'll appear in posthumously. 
As various outlets, including Entertainment Weekly and PopCulture.com, have reported, the last time viewers will see Perry on screen will be this summer, in one of the most anticipated movies of the year: Once Upon a Time in Hollywood, directed by Quentin Tarantino. 
In Once Upon a Time in Hollywood, a 1969-set thriller that explores Los Angeles in the height of its hippy era and in the time surrounding the infamous Manson Family murders, Perry will portray Scott Lancer — who isn't actually a real person but a fictional character portrayed by real-life Canadian-American actor Wayne Maunder on the CBS series Lancer. That series was on air from 1968 until 1970, right around when the story of Once Upon a Time in Hollywood will unravel. 
That said, though outlets have listed Perry as set for the role of Scott Lancer, it seems evident that his true part in Once Upon a Time in Hollywood is as Wayne Maunder, the man behind Scott Lancer. Unless Tarantino plans to do some off-the-wall, reality-blurring stuff with the forthcoming film, that is. 
Tarantino and studio Columbia Pictures have kept a tight lip on specifics about Once Upon a Time in Hollywood, only releasing bare-bones basics to entice audiences and boost hype for the film. It remains to be seen how exactly Perry's character fits into the story, but we do know that his is not a central protagonist. That spot is reserved for Leonardo DiCaprio, who plays fictional Western TV star Rick Dalton. He's out of hope, strapped for cash, and down on his luck — as is his longtime stunt double and friend Cliff Booth, played by Brad Pitt. The pair are said to be "struggling to survive in a Hollywood they no longer recognize," and apparently the one person who could turn the tides back in their favor is Rick's neighbor Sharon Tate, portrayed by Margot Robbie. Not only is Sharon a beautiful blonde starlet who has fame and fortune to spare, but she's also the wife of film director Roman Polanski, played in Once Upon a Time in Hollywood by Rafał Zawierucha, and the eventual victim of Charles Manson's murderous cult. 
Sadly, Perry is the second actor to have died after joining Once Upon a Time in Hollywood. Burt Reynolds was originally set to portray George Spahn, the 80-year-old man who rented his L.A. ranch out to Manson and his cult followers, but passed away in September of 2018 before he shot a single sequence. Bruce Dern, who was a close friend of Reynolds', replaced him in the role shortly after. At the time, The Hollywood Reporter indicated that Reynolds was set to start filming his scenes for Once Upon a Time in Hollywood "within weeks" of his passing. 
Perry boarded Once Upon a Time in Hollywood in early June of 2018, when Deadline confirmed his casting as well as Fanning's and Lewis'. Production formally began on June 18 of that year, wrapping up on November 1. 
As is clear, Once Upon a Time in Hollywood is quite the intriguing film, and not a bad one to mark an actor's very last screen appearance. The project has gained much attention in the media simply for its super-sized cast that features all sorts of A-listers — like Al Pacino as Rick's agent Marvin Shwarz, Emile Hirsch as Hollywood hairstylist and Manson Family murder victim Jay Sebring, Damian Lewis as real-life actor Steve McQueen, Dakota Fanning as Manson Family cult member Lynette "Squeaky" Fromme, Mike Moh as Bruce Lee, Rumer Willis as actress Joanna Pettet, Nicholas Hammond as actor-director Sam Wanamaker, Clifton Collins Jr. as Ernesto "The Mexican" Vaquero, and Damon Herriman as Charles Manson himself. Rounding out the enormous cast is a slew of other well-known stars: Lena Dunham, Spencer Garrett, Eddie Perez, Austin Butler, Maya Hawke, Dreama Walker, Kurt Russell, Timothy Olyphant, James Marsden, Tim Roth, Michael Madsen, and over a dozen others. 
And fear not, Riverdale fans — Perry will still appear on the show's third season, which is currently airing on the CW. The network did shut down production on the series in light of Perry's passing, as the actor was in Los Angeles filming for Riverdale when his fatal stroke happened. As of now, it looks as though Riverdale season 3 will run for 22 episodes in total, with the season finale premiering on May 1. Whether Perry will be a part of the storyline through to the end of the series is unclear, since we don't know how far along the show was in filming the remainder of season 3, which debuted 13 episodes prior to Perry's death on March 4. Should Riverdale tie up its third season on May 1, that will leave nearly three months between the finale episode and the day Once Upon a Time in Hollywood is released. 
Those interested in seeing the late, great Perry take his final turn on the silver screen can do so when Once Upon a Time in Hollywood launches in theaters on July 26.