Riverdale, 90210 Actor Luke Perry Dies At 52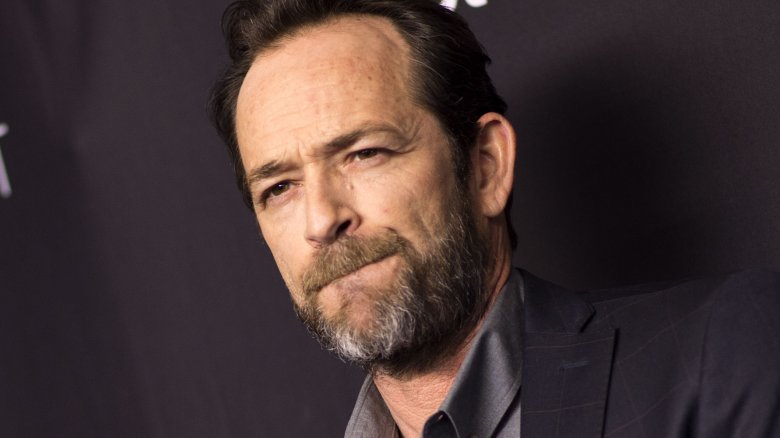 Getty Images
Luke Perry, the actor best known for his roles on Beverly Hills, 90210 and Riverdale, died on Monday, March 4. Less than a week earlier, Perry suffered what was reported as a "massive" stroke on Wednesday, February 27. TMZ reported at the time that paramedics arrived at Perry's home in Sherman Oaks, California around 9:40 AM on Wednesday, and though he was initially responsive, his condition "deteriorated" thereafter. Perry was taken to the hospital on Wednesday morning, where he had been held until his death. He was just 52 years old. 
A representative for Perry, Arnold Robinson, confirmed the heartbreaking news to Deadline, releasing a statement that reads, "[Perry] was surrounded by his children Jack and Sophie, fiancée Wendy Madison Bauer, ex-wife Minnie Sharp, mother Ann Bennett, step-father Steve Bennett, brother Tom Perry, sister Amy Coder, and other close family and friends. The family appreciates the outpouring of support and prayers that have been extended to Luke from around the world, and respectfully request privacy in this time of great mourning. No further details will be released at this time."
Riverdale executive producers Roberto Aguirre-Sacasa, Greg Berlanti, Sarah Schechter, and Jon Goldwater — along with Warner Bros. Television and the CW –  also issued a statement in light of Perry's passing. 
"We are deeply saddened to learn today about the passing of Luke Perry. A beloved member of the Riverdale, Warner Bros., and CW family, Luke was everything you would hope he would be: an incredibly caring, consummate professional with a giant heart, and a true friend to all," it reads (via Twitter). "A father figure and mentor to the show's young cast, Luke was incredibly generous, and he infused the set with love and kindness. Our thoughts are with Luke's family during this most difficult time."
Born Coy Luther Perry III in Mansfield, Ohio in 1966, Perry headed for the bright lights of Los Angeles in hopes of starting his acting career shortly after graduating from Fredericktown High School. His first major gigs were on the television soaps Loving and Another World, on which he played Ned Bates and Kenny, respectively. Perry's big break came not long after: In 1990, he landed the coveted role of Dylan McKay, the rich kid with the luscious hair and a huge crush on Brenda Walsh (Shannen Doherty) and later Kelly Taylor (Jennie Garth), on Beverly Hills, 90210. 
Perry shared with Entertainment Weekly back in 1994 that Beverly Hills, 90210 producer Aaron Spelling told him he was the top choice to play Dylan, despite studio Fox having some hesitation about casting him: "Originally, nobody wanted me but him. And I said, 'Look, you put me on that show, I will kick its ass, man.'"
According to the series' creator, Darren Star, Dylan wasn't a part of the pilot episode — it was only after writing the bad boy character in and having Perry read for the part that Dylan truly came to life. 
"After the first episode, we got together as a writing staff and we were sort of missing a 'bad boy,' in a way, so we created Dylan. When [Perry] came in to read for Dylan, we loved him, and [EP Aaron Spelling] loved him. And I think it's very well known that Aaron went out of pocket to hire him as a series regular, and the network wasn't necessarily onboard with adding a series regular," Star said during an interview with the Television Academy Foundation in 2015 (via Yahoo). "Aaron knew we needed this kind of character on the show, and of course Luke was fantastic."
Perry starred as Dylan from 1990 until 1995, then returned to the series for two more years from 1998 to 2000. The actor once said that he knew that people would forever associate him with Dylan, and that he didn't mind: "I'm going to be linked with him until I die, but that's actually just fine. I created Dylan McKay. He's mine."
After 90210 went off air, Perry took on a variety of roles that felt different from his trouble-raiser one. He portrayed Reverend Jeremiah Cloutier on Oz, Jeremiah on Jeremiah, Todd on What I Like About You, Peter Schaefer on Windfall, Linc Stark on John from Cincinnati, Luke on FCU: Fact Checkers Unit, and CDC Officer Dr. Charlie Stafford on Body of Proof. Perry also appeared on episodes of Will & Grace, Night Visions, Spin City, Law & Order: Special Victims Unit, Criminal Minds, The Storm, Leverage, Generator Rex, Community, and Raising Hope. In addition to his live-action television gigs, Perry was an experienced voice actor, lending his pipes to characters like Napoleon Brie on Biker Mice from Mars, Ponce de León on Clone High, Stewart Waldinger on Pepper Ann, Rick Jones on The Incredible Hulk, and Sub-Zero on Mortal Kombat: Defenders of the Realm.
Most recently, Perry played Fred Andrews on the CW's insanely successful teen drama Riverdale. The series introduced Perry to a brand new generation of fans, who took a liking to the actor and his portrayal of the kind, thoughtful father to KJ Apa's Archie Andrews. At the time he suffered the stroke, Perry was shooting sequences for Riverdale in Los Angeles. 
On the film side of things, the actor appeared in movies like Scorchers, Buffy the Vampire Slayer, The Fifth Element, The Heist, Attention Shoppers, The Enemy, Supernova, The Sandlot: Heading Home, Alice Upside Down, A Gunfighter's Pledge, A Very Merry Daughter of the Bride, Upstairs, Redemption Road, Good Intentions, Red Wing, Jesse Stone: Lost in Paradise, and Welcome Home. His last film appearance was in the 2016 movie Dudes & Dragons, in which he played Lorash. 
Perry will appear posthumously in director Quentin Tarantino's forthcoming film Once Upon a Time in Hollywood, starring as Canadian-American actor Wayne Maunder. That flick is due out on July 26.
Since news of Perry's passing broke, many of his loved ones have posted tributes to honor his memory. 
The Riverdale writers room tweeted, "Luke Perry... you were a joyful and vibrant soul. You will be missed but most certainly your legacy will be remembered forever. Rest in love and peace, friend."
Perry's 90210 co-star Ian Ziering wrote on Instagram, "Dearest Luke, I will forever bask in the loving memories we've shared over the last thirty years. May your journey forward be enriched by the magnificent souls who have passed before you, just like you have done here for those you leave behind. God please give him a seat close to to you, he deserves it."
Another 90210 star Christine Elise McCarthy, who played Emily Valentine on the series, posted to Instagram a sweet message remembering Perry. "With the heaviest of hearts, I am stunned and devastated to tell you that Luke passed away. I am still in shock and I have no words beyond saying he was a truly kind gentleman. He will be mourned and missed by everyone who knew him and the millions who love him. RIP, dearie Luke. Your time here was far too short," she wrote, adding three broken heart emojis to the end of the caption of a photo of her and Perry in their younger years. 
Buffy the Vampire Slayer creator Joss Whedon tweeted, "The first time I met Luke Perry we talked about what kind of movie we wanted Buffy to be. I asked if he'd ever seen Near Dark and he gave me a look of HOW DARE YOU SIR and I knew we'd get along. Funny, committed, and always gracious. He shouldn't be gone."
Actress Molly Ringwald wrote on Twitter, "My heart is broken. I will miss you so much Luke Perry.  Sending all my love to your family."
Added Patricia Arquette, "Luke Perry – Irreplaceable beautiful and kind human being, incredible friend, generous actor and adoring father to Jack and Sophie and loving partner to Madison we are all heartbroken. You are the love and you are the light."
Production on the third season of Riverdale has been suspended in the wake of Perry's death. 
The actor is survived by two children: daughter Sophie and son Jack, also known by his wrestling name "Jungle Boy" Nate Coy. Perry also leaves behind a fiancée, Wendy Madison Bauer. 
Our thoughts are with Perry's loved ones during this time of mourning.