Captain Marvel Post-Credits Scenes Confirmed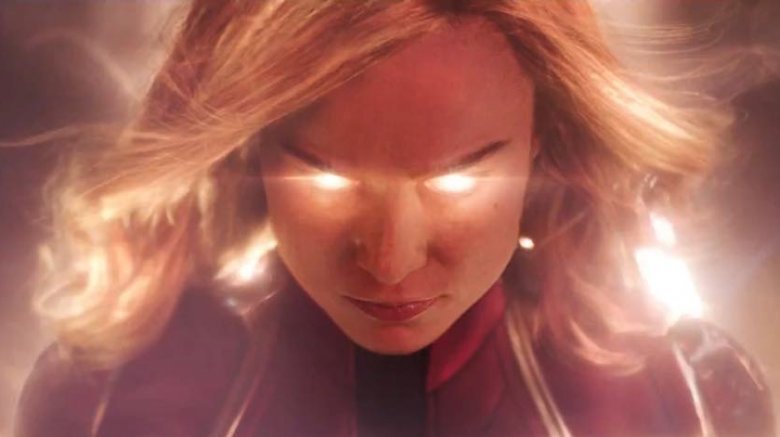 Make no mistake about it, Marvelites – Captain Marvel may be the first Marvel film led by a female superhero, but it's sticking to franchise traditions by including not one but two post-credits scenes. 
After Marvel Studios lifted the social media embargo for reactions (spoiler-free, of course) to Captain Marvel, The Los Angeles Times entertainment journalist Sonaiya Kelley confirmed on Twitter that the film does indeed feature a pair of sequences that play out after the credits start rolling. Kelley noted that there are pre-credit scenes as well — moments that happen before Captain Marvel begins but ones that aren't standard movie previews. Understandably, Kelley couldn't go into much detail about the sequences that bookend Captain Marvel on both sides, but she did tease that they aren't ones to miss.
"Captain Marvel is an effective Avengers prequel in some ways akin to the 1st Captain America movie. It's pro-woman without being overdone with pre and post credit scenes that made me tear up and gave me goosebumps respectively," Kelley tweeted. "By pre* I mean before the movie starts! Though there are two post credits scenes that are worth staying for and the anticipation for ENDGAME is definitely stoked by this film."
It sounds as though either one or both Captain Marvel post-credits scenes could tease Avengers: Endgame, the sequel to Infinity War that fans are hoping will see the surviving heroes travel through time, reverse Thanos' universe-decimating Snap, bring back the heroes who crumbled away to space dust. But even if neither do, Captain Marvel as a whole seemingly does give nod to Endgame — or, at the very least, features enough action, 1990s awesomeness, and general badassery to boost anticipation for the upcoming fourth Avengers film. 
A popular fan theory is that one post-credits sequence that punctuates Captain Marvel will include none other than Doctor Strange, played in the MCU by Benedict Cumberbatch. Reddit user woot_wooten postulates that the Sorcerer Supreme will travel back in time to the 1990s, when Captain Marvel is set, and meet Carol Danvers (Brie Larson) and Nick Fury (Samuel L. Jackson) to inform them of what's happening in their future. Doctor Strange will, per woot_wooten's theory, fill Captain Marvel and Nick in on all that they need to know about Thanos (Josh Brolin), his Decimation, and the fate of Earth and the rest of the universe, then explain why the surviving Avengers need Captain Marvel's help defeating the intergalactic despot. 
"At the end of Captain Marvel Nick Fury and Captain Marvel will be talking then suddenly someone will call out to them. They'll turn around and see Dr. Strange. He'll explain to them what's happening with Thanos in the future and explain that they'll need Captain Marvel's help in order to defeat him," the theory reads. "Doctor Strange will then close his eyes and you'll hear Stark calling out to him. When he opens them, he'll be back on Titan right after he supposedly viewed all possible outcomes. This will help explain why Nick Fury knows to contact Captain Marvel in Infinity War and help bring Carol Danvers into the rest of the MCU."
Not a bad theory in the slightest, we must say. Given his ability to bounce through time and his incredible intelligence, Doctor Strange being the one to orchestrate the reunion between Captain Marvel and Nick in the present day makes sense, though he probably won't be the true hero of Endgame, as we have a feeling that will go to Captain Marvel based on what we've heard about her solo movie.
As for the pre-credits moments, one will reportedly revolve around the late Stan Lee, the Marvel Comics legend who passed away in November of 2018 at the age of 95. Captain Marvel will kick off with "a very touching Stan Lee tribute that Marvel fans will love," according to screenwriter and film journalist Anna Klassen, who was one of the lucky few critics who attended press screenings of Captain Marvel ahead of its release. Another sequence (or string of scenes) could play out before Captain Marvel's action begins, judging by what Kelley said of the film, but what those potential moments might entail remains a mystery for now. 
Like he had done dozens of times before, Lee is also expected to make a cheeky cameo in Captain Marvel (and Avengers: Endgame and Spider-Man: Far From Home, the other two Marvel movies releasing this year). As Endgame co-director Joe Russo explained, Marvel filmmakers typically shot Lee's cameos for several different movies all in one go: "He's the godfather of a lot of these stories, him and Jack Kirby. So, Stan, typically we try to get him out — he doesn't love to fly — so we try to get him out for his cameos around the same time. So if we have other movies shooting on the same lot that we're on, for instance Ant-Man [and the Wasp] or Avengers 4, we group his cameos together and then move him from one set to the next and get him through his cameos in one day." Perhaps Lee's cameo in Captain Marvel comes in a post-credits scene? It wouldn't be the wildest way he's been folded into an MCU movie in the past.  
Obviously, we won't know what happens before, during, and after Captain Marvel until we see the film ourselves. Directed by Anna Boden and Ryan Fleck, and featuring a glittering cast and "a great '90s sci-fi vibe [with] a tone unlike any other Marvel movie," Captain Marvel will soar into theaters on March 8.