Captain Marvel: First Reactions Praise Film As 'Beautifully Constructed, Hilarious' '90s Superhero Fun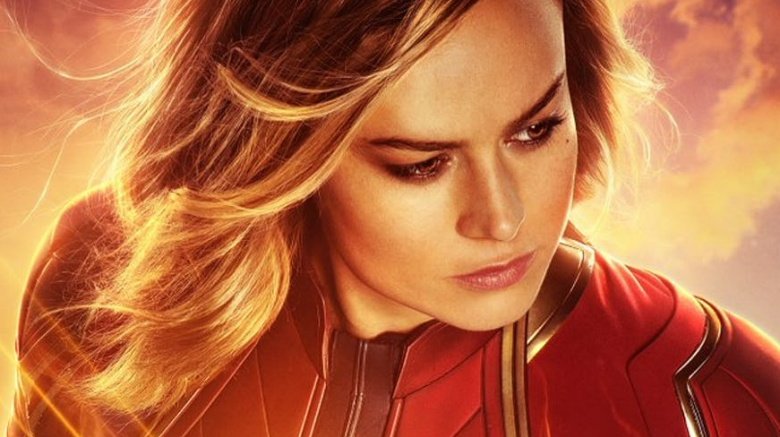 It's true: When Carol Danvers enters the scene, she takes things higher, further, and faster, baby. 
Marvel Studios has just lifted the social media embargo on Captain Marvel, and critics have quickly typed out their reactions to the Brie Larson-led superhero solo movie — the one promised to usher in a new and exciting era of the Marvel Cinematic Universe. 
In news that will warm even the coldest of hearts, electrify even the most unenthused of readers, and silence the naysayers who were slamming the film before ever seeing it, the initial wave of response to Captain Marvel is virtually completely positive, with hardly any gripes to be seen. 
Members of the media lucky enough to catch Captain Marvel during press screenings are praising the film, directed by filmmaking duo Anna Boden and Ryan Fleck, as "pure joy" that packs a powerful pro-girl message, "a unique and fresh take on an origin story that feels new," and an "engaging and fun" flick that's ambitious, well-crafted, chock full of hilarious moments, tons of '90s goodness, and action to boot. The vast majority (read: essentially all) critics exalt Captain Marvel as the perfect blend of surprising and sassy in all the right places, badass and bold, and everything fans could hope a movie about Carol Danvers would be. Perhaps the best pull-quote to describe Captain Marvel is this: "The future of the MCU gets even brighter adding #CaptainMarvel to the mix."
CinemaBlend's Eric Eisenberg said of the movie, "Captain Marvel is a blast! Has some cool surprises that I definitely didn't see coming, and the mystery/origin it weaves is engaging and fun. Brie Larson is awesome, and makes a fantastic first step into the MCU." He also added that Carol's cat, the fuzzy orange guy named Goose, is "a brilliant scene-stealer."
Fandango managing editor Erik Davis wrote that Captain Marvel has everything not only a good Marvel movie needs but also all the elements that a good film in general needs. Plus, it carries a tone that can't be found in any other MCU installment — and that's a good thing. Davis tweeted, "#CaptainMarvel has a great '90s sci-fi vibe w/ a tone unlike any other Marvel movie, really. It's retro & trippy, mysterious & dorky. It's funny in surprising places & badass in all the right places. It remains entertaining because it's always changing. It's got the right stuff." 
In a follow-up tweet, Davis gave praise to the secondary characters in Captain Marvel, the ones who, you know, aren't the title hero. To Davis, everyone in Captain Marvel is a star and each captivates audiences in their own unique way, but Lashana Lynch, who portrays Carol's best friend and fellow pilot Maria Lambeau, is the MVP of the movie. "Love the cat, love Sam Jackson, LOVE Ben Mendelsohn, but honestly I'm calling Lashana Lynch as MVP. She brings an emotional weight to the film that is needed and transforms the entire movie upon arrival. Definitely need to see more of her," he said. 
Perri Nemiroff of Collider had fantastic things to say about the Captain Marvel ensemble cast as well, writing that Australian actor Ben Mendelsohn, who plays the shape-shifting Skrull leader Talos who masquerades around S.H.I.E.L.D. as Nick Fury's boss, is a formidable force on screen. She also applauded Larson's performance, saying that she "fell for" the actress' charms and dynamism. 
"The future of the MCU gets even brighter adding #CaptainMarvel to the mix. Really fell for @brielarson's sass, strength & energy in the role. Same with @LashanaLynch too! Ben Mendelsohn is A+ casting as Talos. And yes, Goose is a scene stealer. 2nd viewing can't come soon enough," tweeted Nemiroff.
Entertainment Tonight producer, reporter, and host Ash Crossan got totally swept up by Captain Marvel's radical 1990s time setting, and felt a strong connection to Carol Danvers' spunky personality. "#CaptainMarvel is (takes deep 90s breath) TOTALLY AWESOME. Never related to a Marvel character quite like Carol. She's the stubborn witty 90s kid I like to think I am," Crossan said in a tweet. 
Peter Sciretta of Slashfilm wrote that Marvel Studios really got things right with Captain Marvel, that Larson's interplay with Lynch and Nick Fury actor Samuel L. Jackson is absolutely delightful, and that the film is a solid prequel to the MCU as we know it today. He did note one very slight downside of Captain Marvel: some of the songs in the film's soundtrack are a little too on-the-nose. Other than that, Captain Marvel was a trip for Sciretta. 
"#CaptainMarvel is a great origin story. Brie's buddy cop chemistry with @SamuelLJackson is so much fun and her relationship with Lashana Lynch is the real heart of it. Ben Mendelsohn and the cat both steal the show," he tweeted, then adding, "Marvel does a prequel right, not overexplaining too much but giving us unexpected answers in interesting ways. MCU's most multilayered villain story. A fun 90s soundtrack, but sometimes the song choices feel too obvious."
ComicBook.com's Brandon Davis offered a short but sweet reaction to Captain Marvel: "Fans of #CaptainMarvel comics are going to love the movie. Plain and simple." And so did Angie J. Han of Mashable, who simply wrote, "#CaptainMarvel: Well, Thanos is f***ed."
Moviefone features editor Drew Taylor shed light onto a drawback of Captain Marvel, writing that the film is "a little wobbly at times." However, Taylor stated that the slight unevenness is down to the movie being "so ambitious," and that it doesn't take away from how wonderful the rest of Captain Marvel is. Like many other critics, Taylor also gave love to Larson and Mendelsohn for their top-notch turns as Carol and Talos.
"Really loved #CaptainMarvel. It's a little wobbly at times but only because it's so ambitious. It's beautifully constructed, hilarious and offers tons of surprises. @brielarson obviously rules but Ben Mendelsohn is the surprise MVP," tweeted Taylor.
Mike Ryan of Uproxx also pointed out some of Captain Marvel's flaws in his reaction to the film, which was still quite positive. In a thread of tweets, Ryan wrote, "CAPTAIN MARVEL isn't what I expected based on marketing. It's pretty much an 'all in' cosmic space movie. Also, it's a lot weirder than I expected. Ben Mendelsohn is awesome as Talos. And not wacky weird like the GOTG movies. Think more 'Rey snapping into endless mirrors' from The Last Jedi type scenes. Also, finally, the MCU and a Nirvana song come together (as Kurt Cobain wanted). I can't get over how great Ben Mendelsohn is. I was worried he was just going to be one of those Marvel villains with alien makeup, but that's not the case at all. This movie doesn't work without him."
A bit of wobbliness and Captain Marvel being trippier than anticipated aren't entirely bad things, and the casual moviegoer might not even find those two notes to be issues at all. The bigger takeaway here is that everyone is loving Captain Marvel — which says a lot about where the MCU is headed now that she's the new captain leading the way. 
Marvel Studios president Kevin Feige previously stated that, upon her introduction into the Marvel movie landscape, Captain Marvel will become the strongest hero of them all. "All of the Marvel characters have flaws to them [and] all of them have a deep humanity to them," said Feige back in October of 2016. "With Captain Marvel, she is as powerful a character as we've ever put in a movie. Her powers are off the charts, and when she's introduced, she will be by far the strongest character we've ever had. It's important, then, to counterbalance that with someone who feels real. She needs to have a humanity to tap into, and Brie [Larson] can do that." Sounds like the film lived up to Feige's promises.
With Avengers: Endgame following after Captain Marvel on Marvel's film release schedule, with Carol confirmed to make an appearance in Endgame, and with many fans believing that Endgame will see iconic heroes like Captain America (Chris Evans), Iron Man (Robert Downey Jr.), and Bruce Banner (Mark Ruffalo) bite the bullet, a lot is riding on Captain Marvel to be everything that her silver screen predecessors were and be bigger and better in more ways than one. Obviously, no character can completely replace those who may perish in Endgame — but that Larson's hero is now being applauded as strong, likable, shockingly powerful, and apparently strong enough to strike fear into Thanos, the dude who obliterated half the universe at the end of Avengers: Infinity War, shows that she can take their place and make Phase 4 of the MCU fresh and fun. Hearing such positive response to Captain Marvel really does soothe the soul. 
What still remains a mystery is how Captain Marvel will tie into Avengers: Endgame. Based on Han's tweet that Thanos has a big storm coming, it's clear that whatever special moves Captain Marvel shows off in her solo flick are eye-widening and jaw-dropping enough to convince viewers that she will swoop in and save the day in Endgame. The post-credits scene of Infinity War featured Nick Fury paging Carol for help, and now that we've heard these stellar first reactions to Captain Marvel, we're confident that when she touches down on Earth, all hell will break loose and Thanos won't know what's hit him. 
Of course, everyone will have to wait patiently until both Captain Marvel and Avengers: Endgame launch in theaters to have all their questions answered. Catch Captain Marvel in theaters on March 8, then head out for Avengers: Endgame on April 26.