Stunning Art Reveals How Robert Pattinson Could Look As The Next Batman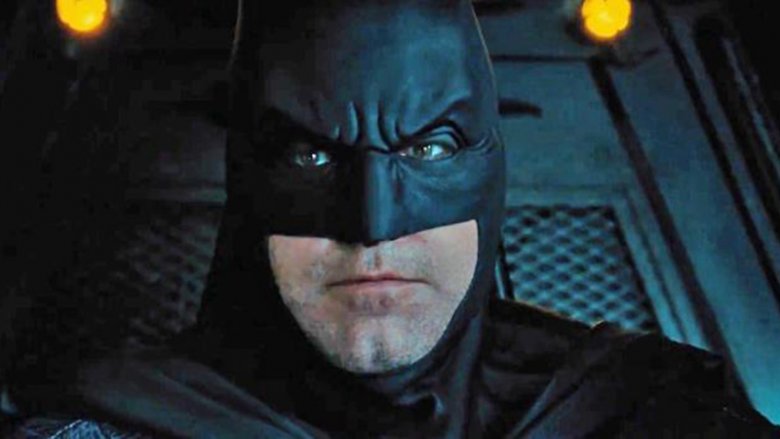 Since making his debut as the Dark Knight in 2016's Batman v Superman: Dawn of Justice, Ben Affleck's name has become as synonymous with Batman as Jared Leto's has with the Joker, Margot Robbie's has with Harley Quinn, and Gal Gadot's has with Wonder Woman. Affectionately referred to as "Batfleck" by fans of his contributions to the DC Extended Universe, Affleck puffed out his chest, mustered up his courage, and assumed the mantle once occupied by screen icons Adam West, Michael Keaton, Val Kilmer, George Clooney, and the unforgettable Christian Bale, who lead Christopher Nolan's Dark Knight trilogy. Now, Affleck is hanging up his cape and cowl and handing the suit over to someone new — someone who could be Robert Pattinson. 
Rumor has it that Warner Bros. is eyeing the Twilight Saga alum — who has dove into dramatic waters and established himself as more than just "that guy who starred as the ever-sparkling vampire Edward Cullen" with roles in High Life and Good Time — to become the next Batman, making his first appearance in director Matt Reeves' The Batman, the long-gestating film that Affleck was initially supposed to lead. The internet has taking a liking to the idea of Pattinson as Batman, so much so that digital artists have started creating artwork imagining what the British actor would look like all done up as the Caped Crusader. 
The latest piece of fan art depicting Pattinson in the Bat-suit comes from Twitter user @NovaMCU, who shared their creation on the site on February 11. Rather than envisioning Pattinson sporting the same costume Affleck wore in Batman v Superman, Suicide Squad, and Justice League, one inspired by the suit that's a staple in Frank Miller's Batman comics, @NovaMCU conceptualized Pattinson wearing a suit similar to the one Bale rocked in The Dark Knight and The Dark Knight Rises. The costume in the photo is actually a concept suit designed by 3D generalist and CG artist Christophe Lacaux.
@NovaMCU referred to Pattinson as their Batman in the caption of the artwork post — a clear sign that the campaign for the Brit to become the new Bruce Wayne is growing stronger in size and in passion every day. 
We've been hearing chatter of Pattinson potentially taking over for Affleck in The Batman for a few weeks now, with gossip beginning after Revenge of the Fans editor-in-chief Mario Robles claimed on an episode of his The Fanboy YouTube series that Pattinson, Jack O'Connell (300: Rise of an Empire, Tulip Fever), Ansel Elgort (Baby Driver), Dylan O'Brien (Bumblebee, the Maze Runner trilogy), Logan Lerman (the Percy Jackson & the Olympians franchise, The Perks of Being a Wallflower), Kit Harington (Game of Thrones), Richard Madden (Game of Thrones), Noah Centineo (To All the Boys I've Loved Before, Sierra Burgess Is a Loser), Aaron Taylor-Johnson (Kick-Ass), and Armie Hammer (On the Basis of Sex, Call Me By Your Name) were all contenders to lead The Batman. 
Social media scuttlebutt got cranked to the nth degree when popular artist BossLogic responded to the rumors by sharing his own vision of what Pattinson might look like as Bruce Wayne outside of his Batman suit. 
"A choice that I never would have thought to try but been hearing some background chatter about Robert Pattinson being looked at, if the talks (source) are true then all of our predictions were wrong. This might be your new Bruce #thebatman #batman," BossLogic captioned his creation.  
It goes without saying that this is all hearsay, grapevine gossip, unconfirmed chit-chat floating around the internet. Warner Bros. hasn't confirmed or denied reports of Pattinson becoming the next Batman, and director Reeves hasn't made so much as a peep about whether yet another British actor will portray the all-American Bruce Wayne. (Hey, if the Wales-born Bale can be Batman, who's to say the England-born Pattinson can't?) 
The studio is apparently looking for someone younger than Affleck to portray Batman next, with The Batman said to center around a young version of the famous DC Comics hero. Pattinson is only 32 to Affleck's 46 — and that 14-year age gap falls almost perfectly in line with past reports that claimed Warner Bros. wants the newest iteration of Batman to be 15 to 20 years younger than Affleck and the character to be between 25 and 30 years old in the movie. 
While Pattinson has plenty of supporters behind him, with countless people believing he would be an "absolutely phenomenal Batman" and praising him as "an astonishingly good actor with a weird, complex filmography" who would deliver an incredible turn as the new Caped Crusader, he also has stiff competition. Just another name on a laundry list of potential candidates for the role of Batman, Pattinson might have to audition against the likes of Harington, Madden, and Hammer. He could even still have challengers in Jake Gyllenhaal and Jon Hamm. 
Gyllenhaal, who will touch down in the Marvel Cinematic Universe as Mysterio in Spider-Man: Far From Home this July, was once a top contender for the role. And though he's since shot down the rumors, fans haven't given up on the possibility that he'll take over for Affleck. As for Hamm, the Mad Men alum was previously said to be yearning for the opportunity to play Batman. RadarOnline.com published a report in December of 2017 citing a source that claimed, "Jon knows Ben has faced some criticism over Batman v Superman and Justice League, and frankly thinks he'd be better suited for the job. This is business for Jon — not personal ... Matt thinks Jon is charming and was a big fan of Mad Men, so it seems like a great transition to him. The writing's on the wall, and Jon's desperate for the gig — friend or not." 
Since Gyllenhaal is 38 and Hamm is 47, it seems unlikely that either of the two men will end up leading The Batman and serving as the DCEU's newest Batman if Reeves and Warner Bros. truly are hoping to turn back the clock and explore Bruce Wayne's days as a 20-something. Pattinson seems far more suited for the part in that regard, but, again, we can't make any hard-and-fast statements about how strong a chance the actor has at rising to become the next Batman.
Warner Bros. has The Batman set to soar into theaters on June 25, 2021, so fans should expect an announcement about which actor — whether that's Pattinson or some other superhero hopeful — will star in the flick before the end of the year.