Superman Cameo Confirmed For Shazam! Is Not Who You Think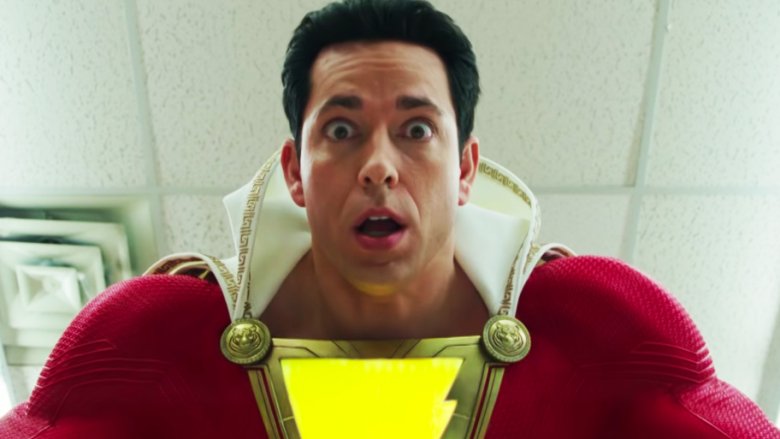 Shazam and Superman are, as stated by several sources in the cinema world, set to sit side by side on the silver screen this spring. 
Tongue-twister aside, this news is apparently true. 
A new report by We Got This Covered claims that Clark Kent himself will appear at the tail end of Shazam!, the Zachary Levi-led superhero flick directed by David Sandberg that follows 14-year-old orphan Billy Batson (played by Asher Angel) who meets a mystical wizard (Djimon Hounsou), obtains powers of six different immortal elders, and becomes the vigilante Shazam. Alone, the movie sounds both like an electric jolt of fun the superhero landscape could always use more of and like the remedy to the doomy, gloomy DC Extended Universe — but with the Man of Steel making a cameo in the movie, Shazam! is that much cooler and more unique. 
But before any DC enthusiasts start jumping for joy or creating fan art of Shazam and Superman sipping Dairy Queen milkshakes and shaking down bad guys on the streets of Metropolis and in the subway cars of Philadelphia, we have to break some disappointing news: the actor who is meant to pop up during the final moments of Shazam! isn't the Superman star most are familiar with. 
We Got This Covered notes that Henry Cavill won't be the man playing the Metropolis Marvel in Shazam! This is reportedly due to Cavill's disinterest in returning to the role, which he first stepped into for 2013's Man of Steel, any time in the near future. The outlet further speculates that the "ongoing alleged difficulties" between Warner Bros. and DC Films executives and Cavill motivated the decision not to include the Batman v Superman: Dawn of Justice and Justice League lead in Shazam!
With Cavill seemingly out of the running, who will portray Superman alongside Shazam? Well, word is that Shazam! is falling back on trusted tactics, reportedly using a body double of the same size and stature as Cavill and not including the character's face in the scene. Whether this means the Man of Steel will show up wearing a mask is still a mystery for now — but it isn't as though his cameo in Shazam! happens in a blink-and-you'll-miss-it, get-too-distracted-by-your-buttery-popcorn-and-Superman-will-be-gone-before-you-know-he-was-there moment. 
Here's how the Superman-in-Shazam! sequence apparently goes down. Throughout the film, Billy's foster brother and very best bud Freddy Freeman (portrayed by It breakout actor Jack Dylan Grazer) repeatedly asks Billy to transform into his Shazam persona and show up to their school. Being the only person who knows Shazam isn't really a grown man but a teenager inside an adult's body, Freddy would get a serious rush proving to his classmates that he's friends with a real-life superhero without having to reveal Billy's secret. The last sequence of Shazam! sees Billy fulfilling Freddy's wish, appearing as the titular crime-fighter and with a friend in tow. Just after Shazam walks into the room, Superman follows behind.
According to Geeks WorldWide editor-in-chief KC Walsh, the cameo keeps things regarding the Superman actor's identity ambiguous, leaving it "open to not be Cavill." Walsh also confirmed that Superman's face is never shown during the cameo, and that only his chest is featured. This could mean that the camera zooms in to focus on Superman's iconic "S" insignia, or that the Shazam! team chose to carry out a visual gag in having Superman be much taller than Shazam, allowing Levi's character to be seen in full while the mystery actor's Man of Steel towers above him, his head and neck not fitting in frame. 
As we noted before, Cavill reportedly not stopping by the Shazam! set for a day or two of shooting signals that Warner Bros. and DC Films couldn't convince him to come back to the gig he was said to have stepped away from in September of 2018. Those keeping up with all things related to the inner workings of the DCEU will know that The Hollywood Reporter previously issued a story alleging that Cavill had cut ties with Warner Bros. and was actively looking for a way out of the DCEU and his role as Superman. Batman star Ben Affleck was said to be doing the same — leaving the studios high, dry, and without two of their biggest superhero stars. 
At the time, an unnamed source noted that "Superman is like James Bond, and after a certain run you have to look at new actors" and another claimed that the studio was looking to "reset" the DCEU. A Warner Bros. spokesperson later affirmed, "We have a great relationship and great respect for Henry Cavill that continues to remain unchanged. Additionally we have made no current decisions regarding any upcoming Superman films."
Cavill has kept pretty quiet about the whole thing, only breaking his silence by posting to Instagram shortly after THR's report went live a bizarre video of himself wearing a "Krypton Lifting Team" shirt and holding up an action figure of himself as Superman while a dog-bark version of "The Blue Danube" played in the background. (To quote John Mulaney, "Now, we don't have time to unpack all of that.") His manager, Dany Garcia, then went on the record to state that the Superman cape is still in Cavill's closest, and that Warner Bros. "has been and continues to be our partners as they evolve the DC Universe."
Fellow DCEU actor Jason Momoa, who made a splash in his Aquaman solo movie in December, has also maintained that Cavill is "absolutely" not done playing Superman and that he is definitely not leaving the DCEU.
The Shazam! team failing to score Cavill for the film's Superman cameo is a bummer, but it makes sense if the actor genuinely is hanging up his cape for good. Though both Warner Bros. and Cavill's manager insist that the studio's relationship with the actor is going strong, and while Momoa is certain Cavill isn't exiting his hero post, Cavill might still depart somewhere down the line. If that truly is his plan, appearing as Superman in Shazam! would be silly — and would give fans a false sense of hope that he might top-line more Superman movies in the future, namely that long-hoped-for Man of Steel sequel. Cavill doesn't seem like the kind of guy to do such a thing to the people who have been so loyal to him. 
On the flip side, maybe Cavill isn't saying goodbye to Superman just yet. Perhaps he's tied up trying to renegotiate terms of a potential new contract with Warner Bros., attempting to secure producing credits and the ability to sign off on directors and writers for Superman films, as various reports have suggested. He very well could be playing a waiting game, standing firm and not stepping back into his Clark Kent role until his requests are met. 
Even wilder still, perhaps all this talk of a non-Cavill Superman cameo in Shazam! is a bunch of hogwash. Maybe everyone is only claiming that the actor's face isn't shown to hide the fact that Cavill actually does appear in the movie. Bigger surprises have happened in films, so we're can't completely rule out that possibility just yet. 
We — and you readers at home — will found out the truth about Superman's appearance in Shazam! when the film opens in theaters on April 5.