Birds Of Prey: Margot Robbie Shows Off Harley Quinn's New Costume For The Film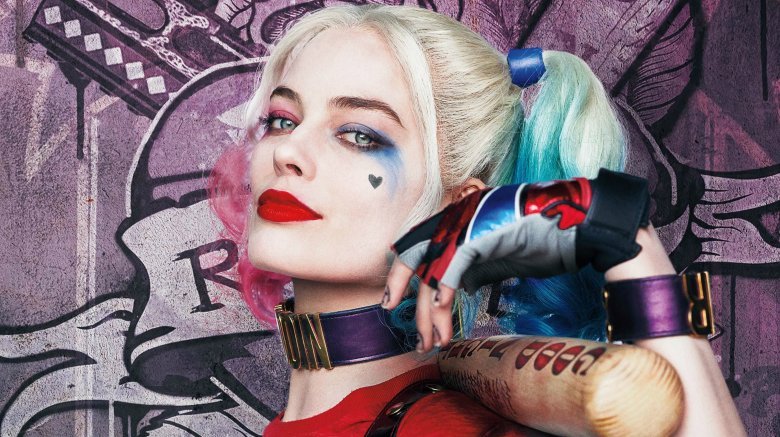 Did you miss her?
Harley Quinn actress Margot Robbie, who made her DC Extended Universe debut as the cutesy-crazy criminal in Suicide Squad back in 2017, took to Instagram on Monday morning to offer some brightness to your life. Robbie shared the first snap of herself in character for Birds of Prey (And the Fantabulous Emancipation of One Harley Quinn) — the forthcoming ensemble flick that sees Harley partner up with fellow super-humans Black Canary (Jurnee Smollett-Bell), Huntress (Mary Elizabeth Winstead), and Renee Montoya (Rosie Perez) to save the life of a young girl named Cassandra Cain (Ella Jay Basco). Evidently, Birds of Prey will also feature Ms. Quinn rocking a whole new get-up, as the photo Robbie uploaded shows her wearing a candy-colored costume and an updated hairdo. 
Gone are Harley's pink-and-blue-dip-dyed pigtails as seen in Suicide Squad, and here are forehead-sweeping bangs. Out are her "PUDDIN'" choker necklace, her streaky red and blue eyeshadow, her sporty T-shirt that declared her "Daddy's Lil' Monster," her biker jacket, and her tiny sequined shorts. In are a bright pink bandeau top and matching suspenders, what looks to be a clear plastic jacket adorned with shreds of fabric in all shades of the rainbow, and a thick chain necklace that has bone-shaped dog tag labeled "Bruce" (an obvious wink at Batman himself, Bruce Wayne) dangling from the center.
Robbie captioned the snap, "Miss me?" Keeping in character, she added a kiss mark emoji and signed off as "HQ" (for Harley Quinn, of course). 
Right now, it's unclear whether this costume is Harley's one and only look for Birds of Prey. If it is, we're not complaining. A much more colorful Harley suggests that Birds of Prey will be literally lighter and brighter than the critically lambasted Suicide Squad, but that Gotham City's resident Mistress of Mischief still sports her signature heart tattoo on her cheek, red lipstick on her pout, and platinum blonde hair indicates that she will still be the same trouble-making, rabble-rousing Harley fans know and love — just an improved version. 
This costume reveal falls in line with Robbie's past promise that Birds of Prey would introduce a new costume for Harley. The actress previously told Yahoo that Harley would have multiple "new looks," which implies that this punchy, prismatic aesthetic is just one of many costumes Harley will wear in Birds of Prey. Whether she will slip into her iconic jester look that was seen in a flashback sequence in Suicide Squad, we don't know. But, like many of you readers out there, we have our fingers crossed. 
In the same vein, Harley's kaleidoscopic Birds of Prey costume reflects what the film's writer, Christina Hodson, previously told Variety about Harley's status as a woman free from the Joker's toxicity and as the top dog (bird?) in the upcoming movie. 
"I think she really has [been accepted] in the comics already, but I think absolutely people are ready for that," Hodson said of an emancipated Harley. "She is such a cool, bold, fun, great character. She doesn't have to be in anyone's shadow. So I'm excited to see Harley stand on her own and be her own thing. She is the character, in all of my writing, that I've most enjoyed. I'm excited to bring her into the world a second time. She's so full of contradictions, she's so intelligent, but also so crazy. She's just the most fun to write. You never know what you're gonna get when you sit down."
With a costume as colorful as this one, it won't be hard for Harley to stand out. 
Now that we have gotten a taste of what's to come in Birds of Prey, we should start seeing sneak peeks at the film's other characters — namely Jurnee Smollett-Bell's Black Canary (a.k.a. Dinah Lance), Mary Elizabeth Winstead's Huntress (a.k.a. Helena Bertinelli), Rosie Perez's Renee Montoya, Ella Jay Basco's Cassandra Cain, Chris Messina's Victor Zsasz, and Ewan McGregor's Black Mask, the central villain of the story who has Cassandra in his clutches. Robbie might also reveal additional Harley costumes, should this first look not be the only one of hers featured in the film. 
Directed by Cathy Yan, Birds of Prey (And the Fantabulous Emancipation of One Harley Quinn) is slated for release on February 7, 2020.