The Margot Robbie Movies Nobody Knows About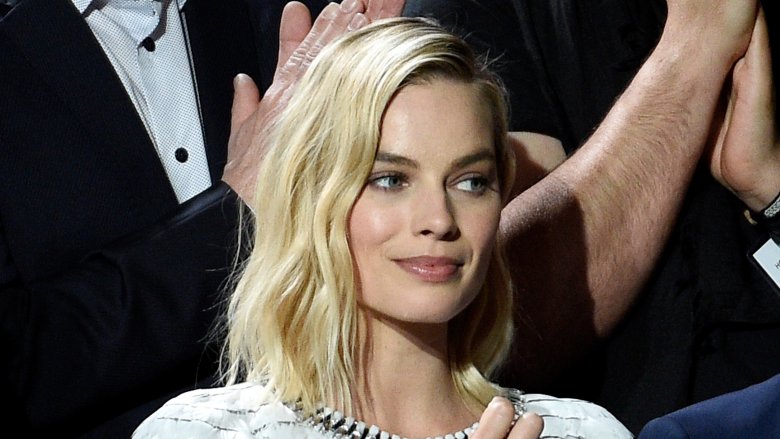 Getty Images
Margot Robbie has gone from obscurity to household name in a relatively short period of time. After landing a role in the short-lived ABC period drama Pan-Am in 2011, she made her breakthrough in 2013 with a role in Martin Scorsese's The Wolf of Wall Street. In 2016 she played Harley Quinn in Suicide Squad, making a big enough splash as the character to be a part of several planned DC Comics movies in the years to come. Her 2017 performance as Tonya Harding in I, Tonya earned an Oscar nomination, among other awards. All this for an actor who started the decade starring in the Australian sitcom Neighbours.
If you're a Margot Robbie fan, you've already seen I, Tonya, The Wolf of Wall Street, and Suicide Squad. You've probably even seen her in the bubble bath explaining finance in 2015's The Big Short. Since she hasn't been in the industry spotlight for long, you may be wondering where you can see her next. With that in mind, here are some Margot Robbie movies you probably haven't seen, whether it's because you haven't heard of them or you just didn't know she was in them.
I.C.U.
I.C.U., made in Australia in 2007, is Robbie's film debut. It's a low-budge thriller that aims to be a take on Rear Window for the age of digital video. Robbie plays a teenager staying at her troubled father's vacation apartment with her brother and a friend. Spying on their neighbors for entertainment, they notice a man who seems to be taking sex workers into his apartment who never come out again. Convinced they've discovered a serial killer at work, they begin filming him, only to be found out and find their own lives threatened. The film has multiple twists and turns leading to a shocker of an ending, which we won't spoil here. Margot Robbie was only 17 when I.C.U. was made, so if you haven't seen her at the very beginning of her career — and with her natural dark hair — this is the film for you.
Suite Française
2014's Suite Française is a drama about Lucille, a French villager (Michelle Williams) who enters a romance with Bruno, a Nazi soldier (Matthias Schoenaerts) who is part of the force occupying her village during World War II. Margot Robbie plays Celine, another villager who exists as a parallel to Lucille. Celine's sexual relationship with a different German soldier leads to revelations about Lucille's absent husband that change Lucille's entire perspective on her marriage and lead directly to her relationship with Bruno. Although Robbie is not a lead, she gives it her all, and her scenes are central to the plot of the film.
Z for Zachariah
2015's Z for Zachariah is an international production filmed in New Zealand, but set in the Eastern United States. It's a post-apocalyptic drama that stars Margot Robbie as Ann Burden, a young woman who believes herself to be the last survivor of a nuclear war. She lives on her family's farm in a secluded valley that has been protected from the nuclear devastation by the high mountains surrounding it. Over the course of the film, two male survivors find their way to the farm: skilled engineer Loomis (Chiwetel Ejiofor) and religious country boy Caleb (Chris Pine). Loomis has skills essential for rebuilding, but Caleb has much more in common with Ann, and soon both men develop feelings for her and become competitive. Even most Robbie fans haven't seen this film, but it received mostly positive reviews — and with such a strong three-person cast, it's well worth a watch.
Focus
Focus, which also came out in 2015, marked the first collaboration between future Suicide Squad stars Margot Robbie and Will Smith. Robbie plays Jessie, a young con artist who convinces experienced con man Nicky (Smith) to become her mentor. The two fall into a romantic relationship which gets in the way of their work, and things get more complicated (and convoluted from there). Focus was a box office success, but reviews were mixed, and as Robbie has become a bigger star it's been overshadowed by her other work. Still, if you're looking for more Margot Robbie or you're into con job movies, definitely check it out.
Whiskey Tango Foxtrot
2016's Whiskey Tango Foxtrot, starring Tina Fey, is a comedic war film based on a memoir by a female reporter who worked in Afghanistan in 2003. Margot Robbie plays a key role as a BBC journalist who serves as both a friend and a rival to Fey's character. Robbie's flawless glamour serves as a deliberate contrast to Fey's more scattered appearance and demeanor. If you haven't seen it, don't feel too bad — the movie was a box office disappointment, received middling reviews, and was the subject of controversy for casting white actors to play Afghan people. Still, it's a worthy story brought to life by a strong cast that also includes Martin Freeman, Billy Bob Thornton, and Alfred Molina.
The Legend of Tarzan
The Legend of Tarzan was a big-budget production reviving a classic character, and might have become a major summer blockbuster of 2016, but instead it suffered a disappointing opening weekend at the box office and didn't make enough money to justify a sequel. 
Margot Robbie plays Jane opposite Alexander Skarsgård as Tarzan in a story that attempts to tell a version of the venerable tale audiences haven't seen — by starting off after he's left Africa to rejoin British society, then following him and Jane back to the Congo to help battle an evil colonialist (Christoph Waltz). Tarzan's traditional origin as a child raised by apes is only revealed via flashbacks. Rolling Stone critic Peter Travers points out that while The Legend of Tarzan is overstuffed and messy, it's at least watchable — which is more than you can say for a lot of big-budget action movies.
Goodbye Christopher Robin
2017's Goodbye Christopher Robin tells the true story of Winnie the Pooh creator A.A. Milne (Domhnall Gleeson) and his relationship with his son Christopher Robin Milne (Will Tilston), whose imaginary friends and stuffed animals are the basis of the books. For fans of Winnie the Pooh, the focus on Milne's trauma from World War I adds a layer to the story many viewers previously haven't seen, as does the stress that a fictional bear's popularity caused in his relationship with his son. Margot Robbie appears as Milne's wife and Christopher Robin's mother, Daphne de Sélincourt, who also serves as their business manager when the books take off. It may seem like a pretty typical British author biopic, but Goodbye Christopher Robin offers a perspective on a wildly popular children's character that you may not have considered before.
Peter Rabbit
You probably do know about Peter Rabbit, a live-action/CGI film that was widely promoted prior to its February 2018 release, but you may not know that Margot Robbie is prominently featured. She plays Flopsy, Peter's awkward middle sister, alongside James Corden as Peter, Elizabeth Debicki as Mopsy, and Daisy Ridley as Cottontail. While the film is unapologetically unfaithful to Peter's creator Beatrix Potter, there are some positive reviews, with critic James Verniere of the Boston Herald calling it "surprisingly charming." If you're looking for a light and breezy kids film with a comedic Margot Robbie performance (although you don't get to see her face), you won't go wrong.
Terminal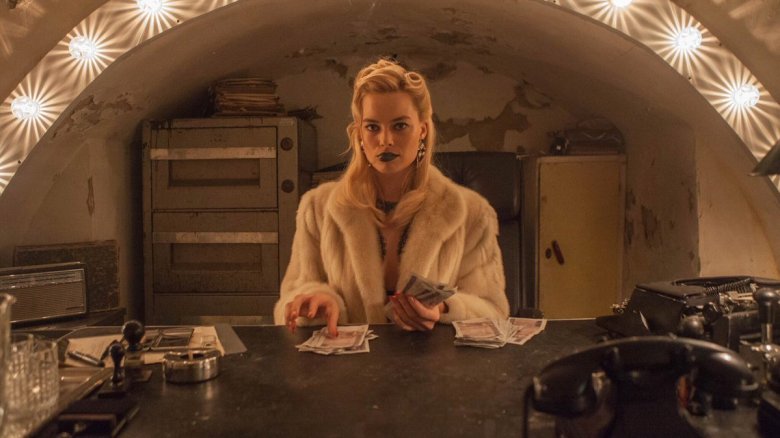 Terminal, a thriller that marks the first feature for debuting director Vaughn Stein, tells the story of two assassins and the obstacles they encounter on a job. In addition to Margot Robbie, it features Matthew Lewis, Simon Pegg, and Mike Myers. You haven't seen this one for good reason: the film is scheduled for release in the Spring of 2018. While we wait for full details (and presumably a trailer), this still image of Robbie is striking — both for how she's styled and how she's framed within the setting. It all hints at more than enough glamor and high-stakes excitement to prove sufficiently alluring for Margot Robbie fans.
Mary Queen of Scots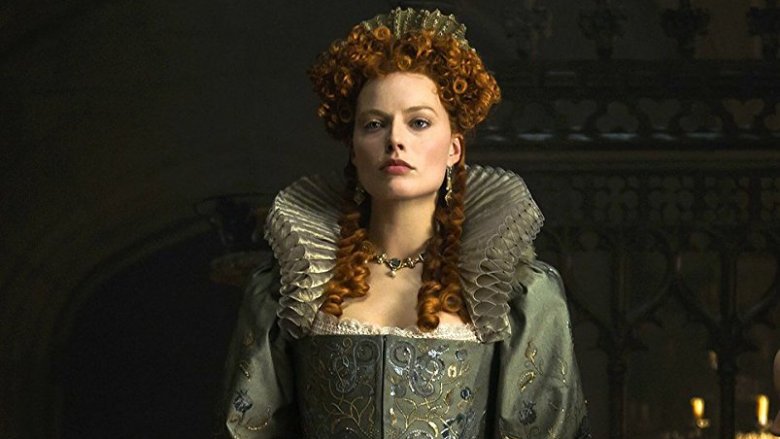 Mary Queen of Scotts is a historical drama due for a November 2018 release. Lady Bird star Saoirse Ronan plays the title character, while Margot Robbie plays her cousin, Queen Elizabeth I of England. With two 2017 Oscar nominees in the lead roles, the film is sure to get some attention. Queen Elizabeth is not a figure who is usually associated with beauty or sex appeal, though her costumes are always lush and gorgeous. 
As strange as it sounds to say, in that regard, playing Elizabeth I is similar to Robbie playing Tonya Harding in I, Tonya. In the wake of films like The Wolf of Wall Street and The Big Short, she could have built a career playing beautiful blonde objects of desire. Instead, she's consistently shown an interest in playing complex and varied characters, prioritizing her skills as a performer over her beauty. Margot Robbie has enjoyed breakout success over the last few years, but her career may still just be getting started — and it's clear we haven't seen the limits of her talent.