Star Trek: Discovery Spin-Off Starring Michelle Yeoh In Development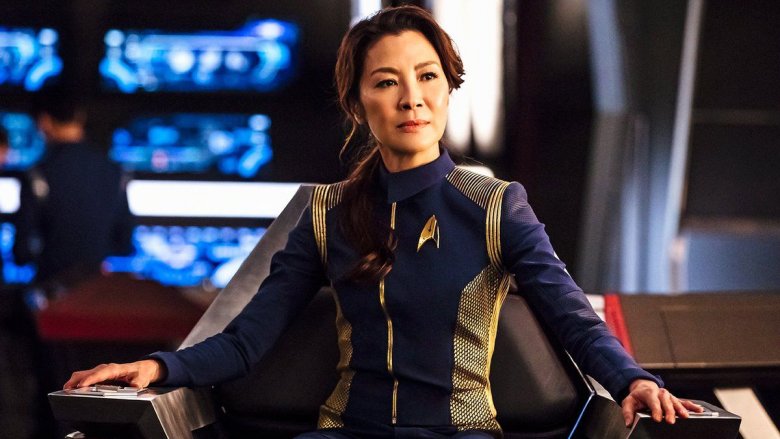 The Star Trek universe continues to expand.
CBS All Access has announced that a Star Trek: Discovery spin-off series has officially entered development, with recurring cast member Michelle Yeoh set to take the lead, according to The Hollywood Reporter. The new series will focus on the inner workings of Section 31, the "black ops" Starfleet shadow organization which featured heavily in Discovery's first season; co-executive producers and writers Bo Yeon Kim and Erika Lippoldt are also on board.
It was reported by Deadline back in November that Yeoh was in talks for the spin-off series, but nothing had been officially confirmed until today. The confirmation came the morning after Yeoh's latest outing on the big screen, the acclaimed comedy Crazy Rich Asians, took home the prize for Best Comedy at the Critics' Choice Awards.
Yeoh's character of Captain Philippa Georgiou, mentor to First Officer-turned-mutineer Michael Burnham (Sonequa Martin-Green), was among the more enigmatic of the first season of Star Trek: Discovery. Georgiou met her end early in the season, only to return as an alternate, Mirror Universe version of herself who rules over the Terrans with an iron fist. The new series is said to once again be featuring her in the Captain's chair, although it's unclear exactly which version of the character this will be. Yeoh is also expected to be taking part in future seasons of Discovery; the first episode of season 2 is set to premiere on All Access in just a few days, on January 17.
Yeoh has been on a serious tear lately, although she's been a major international star for decades. She made her name in Hong Kong cinema in the '80s and '90s, making a worldwide splash opposite Jackie Chan as a tough-as-nails police inspector in 1992's Police Story 3: Super Cop. She reprised her role from that film — this time in the lead — in 1993's Once a Cop, leading to a series of starring roles which landed her in Hollywood's sights. She made her American film debut as a Bond Girl in 1997's Tomorrow Never Dies, following that up with a role in director Ang Lee's international smash Crouching Tiger, Hidden Dragon, which saw her garner several award nominations. 
More high-profile roles came her way in the '00s in flicks like Memoirs of a Geisha, Sunshine, and The Mummy: Tomb of the Dragon Emperor, and this decade saw her taking on a voice role in Kung-Fu Panda 2 as well as supporting turns in 2016's sci-fi actioner Morgan, the sequel Crouching Tiger, Hidden Dragon: Sword of Destiny that same year, and 2017's Guardians of the Galaxy Vol. 2. But Crazy Rich Asians represented a true star turn for the veteran actress, and her very well-received appearance in Star Trek: Discovery made it a virtual no-brainer to hand her the lead in the spin-off.
Series co-creator Alex Kurtzman was positively over the Moon in announcing Yeoh's official casting in the new series. "Michelle has shattered ceilings, broken boundaries and astonished us with her grace and gravitas for decades. As a human, I adore her. As an actor, I revere her," he said. "Erika and [Kim] are remarkable, exciting writers who bring a fresh perspective to the world of Star Trek, and we're all thrilled to explore the next wild chapter in the life of Captain Philippa Georgiou."
Yeoh was similarly pumped about her new gig, offering her own subtle spin on the most well-known turn of phrase in all of Star Trek lore. "I'm so excited to continue telling these rich Star Trek stories," she said. "Being a part of this universe and this character specifically has been such a joy for me to play. I can't wait to see where it all goes — certainly I believe it will go 'where no woman has ever gone before!'"
With the Star Trek cinematic reboot series likely in the rearview (future installments, including one heavily rumored to be in the works from writer and director Quentin Tarantino, are decidedly up in the air), the property is finding new life yet again on CBS All Access. Discovery's first season, taking place roughly a decade before the events of the original series and completely separated from the reboot movies' timeline, was quite well-received by fans and critics alike. The streamer also thrilled Trekkies in late 2018, when it was announced that a second series had entered development based on the continuing adventures of Star Trek: The Next Generation's Captain Jean-Luc Picard, whose very existence has been thrown into turmoil by the destruction of the Romulan Empire. The great Sir Patrick Stewart will be reprising his iconic role, a development that has had Trek fans pinching themselves in disbelief ever since its announcement.
The minds behind the new Trek TV offerings seem to be picking their battles very carefully and wisely, as Kurtzman — in an interview with THR early last year — expressed his mindfulness over the possibility of saturating the television landscape with too much new content based on the property. "There has to be [a limit]," he said. "At a certain point people are going to say, 'It all feels so familiar.' The only thing I'd throw back is that nobody seems to have said that about Marvel. Between film and TV, no one is tired of them. That means that in a world of a global audience, there is always room for more, but the more has to be meaningful." 
So far, so good. Both the Yeoh-led Discovery spin-off and the Picard-centered series are expected to go into production at some point this year, so we can probably expect them to debut on CBS All Access sometime in 2020. We'll keep an eye out for any developments.