Titans May Have Revealed When Batman Will Appear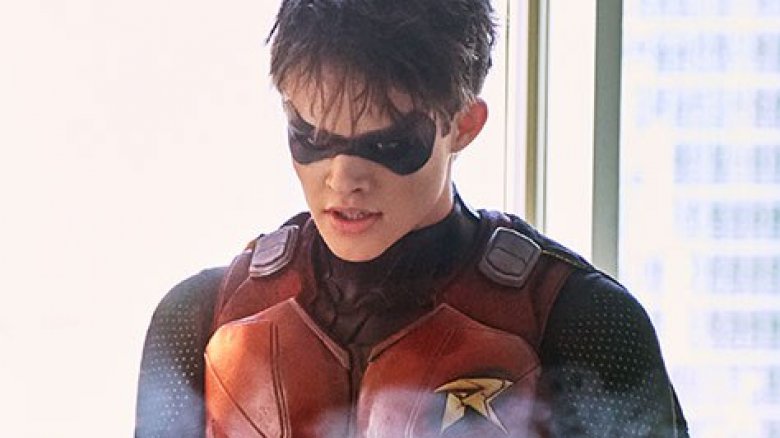 Warner Bros. TV
Contains spoilers for Titans season 1, episode 5, "Together"
It's not a bird and it's not a plane — and it might not Batman, either.
Ever since the DC Comics-based series Titans, which centers on Dick Grayson (Brenton Thwaites) stepping out from underneath the Dark Knight's wing to abandon his post as Robin and become the leader of a rag-tag group of heroes, debuted on Warner Bros.' streaming service DC Universe, viewers have waited with bated breath to see Batman appear on screen. While the vigilante formerly known as Robin clearly has a tumultuous relationship with Gotham's top superhero, going so far as to snarl "F**k Batman" in the first trailer for Titans, that didn't discourage anyone from hoping Dick Grayson would cross paths with his ex-mentor. In fact, it only stoked the flames of their curiosity. 
But on the most recent episode of Titans — the fifth one of the first season, entitled "Together" — the series teased that viewers' craving for Batman might not be satisfied for quite some time. 
During "Together," which aired on DC Universe on November 9, Dick formalizes his alliance with Rachel Roth (a.k.a. Raven, played by Teagan Croft), Kory Anders (a.k.a. Starfire and Koriand'r, played by Anna Diop), and Garfield "Gar" Logan (a.k.a Beast Boy, played by Ryan Potter). He then admits to the Titans that Batman trained him when he was a child following his parents' untimely deaths, and that he later became the Boy Wonder before coming into his own, stepping away from the beloved hero, and carving out his current career as a Detroit Police Department detective. 
This sends something of a shockwave throughout the group — impacting big-time Batman fan Gar more than anyone else. Gar completely flips his lid when he realizes that Dick, his superhero crew leader and new friend, was once the Dark Knight's sidekick. As anyone in his situation would, Gar then asks Dick if he'll ever get the chance to meet Batman. 
"Are we going to see Batman? I'd really like to meet him," Gar says. 
Dick shoots back a flat, "No, you're not."
Some fans — like Decider's Alex Zalben — have argued that this back-and-forth between Gar and Dick indicates that Batman won't be showing up on Titans any time soon, or even at all, despite the evidence that might suggest otherwise. 
Throughout the five episodes of Titans that viewers have seen so far, Bruce Wayne has been an ever-present force, made all the more illusive by the fact that he's never shown his face and has always remained shrouded in shadows. From a technical standpoint, the Titans team wouldn't exist without Batman and his relationship with Dick — and he's has been a part of Titans since the beginning, popping up in a cameo appearance during the first episode, during which he stretched out his hand, gently touched Dick's shoulder, and said, "I want to help you." 
It would seem that, judging by how involved in the Titans story Batman already is, he would ultimately make a full, face-showing appearance on the series at some point down the line. The introduction of Batman's current Robin, Jason Todd (Curran Walters), at the end of the latest episode hints at that same eventuality. And DC television shows' history of bringing the most popular comics characters to the small screen in the second season (Supergirl did that with Superman!) provides some backing for an in-the-future Batman appearance. 
But might that never actually come true, even with all the signs and elbow nudges and wink-winks?
It's every bit as likely that Titans fans won't ever see Batman as it is possible that they will. That's just the nature of the series and of television in general. Writers and showrunners love big twists — especially the controversial ones that people talk about for years after they happen. And since spoiler-spilling has become more popular than ever (even Marvel actors are doing it), it has become increasingly important to safeguard plot details, thus making it harder now than ever to predict what will happen on a show. Sure, this keeps fans alert and on their toes, captivated and eager to tune in week to week. But, as in the case of Titans, it can also make them feel strung-along and confused. 
For now, Dick seems adamant that a meet-up with Batman isn't going to happen no matter how much Gar — or fans at home — want it to. 
Titans returns to DC Universe for its next episode on Friday, November 16.