Get Your First Look At Robin In DC's Live-Action Titans Series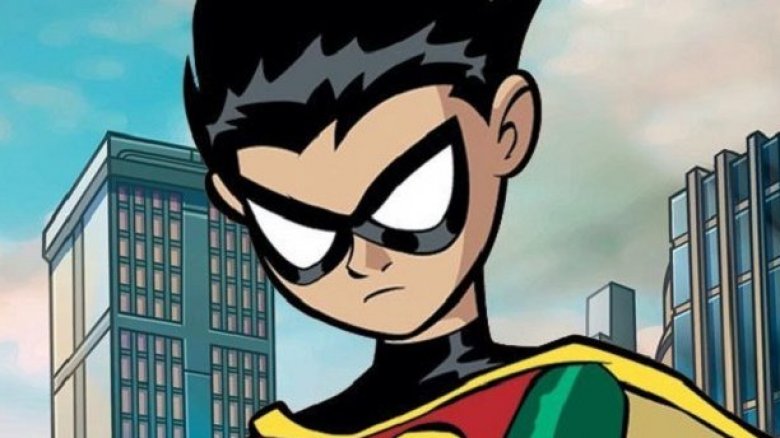 Robin is stepping out of the shadows and out from under Batman's trusty wing. 
In the midst of the Marvel madness that has consumed movie lovers this week, what with the long-awaited debut of the Avengers: Infinity War trailer, DC and Warner Bros. TV have released their own exciting bit of promo: the first look at Robin (also known as Dick Grayson and Nightwing) in the upcoming live-action series Titans. 
The snap shows Brenton Thwaites of Pirates of the Caribbean: Dead Men Tell No Tales fame suited up as the famed sidekick. Renowned costume designer Laura Jean Shannon (Iron Man, Black Lightning, The Jungle Book) crafted the supersuit specifically for the series, and we've got to say, it looks pretty stellar. As Dick Grayson, Thwaites wears the character's signature black eyemask and sports a sleek black cape with a yellow-gold trim. Take a look below.
From executive producers Akiva Goldsman, Greg Berlanti, Sarah Schechter, DC Comics chief creative office Geoff Johns, Titans centers around the title group of soon-to-be superheroes who have assembled from the reaches of the DC universe. Dick Grayson enters the mix and assumes governance over the Teen Titans, which include Starfire/Koriand'r, played by 24: Legacy actress Anna Diop; Raven/Rachel Roth, portrayed by Australian actress Teagan Croft; and Beast Boy, played by Big Hero 6 voice actor Ryan Potter. The dynamic duo of Dove and Hawk also appear in the show, with Minka Kelly and Alan Ritchson taking on those roles respectively. 
Titans will premiere on DC Digital Service, DC's new direct-to-consumer platform, sometime in 2018. The service's inaugural slate will also include Young Justice: Outsiders, a revival of the Young Justice animated series.