DC's Live-Action Titans Series Casts Starfire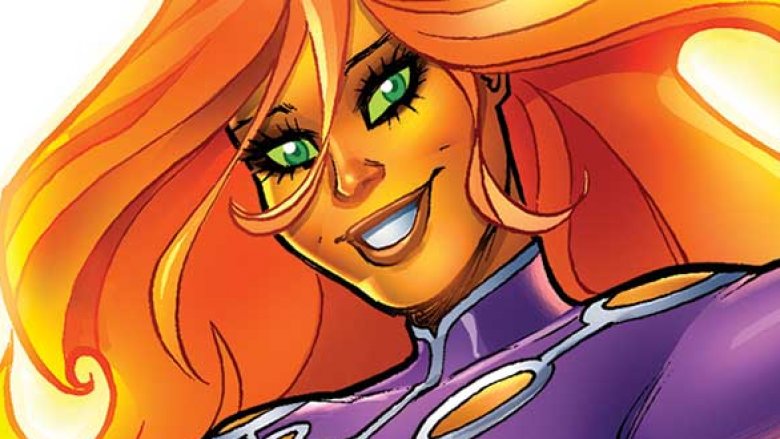 DC Comics
This star is sure to bring the fire. 
Deadline reports that Anna Diop has been cast as Starfire in the upcoming live-action series Titans. Diop, known for her work on 24: Legacy, joins Australian newcomer Teagan Croft, who was recently confirmed for the part of Raven, the daughter of a demon and a powerful empath who must work hard to control her emotions. If she doesn't, the consequences of uncheck despair and overwhelming rage take over her body and unleash her dark side. 
In DC Comics lore, Starfire (also known as Koriand'r) is an alien princess hailing from a warrior planet who seeks asylum amongst the humans on Earth. She's a take-no-prisoners kind of hero, with a no-nonsense attitude and the ability to fire energy bolts from her body. As she searches for a sense of belonging and a place of safety on Earth, she comes across the Titans. 
From Greg Berlanti, Akiva Goldsman, Sarah Schechter, Warner Bros Television, and DC Comics chief creative office Geoff Johns, Titans follows the title group of soon-to-be superheroes who've been pulled from each and every corner of the expansive DC Universe. Joining Croft's Raven and Diop's Starfire will be Dick Grayson, better known as Nightwing. The show will feature the Nightwing emerging from the shadows and assuming governance over the Teen Titans. Plenty more heroes are expected to round out the core group, though specific ones haven't yet been confirmed. 
Titans was originally ordered to pilot at TNT back in 2014, with Goldsman attached as the writer. Unfortunately, the production on the pilot never progressed and it was ultimately handed over to Berlanti, who joined forces with Johns and Goldsman to rework the project and create a new take on the well-known characters. Now, Titans will launch on the brand-new DC Digital Service, which is also expected to include the revival of the animated Young Justice series in the form of Young Justice: Outsiders. 
In addition to her co-starring role as Nicole Carter on 24: Legacy, Diop has also appeared as Rose Arvale on The Messengers, as Isabel on Greenleaf, and as Mia on Quantico. She also stars as Nicole in the Karen Moncrieff-directed film The Keeping Hours. 
Titans is expected to debut sometime in 2018. While we wait, take a look at the untold truth of another Teen Titans show, Teen Titans Go!