Halloween Scares Up $7.7 Million In Thursday Night Previews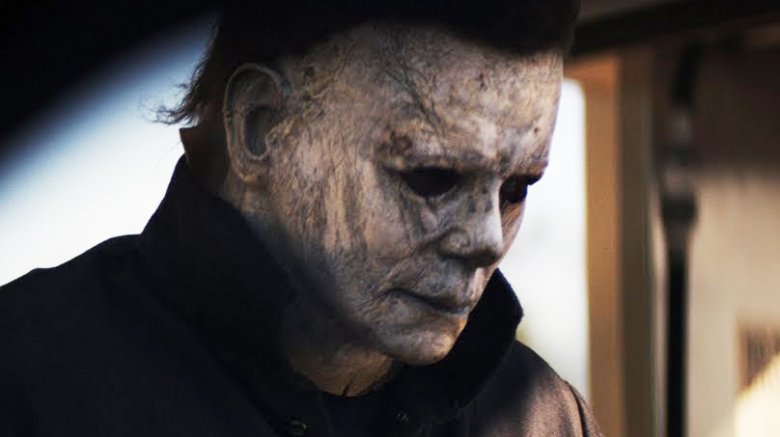 Happy Halloween, indeed. 
Director David Gordon Green's Halloween reboot film made its silver screen debut last night (Thursday, October 18), and pulled in $7.7 million across 3,200 North American theaters (via Variety). 
Industry insiders initially predicted that Halloween would earn roughly $10 million by the time Thursday night preview screenings wrapped up, but Universal Pictures called the exact figure on Friday morning, pinning it at a cool $7.7 million. And that yield is nothing to turn a nose up at. Halloween reportedly only cost Universal $10 million to make (excluding marketing costs), so the film has already nearly recouped its production budget and will start turning a profit soon. 
Though Halloween scared up about $2.3 million less than the amount analysts first projected it to earn, the Jamie Lee Curtis-starring horror refresh is on track to become one of this fall's biggest films — and one of the best horror movies of 2018. From Universal, Blumhouse Productions, and Miramax, Halloween is forecasted to take home a staggering $65 million during its first three days out. Some sources predict that Halloween may have an even better box office opening, earning as much as $70 million or more. 
Universal is keeping modest, anticipating that Halloween will rake in about $50 million. While that seems like a conservative estimate compared to the reported $57 million to $70 million-plus earnings window in which Halloween is expected to fall, such a take-home would see the reboot earn the best opening of any film in the hallowed horror franchise that began 40 years ago. Currently, director Rob Zombie's 2007 Halloween reboot holds that title, having earned $26 million in its first weekend in theaters. 
As Variety detailed, Halloween is also slated to have one of the best launches amongst films of its kind: R-rated horrors. Andy Muschietti's It, another refresh of a classic horror story, tops the list with $123 million, followed by Hannibal with $58 million and The Nun with $53 million. 
Additionally, ComScore senior media analyst Paul Dergarabedian noted that the new Halloween film will play a major role in making October 2018 a better month at the box office than October 2017, and could even help the month of October break a "new overall revenue record." 
"It feels like the summer movie season in the middle of fall as Universal's Halloween gets the Blumhouse treatment and is set to slash its way to potentially record-breaking opening weekend numbers as it rides a perfect wave of nostalgia, an irresistible brand, and perfect timing to make the 40-year-old horror franchise more relevant (and lucrative) than ever and push the month of October even closer to a new overall revenue record," Dergarabedian said. 
In a time where reboots and remakes are all the rage, Halloween looks to break the mold, returning to its franchise roots and focusing on what makes scary movies, well, scary. By all accounts, it sounds like the risks director Gordon Green and screenwriter Danny McBridge took and the careful choices they made with the refreshed flick have, quite literally, paid off.