Halloween Reboot Tracking For $65 Million-Plus Opening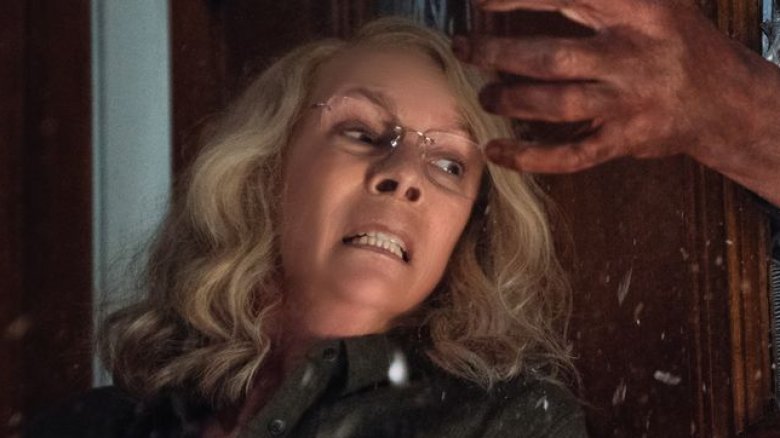 The new Halloween film is set to scare up a ton of cash when it debuts this weekend. 
Industry analysts have begun their box office predictions for films opening in the U.S. on Friday, October 19, and they've pinned director David Gordon Green's Halloween reboot as earning between $57 million and $65 million during its first three days out. Variety notes that while studio Universal Pictures is "cautiously anticipating" the film pulling in about $50 million, a bit less than even the low end of tracking estimations, insiders believe that the reboot may actually earn $70 million or more in domestic theaters from Friday to Sunday. 
If Halloween only ends up reaching the $50 million mark Universal is expecting it to, the film would still break a huge record: the biggest opening for a movie in the Halloween franchise. The current holder of that record is the Rob Zombie-directed Halloween reboot, which earned $26.3 million when it debuted in August 2007. Zombie's 2009 sequel Halloween II scored the second-best opening weekend with $16.3 million, and the 1998 flick Halloween: H20 sits in third place with a $16.2 million debut. Universal's $50 million estimate is conservative compared to analysts' $65 million-plus expectations, but that take-home would see the new Halloween earn nearly double what Zombie's reboot did 11 years ago, demolishing the record for the best opening in the history of the Halloween film series in the process.
Regardless of exactly how much Halloween yields at the box office, it will turn an enormous profit. Universal and Blumhouse Productions made the film on a slim budget of just $10 million. The movie will easily recoup the cost of production, potentially in its Thursday night preview earnings alone, and pocket tens of millions of dollars in surplus before the end of the day on Sunday. 
Additionally, Halloween will likely to dominate the box office when it debuts, since its has no true competition. The Melissa McCarthy-led crime film Can You Ever Forgive Me?, the Jake Gyllenhaal-starring coming-of-age pic Wildlife, and Jonah Hill's directorial debut Mid90s are all opening the same day Halloween is, but they aren't receiving wide releases, at least not to start. While larger feature films Venom, Bad Times at the El Royale, First Man, and A Star Is Born would theoretically pose a threat to Halloween, Venom will have been out for two weeks by the time Halloween launches and already had its time in the spotlight, and the Drew Goddard-directed thriller Bad Times at the El Royale, the Damien Chazelle-helmed space drama First Man, and the Bradley Cooper-Lady Gaga musical romantic drama A Star Is Born all attract much different crowds than Halloween does. Those four flicks probably won't steal away any viewers wanting to see Halloween. 
Reboots tend to flounder at the box office, and the Halloween franchise has been more tricks than treats in the past few years, so it's great to hear that the new Halloween is expected to do extremely well upon its debut. It shouldn't come as a huge surprise, though, since director Gordon Green and screenwriter Danny McBride have seemingly created something something quite special with Halloween. The reboot will ignore the less-than-fantastic sequels that followed John Carpenter's original Halloween from 1978, will "bring back the creep factor" from the first film, and will portray the masked murderer Michael Myers as a real-life monster rather than an unkillable entity with supernatural powers. 
"The original is all about tension. Laurie Strode doesn't even know that Michael Myers exists until the last minutes of the movie. So much of it you're in anticipation of what's going to happen and the dread that Carpenter spins so effortlessly in that film," McBride previously stated. "I think we were really trying to get it back to that. We're trying to mine that dread. Mine that tension and not just go for gore and ultra-violence that you see some horror movies lean on."
Actress Jamie Lee Curtis, who reprises her role as Laurie Strode in the movie, once described the Halloween reboot as an "astonishingly scary revisit to Haddonfield." Halloween creator Carpenter had equally wonderful things to say about the film, promising that Gordon Green, McBride, and producer Jason Blum really "get it" and that fans of the franchise are "gonna dig it." "They blew me away," he said. 
Halloween will open wide on October 19.