Top Gun: Maverick Casts Jon Hamm, Ed Harris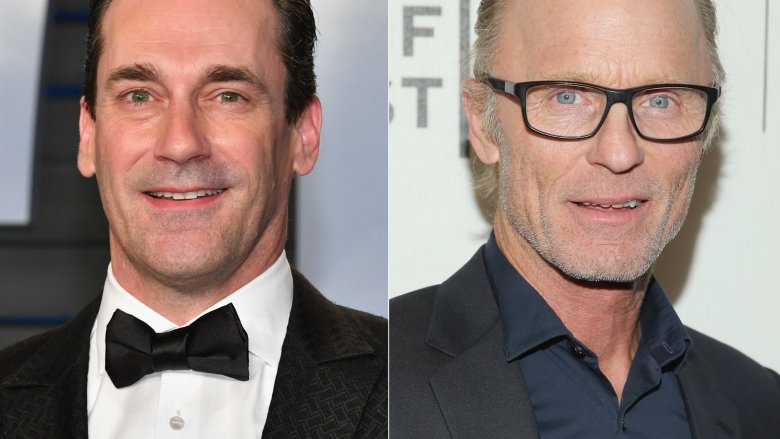 Getty Images
Jon Hamm and Ed Harris, welcome to the danger zone. 
The Hollywood Reporter has confirmed that Paramount Pictures recently tapped the Mad Men alum and the Westworld actor to star in its forthcoming film Top Gun: Maverick, the sequel to director Tony Scott's classic 1986 action drama Top Gun. 
We don't yet know which characters Hamm and Harris will play, as the studio is staying mum on those details. 
The Strangers: Prey at Night star Lewis Pullman, the son of actor Bill Pullman, is also on board for Top Gun: Maverick, but Paramount hasn't made a peep about which role he'll settle into.
Hamm, Harris, and Pullman will share the screen with original Top Gun actors Tom Cruise as United States Naval Aviator Captain Pete "Maverick" Mitchell and Val Kilmer as Commander Tom "Iceman" Kazansky, as well as new-to-the-franchise stars Miles Teller as the son of Nick "Goose" Bradshaw, Jennifer Connelly as a yet-unnamed single mother who works at a bar near the Top Gun school, and Glen Powell in an undisclosed role. 
News of Top Gun: Maverick adding a few more faces to the mix comes just a day after the film cast six new characters: Charles Parnell (A Million Little Pieces) as an admiral, Bashir Salahuddin (GLOW) as an engineer, Thomasin McKenzie (Jojo Rabbit) as the daughter of Connelly's character, and Danny Ramirez (Assassination Nation), Jay Ellis (Insecure), and Monica Barbaro (The Good Cop) as pilots. 
Though he's best known for his role as the elusive Don Draper on AMC's Mad Men, Hamm also has ample experience in film — particularly comedies and action pics. In the last two years alone, the actor has starred in Joseph Kosinski's action comedy Keeping Up with the Joneses, Edgar Wright's Oscar-nominated crime film Baby Driver, Brad Anderson's action-packed espionage thriller Beirut, and Jeff Tomsic's action comedy Tag. That said, taking on Top Gun: Maverick should be a breeze for Hamm. 
Harris will also have an easy time bringing his A-game to Top Gun: Maverick. Not only has he appeared in more movies — from thrillers to dramas to mystery adventures — but Harris has also been nominated for four Oscars, four Golden Globes, three Emmy Awards, and two BATFAs.
Fans can satisfy their need for speed when Top Gun: Maverick, which marks Hamm's second collaboration with director Kosinski, opens in theaters on July 12, 2019.