Jojo Rabbit: First Image Shows Taika Waititi As A 'Goofy' Hitler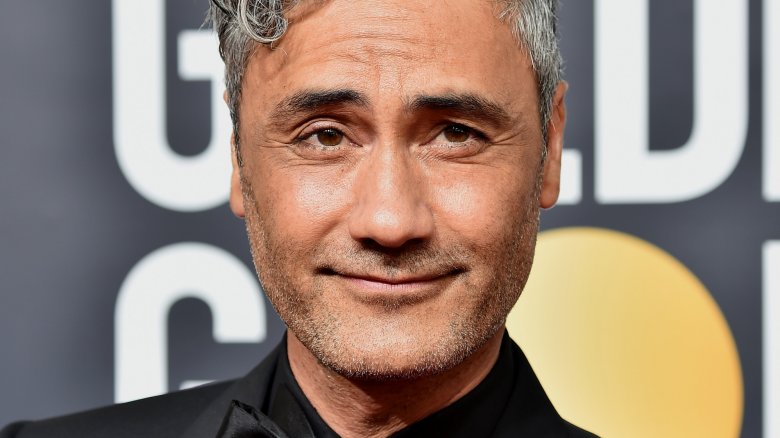 Getty Images
Taika Waititi: Director, screenwriter, comedian, actor — and Adolf Hitler?
Technically, yes. Waititi plays one of history's most notorious dictators in his forthcoming World War II satire Jojo Rabbit, and now fans have their first look at the filmmaker's take on Hitler. 
The snap, shared on the official Jojo Rabbit Twitter account and posted below, features Jojo (played by Roman Griffin Davis) sitting down for a meal with his mother Rosie (Scarlett Johansson) and his imaginary friend Adolf (Waititi), who sports slicked-to-the-side hair, a third of a mustache, and full Nazi regalia.
Playing an actual Nazi raises more than a few red flags and poses a major risk for Waititi, but the creative seems to know exactly what he's doing with Jojo Rabbit. When speaking with The Wrap, Waititi explained that Hitler in Jojo Rabbit isn't the evil person "we know and hate." Rather, he's "goofy, charming, and glides through life with a child-like naivety," and acts as "a lonely boy's best version of his hero, which is really his dad."
Waititi also wrote on Twitter, "What better way to insult Hitler than having him portrayed by a Polynesian Jew?" The caption accompanied a photo of Waititi giving the middle finger to a black-and-white portrait of Adolf Hitler hung on the movie's set. 
It's clear that Jojo Rabbit will make Hitler the butt of the joke as it tells the story of the awkward eponymous young boy raised by his mother in Nazi Germany, and who's only confidant is his made-up best pal. Jojo's "naïve patriotism" is called into question when he discovers that his mother has been hiding a young Jewish girl (Thomasin McKenzie) in the attic of their house. (Boy, is Hitler going to hate that.)
Based on Christine Leunens' novel Caging Skies, Jojo Rabbit doesn't yet have a release date. Given how eye-widening and Marvel Cinematic Universe-changing Waititi's Thor: Ragnarok was, it's safe to say everyone will be eagerly awaiting Jojo Rabbit's launch, whenever it may be.