Bumblebee SDCC Footage Features John Cena And A Hologram Of Optimus Prime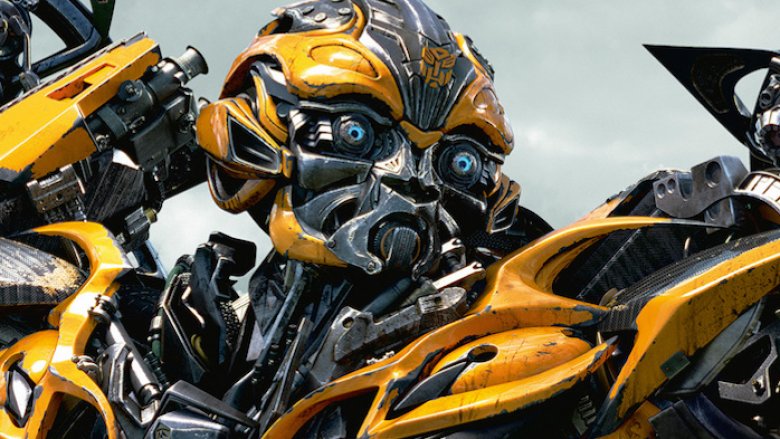 When Bumblebee buzzed its way through Hall H at San Diego Comic-Con, it brought with it two things no one would think to pair together but now can't imagine ever being mutually exclusive: John Cena's military leader character and a holographic Optimus Prime.
Paramount Pictures dished up some pretty darn dazzling footage from Bumblebee at its film presentation on Friday night, with lead actress Hailee Steinfeld (True Grit, The Edge of Seventeen) and director Travis Knight (Kubo and the Two Strings) opening the panel before Jorge Lendeborg Jr. (Love, Simon) and John Cena arrived on stage to help do the unveiling.
Per ScreenRant's breakdown of the clip, the footage was a sizzle reel that shows Cena's character Agent Burns on the hunt for Bumblebee, who is being gunned down by Burns' band of military men and women. To make matters worse, the Blitzwing Decepticon, who was also in the Bumblebee teaser trailer, then arrives and tries to take out the otherwise-chipper yellow Autobot himself. The clip ends with Blitzwing hurling Bumblebee off a cliff.
For a beat, it seems that Bumblebee is a goner — but he actually survives and transforms into a rundown yellow Volkswagen Beetle as seen in the 1980s Transformers animated series. Steinfield's character, a tomboy mechanic named Charlie Watson, stumbles upon the battered car and endeavors to restore it to its full potential — not knowing that the automobile is really an Autobot, and that Bumblebee is far more than the cutesy VW bug he appears to be. 
Steinfeld told GameSpot that Charlie is "your sort of misunderstood typical teenager" who is "trying to find that freedom that she craves." Grappling with loss, Charlie views fixing up Bumblebee as a way to escape her reality — which she just might be able to do, until she realizes she and Jorge Lendeborg Jr.'s Memo, her best friend, have targets painted on their backs. As both man and machine start chasing the human duo down, Bumblebee becomes the third quarry. 
Perhaps the most enthralling piece of the new Bumblebee footage was the inclusion of the Optimus Prime hologram. The famous Autobot is set to make an appearance in Bumblebee, with voice actor Peter Cullen again lending his ineffable pipes to the character, but it's unclear how he'll fit into the overall narrative, so catching a peek of him in holographic form suggests that the character might not be involved in a traditional manner. We can dig it. 
It's clear that director Knight is deviating as far from the Michael Bay-directed Transformers as possible with Bumblebee, tapping into the sweet simplicity of the franchise, decluttering things by only including three villains, trimming the fat off the story, and centering the action around a handful of key characters. Fans are already markedly more eager to see Bumblebee than they were to watch Transformers: The Last Knight last year, so Knight seems to have accomplished exactly what he set out to do.
We can all see how Bumblebee truly plays out when the film is released on December 21. Until then, take a look at the exclusive Bumblebee poster also revealed during SDCC below.