What Dwayne Johnson's Fast X Comeback Means For The Franchise's Future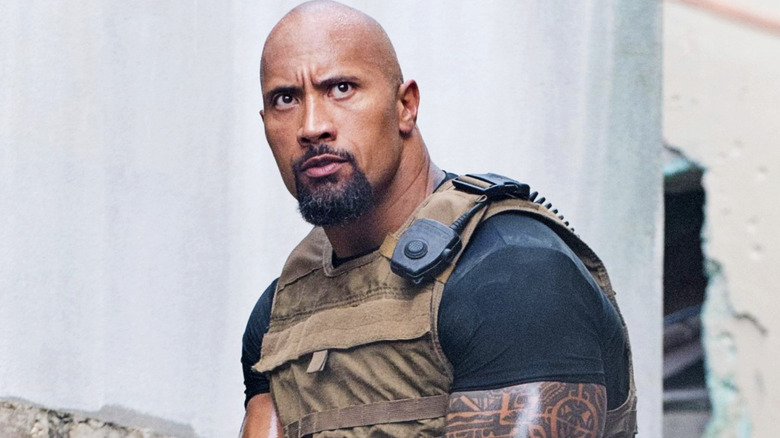 Universal Pictures
As one of Hollywood's biggest and most reliable movie stars, Dwayne "The Rock" Johnson is a modern staple of the action genre. While he's ventured into the comedy space also, most of his roles are hyper-action focused, propelling him to show off his over-abundance of muscles. No doubt, this WWE star turned Hollywood legend is in high demand at the box office, with many flocking to see Johnson kick butt and take names on the big screen. This extends to the "Fast & Furious" franchise too, where his character Luke Hobbs continues to rake in the big bucks.
With "Fast X" now here, and the beginning of the end to "The Fast Saga" in sight, the return of Johnson's Hobbs is one of the most exciting surprises to be unveiled. After time away from the Toretto gang in "F9," Hobbs seems to be returning to the fold, ready to take on whatever crazy car-themed mission comes next. First appearing in 2011's "Fast Five," Hobbs was initially an antagonist to Dom Torretto (Vin Diesel) and Brian O'Connor (Paul Walker) before joining their crusade in the immediate follow-ups. Whatever Hobbs is up to, we can be sure he's on their side.
But what does this mean for the "Fast & Furious" franchise? How will The Rock's return change the trajectory of the saga? While only time will tell, we have a few thoughts to hold you over until the next race. So buckle up, because we're kicking it into high gear.
An end to the Vin Diesel rivalry?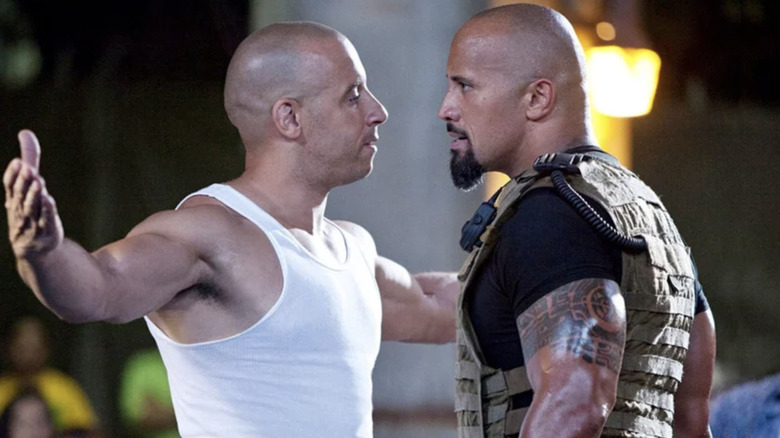 Universal Pictures
The off-screen rivalry between Vin Diesel and Dwayne Johnson is no secret. After starring in three franchise installments together — with Paul Walker as well — Johnson returned once more for the eighth feature, "The Fate of the Furious." Following the film's release, both Johnson and Diesel alluded to some serious on-set tension that continued to bubble into the production of the next installments. But, instead of continuing to star opposite one another, Johnson was given the reins to the first and only "Fast & Furious" spin-off, "Hobbs & Shaw," where he starred opposite Jason Statham. Diesel continued on with "F9," which neglected to even mention Hobbs, though Statham's Shaw appeared in a mid-credits scene (and returns for "Fast X").
Despite the high tensions between these two mega-stars, The Wrap reported Johnson's return to the franchise (via a cameo) in "Fast X." While it's unlikely that Hobbs appears on screen alongside Dom — saving that for the next movie makes more sense — Johnson has nevertheless been welcomed back into the fold. After 2019's "Hobbs & Shaw," and Johnson's previous comments about not returning to the "Fast" family, many thought the character was gone for good, especially after being excluded from 2021's "F9." With Hobbs' return, maybe the feud between Johnson and Diesel is finally over. Due to their past, it's unlikely that Johnson would work with Diesel again if things off-screen hadn't changed, giving us hope for "Fast & Furious 11."
Expanding the Fast & Furious mythology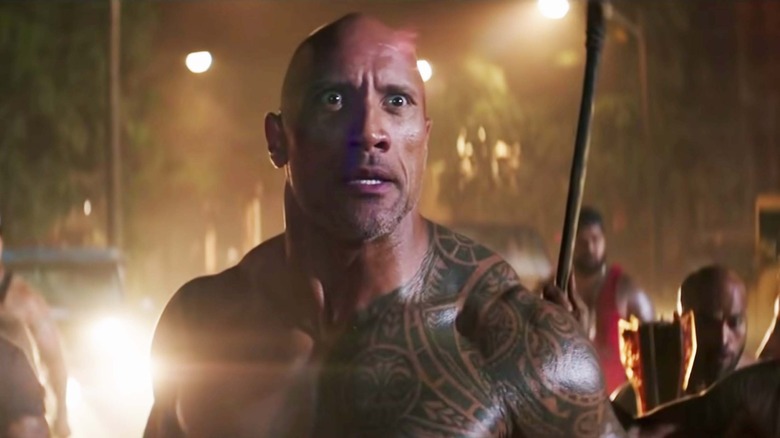 Universal Pictures
With "Fast & Furious Presents: Hobbs & Shaw," Johnson and Statham showed their characters' potential to headline a major motion picture without Diesel's Dom Toretto and family. In fact, the film expanded on the "Fast & Furious" universe, introducing the techno-terrorist organization Eteon, the superhuman Brixton Lore (Idris Elba), and the extended families of both titular action heroes. While these additions might not seem like much outside of the context of "Hobbs & Shaw," they may have some serious ramifications on the franchise at large, especially as Johnson and Statham return to mainline "The Fast Saga." 
Since the introduction of Kurt Russell's Mr. Nobody in "Furious 7," the franchise has shifted from street races and extensive car heists to global espionage and world-ending threats. "Hobbs & Shaw" was no different, revealing that Eteon is in control of many of the global media outlets, with goals of global domination. Since Hobbs left the Toretto crew to continue enforcing law and order elsewhere, bringing some of that back with him isn't out of the question. Though Eteon hasn't shown up in "The Fast Saga" yet, the return of Hobbs could reveal that he's on the criminal organization's tail, especially after the mysterious Director's threats.
Likewise, the introduction of Hobbs' extended family of warriors in his spin-off feature may end up factoring into the 11th installment somehow. We might not get another exciting Samoan battle sequence, but their hospitality is unmatched. After all, this franchise is about family.
More Hobbs & Shaw adventures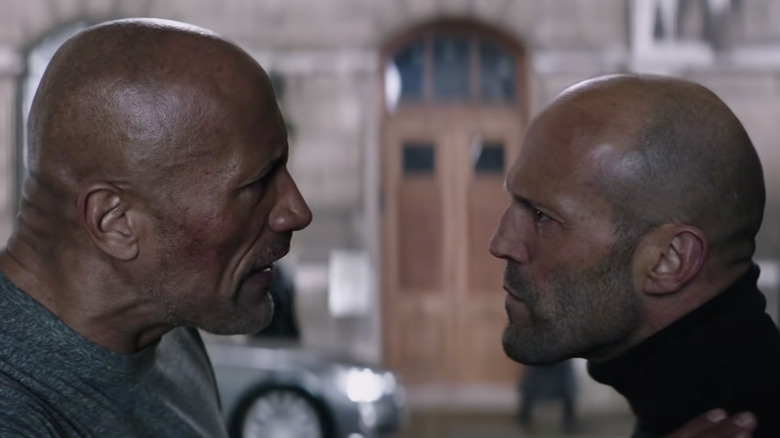 Universal Pictures
Speaking of "Hobbs & Shaw," initial sequel talks were had following the release of the "Fast & Furious" spin-off, but we haven't heard much about a continuation since. Though Johnson seemed confident that another installment would be made, and had some ideas of his own, it seems as if the folks at Universal Pictures have been hyper-focused on closing out "The Fast Saga" first. With 2021's "F9" and 2023's "Fast X" both coming out since Johnson and Statham's buddy flick, it's clear that the studio's priorities lie elsewhere, at least for now. In 2022, producer Kelly McCormick confirmed that though they'd love to make another "Hobbs & Shaw" in the future, "there are no conversations at this time" (via ComicBook).
But that was then, and this is now. With Johnson's return for "Fast X," and likely the eleventh "Fast Saga" film as well, maybe this is The Rock's way of reigniting interest in his trademark character after a few years of silence. No doubt, after the box-office bomb that was "Black Adam," Johnson's venture into the DC Comics superhero space, the mega-star is likely attempting to revisit his known successes. Since his time as Luke Hobbs has always led to high box office returns, coming back to "The Fast Saga" seems like the right move after failing to restructure the hierarchy of the DC Universe. Hopefully, this may even lead to further "Hobbs & Shaw" adventures, even after "Fast & Furious" comes to a definite close.
A Rock/John Cena rematch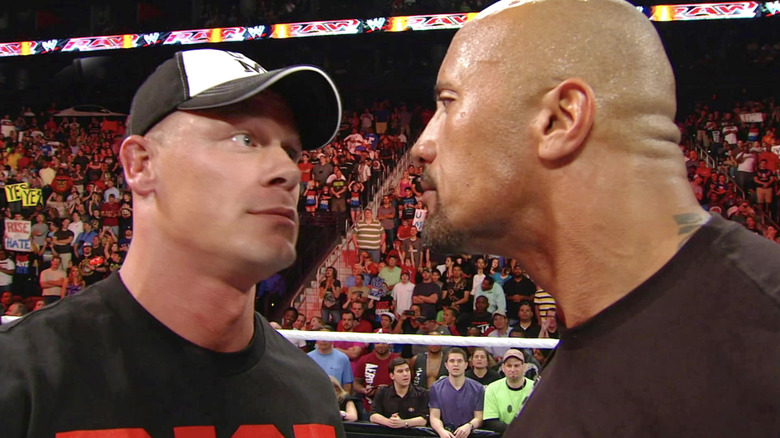 WWE
Since Johnson's departure following "The Fate of the Furious," the series has conscribed another WWE champion into their ranks. In "F9," John Cena serves as the primary antagonist, playing Dom Toretto's long-lost brother Jakob. Over the course of the film, Dom and Jakob make amends, leading to the latter's return for "Fast X," in which he helps save his nephew and battle Dom's latest antagonist, Dante Reyes (Jason Momoa). It's hard to say what the future holds, but we can't rule out both Hobbs and Jakob returning in future "Fast" installments — after all, even death can't stop characters from returning to the Toretto family again and again.
All that is to say, these two WWE legends may just meet again. With the way "Fast X" honors previous franchise installments and the occasionally non-linear nature of "The Fast Saga" as a whole, it's entirely possible that Luke Hobbs and Jakob Toretto, who was previously an assassin and rogue agent, could've even met sometime in the not-too-distant past. Or maybe even the "Fast & Furious" franchise isn't big enough for two WWE heroes to coexist in it at the same time. Whether you're interested in a rematch between these two or not, there's no denying that magic happens when they appear together.
The franchise is honoring its roots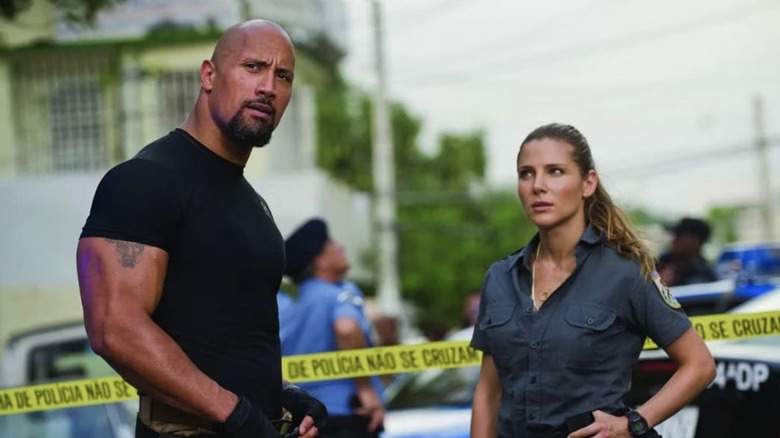 Universal Pictures
In its fourth outing, 2009's "Fast & Furious," the series returned to its street racing and criminal roots, reuniting Vin Diesel's Dom and Paul Walker's Brian for a brand new adventure. Then, when 2011's "Fast Five" was released, the franchise was reborn through a series of extensive heists and new cast members who helped rebuild the series into something bigger and better. Dwayne Johnson was one of those cast members, and his character Luke Hobbs introduced new opportunities to the Toretto crew that kept them racing for years. 
In fact, Hobbs is the guy to take out "Fast Five" antagonist Hernan Reyes (Joaquim de Almeida), making him the break-out star of that installment. So, bringing the Rock back for "Fast X" — itself a direct continuation of "Fast Five" — only makes sense. As Jason Momoa's Dante Reyes plans to destroy those who killed his father, "Fast X" puts most of our heroes in peril, and reveals that Hobbs likewise is a target. Makes sense, given that he's the one who delivered the killing blow to the elder Reyes.
However the 11th installment shapes up, the events of "Fast Five" — considered one of the best in the franchise — are still propelling the overall series plot forward. By bringing Hobbs back, it shows that the filmmakers behind the multi-part finale are hoping to honor the franchise to its core, giving each and every character their due diligence. Here's hoping that more familiar faces will return for "Fast & Furious 11."
Higher box-office returns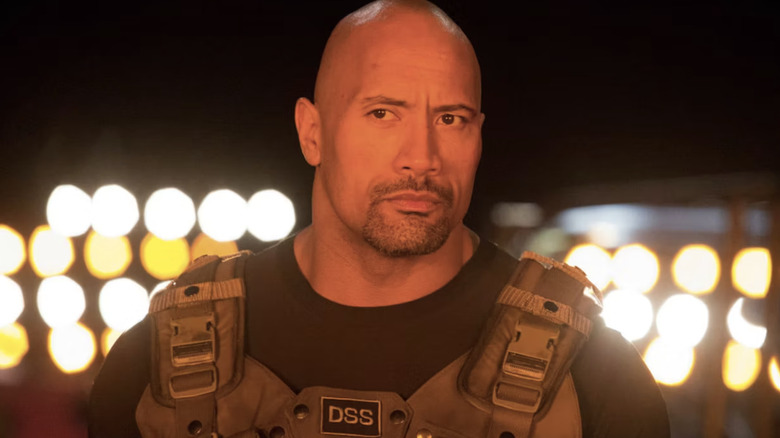 Universal Pictures
There's no question that the name Dwayne Johnson brings in the big bucks. Between his chiseled features and intense charisma, the former WWE star certainly knows how to entertain a diverse crowd. Having ventured into comedies, action films, superhero productions, and animated features, there are very few genres that The Rock hasn't attempted to break into. Sure, he's had some bombs along the way, but generally speaking, franchises like "Fast & Furious" and "Jumanji" have been massive hits for the wrestler-turned-movie star. To this day, "Furious 7" is still the actor's highest-grossing picture, having brought in $1.5 billion worldwide. No wonder he'd eventually make a furious comeback with the series that's brought the most success. We're just surprised he didn't do it faster.
Needless to say, Johnson's four "Fast Saga" installments and his "Hobbs & Shaw" solo venture have done tremendously well, bringing in new audiences along the way. Interestingly, the only recent installment without Johnson's involvement, "F9: The Fast Saga," grossed less than the previous four movies in the franchise, hinting that The Rock was a major draw. (Of course, the COVID-19 pandemic may have had an impact on the box office performance, too.) With Johnson's return for "Fast X" (and likely its sequel), plus the additional novelty of these being the beginning of the end for the "Fast & Furious" movies as we know them, the likelihood of high box office returns is, well, high. Given that his part in the 10th film is only in a cameo capacity, his (hopefully) official return for the 11th installment will no doubt bring audiences back for more.
Prepping for a new generation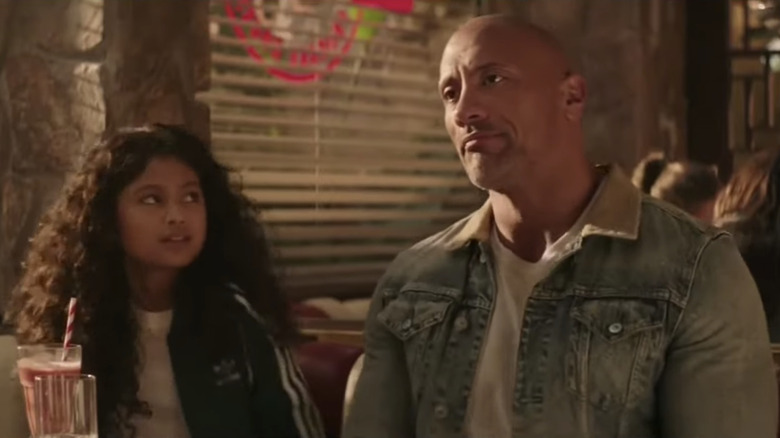 Universal Pictures
Recent "Fast & Furious" installments have made it a point to highlight the children of the most popular characters in the series. In "Fate of the Furious," Dom was introduced to his son with Elena Neves (Elsa Pataky), who he later named Brian (Leo Abelo Perry). Similarly, "Hobbs & Shaw" highlights Hobbs' daughter Sam (Eliana Su'a), and Brian and Mia's (Jordana Brewster) children are mentioned on more than one occasion throughout the last few films. Yes, found family is the bedrock of "The Fast Saga," but the next generation matters too. In fact, the non-canon animated series "Fast & Furious: Spy Racers" is all about a younger generation of operatives led by Dom's cousin Tony (Tyler Posey) as they use fast cars to save the world.
By bringing Hobbs back into the fold, and giving "Fast X" an emphasis on fathers and their children, Johnson's return might mark a new era for "The Fast Saga." While the story of Dom's crew may end in the 11th movie (or maybe the 12th, if Vin Diesel has his way), that doesn't mean the "Fast & Furious" franchise will officially fade to black. Instead, it may be that a new series featuring the Toretto gang's kids may be developed in the future. "Spy Racers" is one step in that direction, and the inclusion and importance of the Toretto and Hobbs children may lead to more going forward, especially if Dante Reyes plans on tearing the entire family apart. Though the future is uncertain, it's in the hands of the next generation.
Almost anyone can return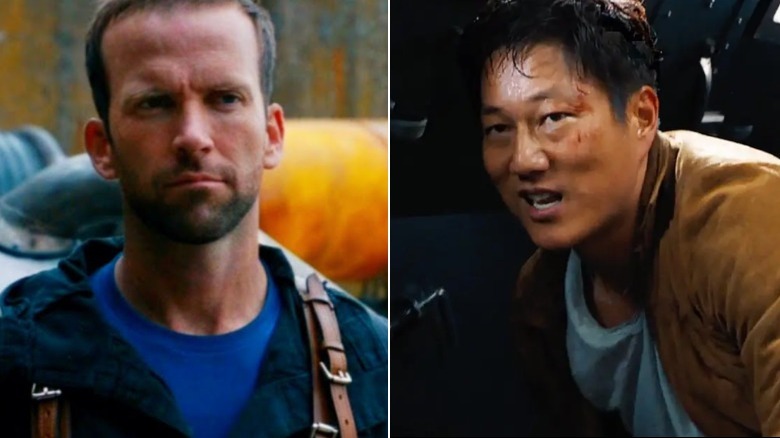 Universal Pictures
Since the end of "Fast Five," this franchise has made it clear that death isn't the end for many of our recurring heroes. From Letty's survival after her apparent murder in the fourth film, to Han surviving his explosive end in "Tokyo Drift" — which was revisited in "Furious 7" — there's no telling who could come back in the future. Even characters like Sean Boswell from "Tokyo Drift," who made his return via a cameo in "Furious 7" before officially reappearing in "F9," find themselves reuniting with Dom and his crew at some point down the line. 
With that in mind, Johnson's return as Hobbs, as unlikely as it seemed, isn't exactly surprising. After "Fast X," it's a wonder who else might return in the future. While plenty of long-lost fan favorites have made their way back to "The Fast Saga" at this point, others such as Kurt Russell's Mr. Nobody, Luke Evans' Owen Shaw, Johnny Strong's Leon, and "Yellowstone" star Cole Hauser's Carter Verone could all return in the next installment. The final chapters of "The Fast Saga" shouldn't be overstuffed, but Hobbs reentering the Family means the door is open for other characters to get back behind the wheel themselves. Sounds like a high-octane finale to us.
Could The Rock take over the franchise?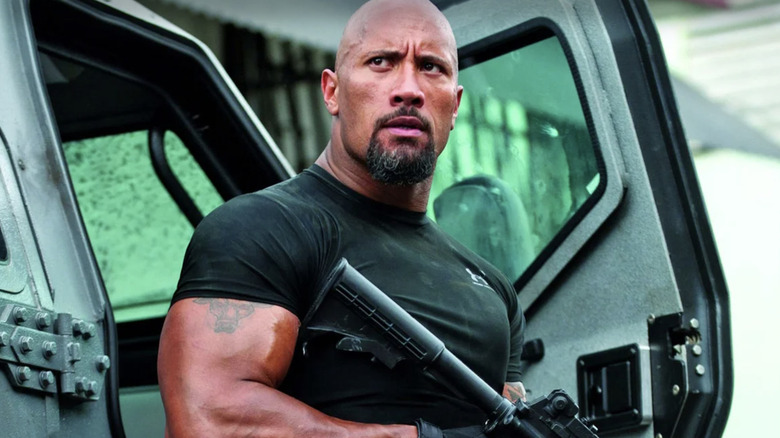 Universal Pictures
In the past, Dwayne Johnson has received top billing for his "Fast & Furious" appearances alongside Vin Diesel and Paul Walker. Though the latter two are clearly the stars of the franchise known formerly for street racing, Johnson carved out a clear slice of the "Fast Saga" pie for himself. No doubt, this led to the initial feud between Johnson and Diesel, but now that the water seems to have run under the bridge, there may be hope for the franchise yet. While Johnson's return could very well lead to more "Hobbs & Shaw" movies going forward, it's also possible that Dom may exit stage right only for Hobbs to take his place as head of the Toretto crew. 
Since Hobbs already tried that during "The Fate of the Furious," it wouldn't be a surprise to see him leading the group going forward, especially with how well-received the character has been. Though no one can replace Dom just like no one has filled in Brian's place following Paul Walker's untimely death, that doesn't mean that the "Fast & Furious" brand couldn't live on without them. Diesel didn't appear at all in Walker's sequel, "2 Fast 2 Furious," and Walker didn't appear in "Tokyo Drift." Admittedly, there hasn't been a mainline "Fast Saga" movie yet that doesn't feature either Diesel or Walker, but after "Hobbs & Shaw" opened the door, maybe Johnson will carry the "Fast & Furious" torch once Dom's story is finally done.