Dwayne Johnson's Highest-Grossing Movie Isn't What You Think
Kevin Mazur/Getty
Is there a bigger movie star in the world today than Dwayne "The Rock" Johnson? Even at a time when so many critics and cultural commentators herald the "death of the movie star" as we once knew it, the Californian wrestler-turned-actor continues to draw enormous crowds to multiplexes all over the world with the sheer gravitational pull of his screen presence. The recent success of Netflix's "Red Notice" is just icing on the cake for a performer who currently tops the all-time ranking of non-MCU above-the-line stars at the international box office (via The Numbers), made the Time Magazine list of the world's most influential people twice over, and has even managed to garner buzz as a would-be presidential candidate.
Johnson's career is such a massively successful one that he has got at least a dozen hit films to his name that would be all-time box office highs for the average Hollywood star. But still, there is one particular Dwayne Johnson vehicle that stands above the others as his highest-grossing movie ever. And it's not necessarily the one you would first associate with him.
Furious 7 remains unbeatable at the worldwide box office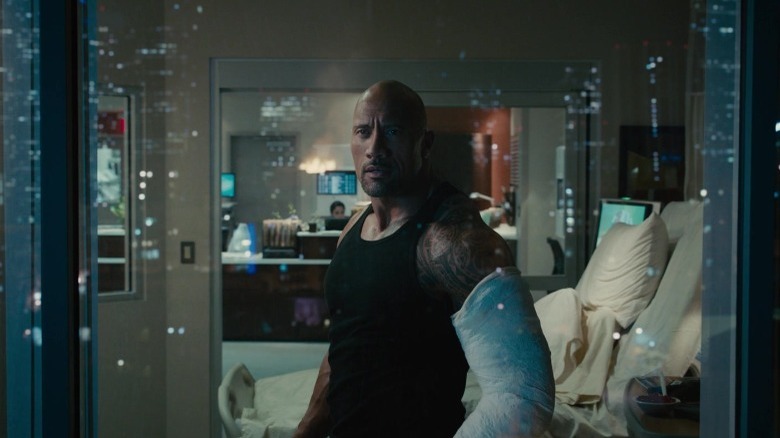 Universal Pictures
Dwayne Johnson has starred in some of the most widely popular franchises and standalone films of the past decade — including "San Andreas," the "Jumanji" series, "Central Intelligence," and Disney's "Moana." But as far as his box office receipts go, the "Fast & Furious" films still reign supreme. Out of Johnson's Top 10 highest grossing films, five are the very ones in which he's starred as DSS agent Luke Hobbs.
And, out of those five films, there's one that still remains unbeatable, even after several years: 2015's "Furious 7." An all-out box office phenomenon even by Hollywood blockbuster standards, the seventh entry in the series had a domestic gross of $353 million, and a whopping international gross of $1.16 billion, adding up to a total worldwide intake of over $1.5 billion (via Box Office Mojo). It's nothing less than the ninth-highest-grossing movie of all time.
It's interesting that, even though Johnson may individually be the biggest box office draw out of the stacked cast that "Furious 7" boasts, the highest-grossing film of his career happens to be one where he isn't properly the star, with the focus instead trained on the familial bonds of Dominic Toretto (Vin Diesel), Brian O'Conner (Paul Walker), and their loved ones. On the other hand, considering how much of The Rock's appeal stems from the wonderful way he plays off of others, it makes sense. Plus, that cast-breaking arm-flexing scene is a landmark movie star moment by any reasonable definition.