Shazam! Magazine Cover Shows New Look At Zachary Levi's Hero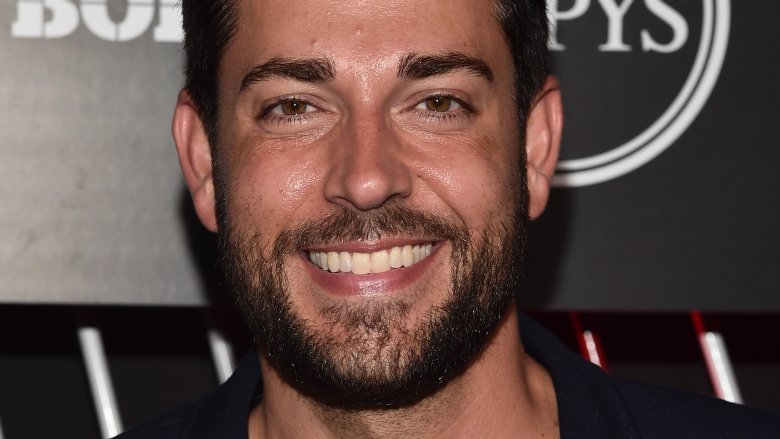 Getty Images
Shazam's here to chew bubblegum and kick ass — and he's nearly out of bubblegum. 
The exclusive Shazam! cover of Entertainment Weekly's print magazine shows off a brand-new, quite scrumptious (but not in that way) look at the title hero. 
The cover sees Zachary Levi suited up as Shazam, doing his best Harley Quinn impression by blowing a perfectly spherical bubble of bright pink gum and channeling his literal inner Gen Z-er by planting his texting thumbs firmly on his smartphone. (Is he messaging Jack Dylan Grazer's Freddy Freeman to coordinate an evening spent munching on Cheetos and screaming at strangers while playing Fortnite? For the laughs, we're going to assume it's a possibility.)
Speaking with the outlet for the cover story, Levi doubled down on the declaration that Shazam! is the cinematic love child of Superman and Big. The film follows 14-year-old Billy Batson (played by Asher Angel) as he discovers he can transform into an adult superhero (Levi's character) by shouting out a magic word. 
Levi also mentioned what makes his hero different from the thousands of comic book characters out there, offering a convincing argument as to why people will fall in love with Shazam next year. 
"If you scour all of DC and Marvel, there are very few characters that are actually stoked to be a superhero," the actor gushed. "They're not brooding, they're not put out, like 'Oh, damn it, I gotta save the world again!' Billy Batson is like Peter Parker: they're thrilled to have these powers and can't wait to try them out."
Shazam's unbridled joy is result of him being a young teen masquerading as a full-grown adult, giving new meaning to the term "childlike innocence." And with the hero's gum-chewing and the phone-fiddling on the EW cover, we're reminded of that fact — which actually begs an important question regarding how Shazam! will handle the whole "the main character is a boy in a man's body" thing.
One of Shazam!'s muses, Big, highlighted its central character Josh's (Tom Hanks) naive behaviors and impulsive purchases — including a mountain of toys and a Pepsi vending machine that always spat out free sodas to decorate his apartment with — as a way to maintain that he was still a 12-year-old boy despite looking like a 30-year-old man. 
Now, save for a Ukrainian-dubbed behind-the-scenes featurette that leaked earlier this week, we haven't seen or heard any in-motion footage from Shazam!, so it's difficult to say what the film will do with Billy and Shazam. But this magazine cover and a recently released movie still that showed Levi's Shazam and Grazer's Freddy gulping down sodas seem to indicate that junk food and technology will play a big part in preserving Billy's personality while he's saving the world as Shazam. Ten bucks says that at some point in Shazam!, the hero orders a jaw-dropping amount of food and wolfs it down three seconds flat. Go hard or go home, right?
Those attending San Diego Comic-Con this weekend can scoop up the special Shazam! issue of Entertainment Weekly in person. For everyone else at home, you can either purchase the issue online or simply wait until Shazam! drops in theaters on April 5, 2019 to see more of Levi in his bubble-blowing, muscle-bound glory.