Why The New Halloween Movie Isn't A Reboot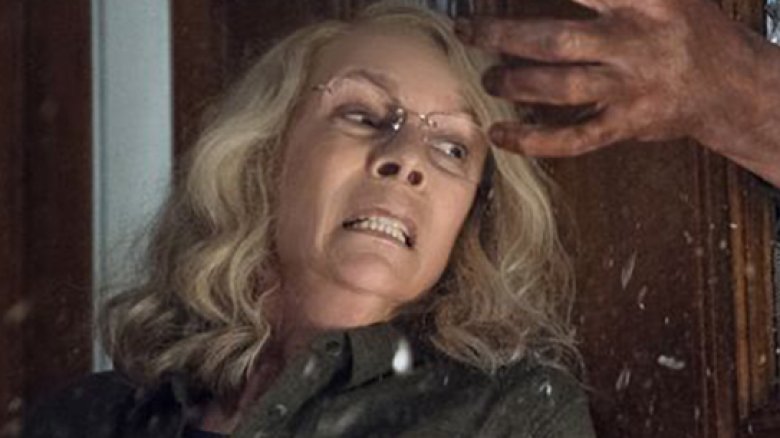 In the era of remakes and reboots, the forthcoming Halloween movie strives to be different. 
Speaking with Variety, prolific film producer and horror movie aficionado Jason Blum stated that the new Halloween isn't a reboot — and fans of the long-running franchise shouldn't expect it to be one. 
Blum, who produces the David Gordon Green-directed and Danny McBride-co-written slasher, explained that because of the talented creatives who helped bring it to life, the film rejects the "reboot" label. 
"The way to get people interested is to not reboot. The term makes my hair stand up on the back of my neck. What we're doing with Halloween is, I guess I'll use the term 'reinvention.' Reboot just sounds so corporate," Blum explained. "The way we attacked Halloween was to go after what we've done with a lot of other movies. David Gordon Green and Danny McBride are not known for horror, Jordan Peele was not known for horror before Get Out, so I think we've had a lot of success mixing genres of people."
Blum added that Halloween itself doesn't blend genres — "the movie's a straight, scary movie," he affirmed — but the fact that people don't automatically associate director Green and screenwriter McBride with the horror genre allowed for them to bring a much-needed freshness to the franchise. As Blum noted, their collective "original voice," paired with actress Jamie Lee Curtis reprising her role as Laurie Strode and original Halloween film director John Carpenter on board as composer and executive producer, have made the new Halloween something quite special — and totally not a traditional reboot.  
"I think we've got a very original voice with David Gordon Green and Danny" said Blum. "I'm grateful how we brought new voices and the original voices back together in a strategic way to make what I think is a terrific movie. Fans will have to tell me if they think so, too, but I think they'll be very happy."
Blum's words here are more than enough to excite fans, but they somewhat go against what actress Curtis said about the film: that it's the original Halloween retold from the perspective of her character's granddaughter, Allyson Strode, played by Andi Matichak. 
"As soon as I read what David Green and Danny McBride had come up with ... and the way that they connected the dots of the story, it made so much sense to me that it felt totally appropriate for me to return to Haddonfield, Illinois, for another 40th-anniversary retelling," Curtis once told Yahoo Entertainment. "If I had had my druthers, I probably would've called it Halloween Retold. Because it's being retold. It's the original story in many, many, many ways, just retold 40 years later with my [Laurie's] granddaughter."
We could sit here and argue semantics, discuss the differences between "reboot," "remake," "reinvention," and "retelling," but it's a lot more fun to take Blum's statement at face value and remember that Halloween, the film that promises to ignore all the series' sequels and go "full-tilt boogeyman," is likely going to blow us all away.
Halloween is set for release on October 19.