Spider-Man: Far From Home Set Photos Show Tom Holland Back As Peter Parker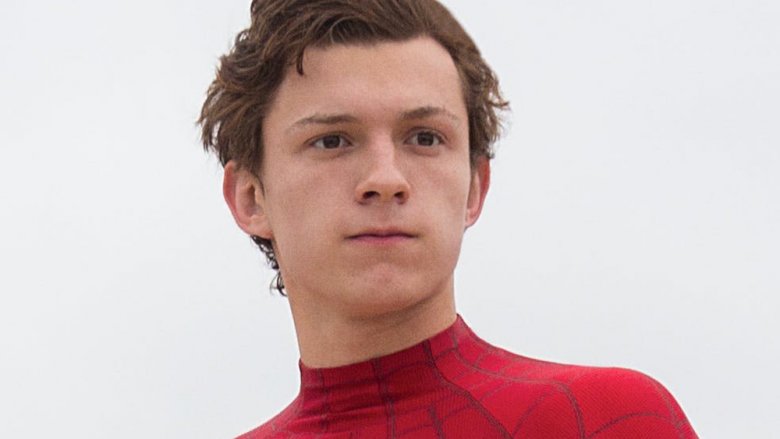 He's alive! He's aaaliiive!
Photos from the set of the Spider-Man: Homecoming sequel, Spider-Man: Far From Home, have surfaced online — and they show a very important someone back in his very, very important role. 
Posted to Twitter by U.K.-based fiction editor Sophie Playle, the snaps reveal Spider-Man star Tom Holland behind the scenes of the forthcoming follow-up flick, which reportedly began filming just a few days ago. 
The 21-year-old actor is seen in only one of the three images Playle shared, standing behind an orange barricade and holding a coffee cup while chatting with two unidentified men and a woman. It's crucial to note that the snap appears to have been taken while the cameras weren't rolling, and since Holland is in everyday attire and not suited up as Spider-Man, the scene(s) that take place at the location featured in the photos likely involve Peter Parker and not his superhero alter ego. 
Two other (somewhat less exciting) photos feature the side of the building where the film magic is happening as well as a film advisory sign propped up on a sidewalk. 
"Casually starting off the week by watching Tom Holland walk onto set where they're filming the new Spider-Man movie, just around the corner from where I live," Playle captioned the photo collection. 
Judging by the photos, it appears that Holland and the rest of the Spider-Man: Far From Home cast are filming inside and around the abandoned building — which is interesting, since the film's creatives easily could have filmed on a man-made set on a sound stage back in the States. 
We know that the sequel takes the eponymous web-slinger around the world, and Marvel Studios president Kevin Feige has mentioned that Peter will be "going to Europe with his friends" over summer vacation, so it makes sense that Spider-Man: Far From Home is shooting on location — but it doesn't give us an answer as to why the narrative requires it for scenes that ostensibly could be shot elsewhere. Given that Marvel is notoriously secretive about its projects, we don't expect to get an answer to that inquiry any time soon. 
There mere existence of these set photos begs another, massive question: How can Holland return as Spider-Man if the teen vigilante died in Avengers: Infinity War? Well, as confirmed by Feige himself, Spider-Man: Far From Home is set after the events of the still-untitled Avengers 4, meaning that he survived Infinity War and will make it out of the fourth Avengers film relatively safe and sound. 
"Coming out two months after Untitled Avengers, [that's what] much of what the next Spider-Man film will be about. It was purposefully done like this," Feige said. "Like how the events of Captain America: Civil War impacted Peter as he was dropped off by Tony and expected to go back to continue his sophomore year, how the hell are the events of Infinity War and Untitled [Avengers] going to affect him as he, yes, goes back to his junior year?"
Spider-Man: Far From Home will see Peter Parker swing his way across London, Europe, and New York — and will then swing into theaters on July 5, 2019.
Casually starting off the week by watching Tom Holland walk onto set where they're filming the new Spider-Man movie, just around the corner from where I live. pic.twitter.com/folz0ooCMi

— Sophie Playle (@sophieplayle) July 2, 2018