Wednesday S2 Needs To Forget About Romance (& Enid Actor Emma Myers Agrees)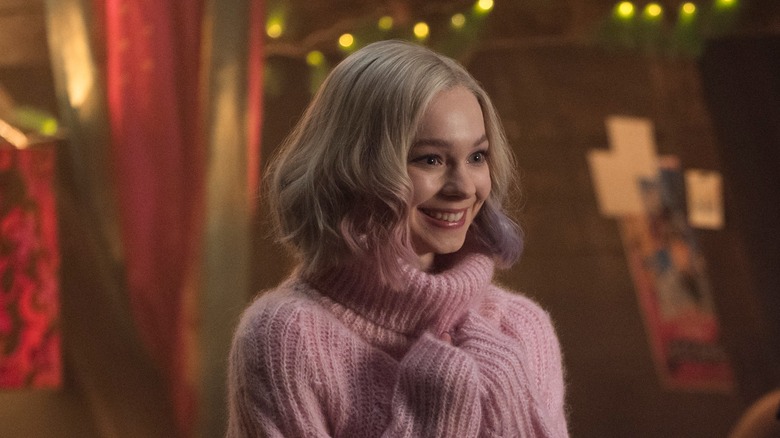 Vlad Cioplea/Netflix
The confirmed renewal of "Wednesday" by Netflix means that fans are in for a lot more of what made the first season such a hit; more of Jenna Ortega's delightfully sadistic Wednesday Addams, more dark sarcasm, more homages to the original "Addams Family," and, probably, more murder. While there are plenty of things we and other fans would love to see in the second season, the cast understandably has their own preferences. 
This of course includes Emma Myers, who plays Wednesday's bubbly and rainbow-clad werewolf roommate and friend, Enid Sinclair. Speaking with Variety, Myers shared some of her thoughts about where Season 2 might take "Wednesday." One of the things she feels fairly strongly about is that Wednesday should, for the time being anyway, remain single. "As far as love interests go for Wednesday," said Myers, "I feel like at least for a second season, she needs to take her season of singleness. She just had a whole fiasco with her men, she's got to lay it off for a little bit. I would be deterred from dating anybody if I had gone through that."
Ortega has previously mentioned that fans should expect less romance and more horror in the second season. It makes sense. Season 1 of "Wednesday" ended with one of Wednesday's love interests, Tyler (Hunter Doohan), imprisoned as a murderous monster. Meanwhile, the other, psychic Xavier (Percy Hynes White), isn't on the best of terms with Wednesday after she originally accused him of being said murderous monster.
Room for Wenclair?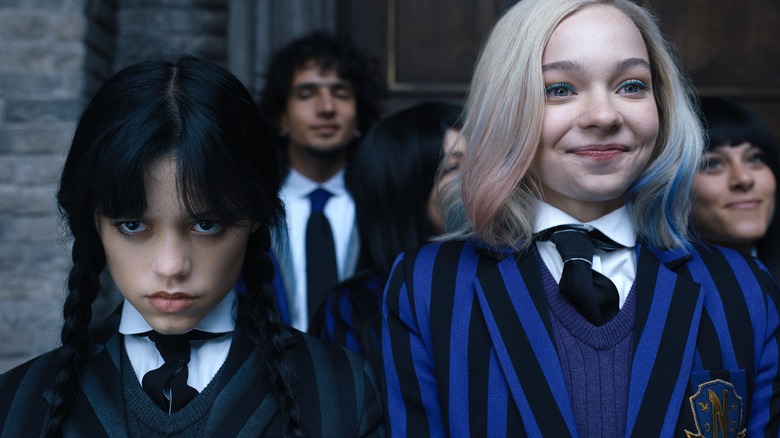 Netflix
Taking the events of Season 1 at face value, it seems very clear that Wednesday would do well to swear off men for a bit. Jenna Ortega, for what it's worth, seems to agree. During an interview with MTV News, Ortega said that "Now that Tyler's off the table, I feel like she's off of boys for a while." But both Ortega and Emma Myers are well aware of another option concerning Wednesday's dating life. After all, swearing off men does not necessarily mean swearing off dating. Might "Wenclair" be in the cards for the second season of this record-breaking series?
Wenclair, as fans of "Wednesday" will know, is what shippers are calling a potential relationship between Wednesday and Enid. Wednesday has long been adopted as a queer icon, going back at least to the 1990s when Christina Ricci portrayed her in the two "Addams" films. And Ortega and Myers seem to approve of the idea that their characters wind up together. Even at the premiere of the show they both seemed to think so. 
"In a perfect world, [Wenclair] would have been a thing," Ortega told Pride. Meanwhile, Myers told Elite Daily "I feel like that's a really, really powerful thing to see. I feel like people want to see powerful women with powerful women."