Shocking No One, Netflix Renews Wednesday For Another Semester At Nevermore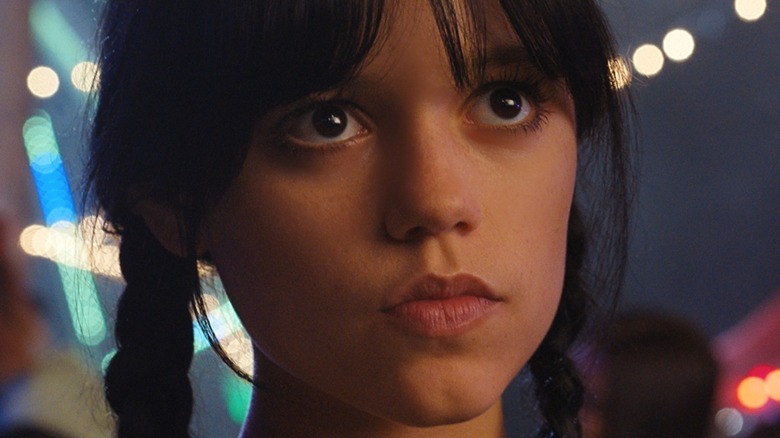 Netflix
Despite its age and many incarnations, old and new fans simply cannot get enough of all things "The Addams Family." Whether it is Morticia, Gomez, Pugsley, Cousin It, or Uncle Fester, each of these characters possesses a comedic appeal that matches the macabre elements of their appearance and general personality. Then there is Wednesday Addams, who favors sardonic, dark humor over outright slapstick and has been forever immortalized by actors Lisa Loring, Christina Ricci, and now Jenna Ortega in Netflix's "Wednesday." Ortega's wickedly witty, at times tense, and deliciously dark performance does the character justice for a new generation.
Season 1 of the series was a hit on the streaming platform, but as with any Netflix original — rather heavily viewed or not — the company takes time in announcing a follow-up season (via InStyle). This was also seen late in 2022 after "The Sandman" garnered strong viewing numbers in August only to languish in uncertainty, with the announcement of "The Sandman" Season 2 three months later. But after nearly two months since the program premiered on the app, it is not shocking to anyone that "Wednesday" has finally been renewed for another semester at the creepy Nevermore school.
Showrunner Alfred Gough wants to further complicate the show's relationships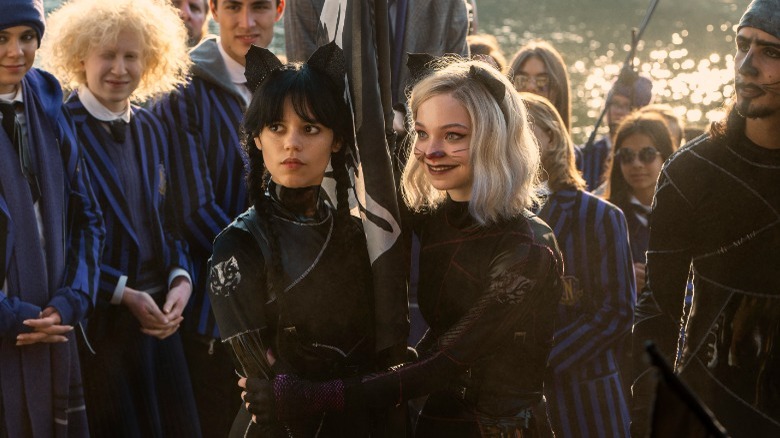 Vlad Cioplea/Netflix
Netflix has officially renewed "Wednesday" for Season 2. In a statement to Tudum, showrunners Alfred Gough and Miles Millar said, "It's been incredible to create a show that's connected with people across the world. We're thrilled to continue Wednesday's torturous journey into Season 2." They also enthused, "We can't wait to dive headfirst into another season and explore the kooky, spooky world of Nevermore. We just need to make sure Wednesday hasn't emptied the pool first."
According to The Hollywood Reporter, the series has become the streamer's third most popular program, after Season 4 of "Stranger Things" and "Squid Game." In a previous interview with The Hollywood Reporter, Gough highlighted, "We wanna sort of explore and sort of complicate all of those relationships going forward. The school was closed when they left, which gave us the most possibilities for season two, and I think that's something that we're excited to explore."
It is not yet known how many episodes the new installment will contain or when viewers can expect Season 2. It is also unknown if filmmaker Tim Burton, who directed the first four episodes of Season 1, will return to helm more episodes.