Avengers 4, Captain Marvel Footage Revealed At CineEurope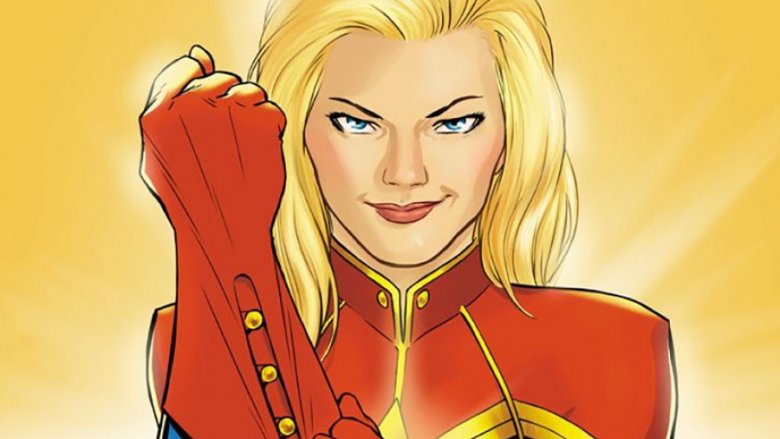 Marvel Comics
How quickly can we get to Barcelona?
At the European film exhibitors' conference CineEurope, held in Barcelona, Spain, Disney gave a presentation detailing its plans for its many, many upcoming movies across its many, many different studios. Naturally, this included superhero tentpoles from Marvel Studios — namely Avengers 4 and Captain Marvel. 
The executives didn't just talk about the films that everyone and their mother, eccentric uncle who thinks he's Joey from Full House, step-siblings, and next-door neighbors are dying to see, however. Disney took it a step further and treated CineEurope attendees to exclusive looks at Avengers 4 and Captain Marvel. 
Fans have been scouring the internet for details on the CineEurope-revealed footage, but reports have been conflicting. The Hollywood Reporter notes that the Avengers 4 reveal involved Marvel Studios head Kevin Feige "serv[ing] up some exclusive glimpses" of the film, which still doesn't have an official title. Other outlets, like MovieWeb, reported that the footage featured Scott Lang (Paul Rudd) speaking with Tony Stark (Robert Downey Jr.) about a bit of technology that can be used to travel to "multiple realities and collect the Infinity Stones." This information came by way of Reddit user DeadlyDiabetes, but several commenters in the thread mentioned that the description provided was totally fake. MCU Cosmic founder Jeremy Conrad later confirmed that the description was falsified, "made up by the Reddit user for attention."
According to The Flick reporter Nikita Byrkin, the Captain Marvel footage was a featurette, and Feige promised that "Captain Marvel is about to take the lead in the entire Marvel Cinematic Universe." That remark echoes what the executive once said about the super-heroine: "With Captain Marvel, she is as powerful a character as we've ever put in a movie. Her powers are off the charts, and when she's introduced, she will be by far the strongest character we've ever had."
Of course, what was shown at the convention hasn't yet surfaced online. If Disney and Marvel Studios plan to be as secretive about Avengers 4 as they were with Avengers: Infinity War, which we suspect they do, footage of the fourth Avengers flick won't make its way to the eyes and ears of the humble masses for quite some time. The studios revealed sneak peeks of Infinity War during Disney's D23 Expo and at San Diego Comic-Con in July of 2017, but kept the full trailer under wraps until late November. Using that timeline of about four months between a convention unveiling and an official launch as a basis for estimation, it could be assumed that Disney and Marvel might roll out the first official Avengers 4 footage in October.  
As for when we'll get to see Brie Larson suited up as Carol Danvers in Captain Marvel — beyond just on-set snaps and super-short videos? That's harder to predict. For Marvel movies that are the first in what could be its own series, Disney and Marvel have sometimes kept a shorter window between when they premiere the first trailer and when the film is due out in theaters. Take 2015's Ant-Man, for example: The trailer launched on April 13 of that year, and the film opened on July 17. A similar window is seen with Black Panther: The studios released the trailer on October 16, 2017; the movie debuted on February 16, 2018. This isn't a hard-and-fast rule, however, and there are definitely exceptions, making it difficult to even loosely estimate that Captain Marvel's March 8, 2019 launch might mean the first trailer will premiere in November of this year.  
The best we modest Marvel fans can do for now is wait patiently as Avengers 4 and Captain Marvel approach their respective release dates.