Avengers: Infinity War Trailer Revealed At Comic-Con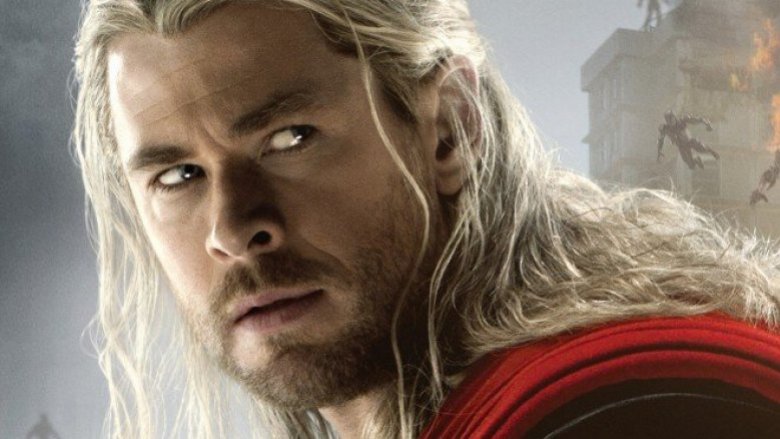 If you thought the Comic-Con footage of Black Panther was jaw-dropping, you haven't seen anything yet.
Marvel pulled off the reveal to end all reveals when it debuted the first look at Avengers: Infinity War during Comic-Con in San Diego on Saturday night. 
Though it appears to be exactly what was shown at D23 last weekend, which featured Earth's Mightiest Heroes coming together to take on an Infinity Gauntlet-wielding Thanos (Josh Brolin), the trailer for Infinity War has been described as equal parts epic and unbelievable (via Comicbook.com).  
The trailer begins with a shot of Thor (Chris Hemsworth), unconscious and wounded from an injury, floating through the stars. Enter everyone's favorite universe-savers, the Guardians of the Galaxy, who accidentally fly their ship directly into the passed-out Asgardian god. Thor is now wedged underneath the Milano's windshield, and Rocket Raccoon (voiced by Bradley Cooper) suggests that they use the wipers to rouse him. Once awake and inside the ship, Thor questions the Guardians, "Who the hell are you guys?"
We then cut to Loki (Tom Hiddleston), Tesseract in hand. Shots of the other Avengers flash by. First, there's Spider-Man (Tom Holland) decked out in a super-tech suit, using his Spidey sense on the top of a bus. He's followed by Iron Man (Robert Downey Jr.), who's shown collaborating with the Avengers. The pair share a moment together, during which Peter tells Tony, "I'm sorry." What for, we're not sure.
Trouble arrives when Thanos shows up, eager to destroy the Avengers. He's seen duking it out with Doctor Strange (Benedict Cumberbatch), Star-Lord (Chris Pratt), and Iron Man. When he pulls a piece of the moon down to Earth to hurl at the heroes, that's when things get truly insane. Unfortunately, we're not shown what happens in the moments that follow the throw.
Captain America (Chris Evans) makes an appearance, looking haggard as ever with a full, thick beard. Black Widow (Scarlett Johansson) also sports a new look, swapping from her signature flame locks to a blonde bob.
The clip also features Black Panther (Chadwick Boseman) fighting an Outrider, Thor getting his head squished by Thanos, Thanos bashing Iron Man in a brawl, and the Guardians of the Galaxy sadly getting defeated. 
The trailer hasn't been released on the web at the time of writing, but we'll update you when it is. 
Rounding out the stacked cast of Infinity War are Mark Ruffalo (Bruce Banner/Hulk, Paul Bettany (J.A.R.V.I.S. and the Vision), Elizabeth Olsen (Scarlet Witch), Pom Klementieff (Mantis), Karen Gillan (Nebula), Dave Bautista (Drax the Destroyer), Don Cheadle (James Rhodes/War Machine), Sebastian Stan (Bucky Barnes/Winter Soldier), and Anthony Mackie (Sam Wilson/Falcon). 
Avengers: Infinity War is due out on May 4, 2018. Until then, check out the other movies we can't wait to see next year.