Where In The World Is Carmen Sandiego: Facts About One Of The Most Underrated Game Shows Ever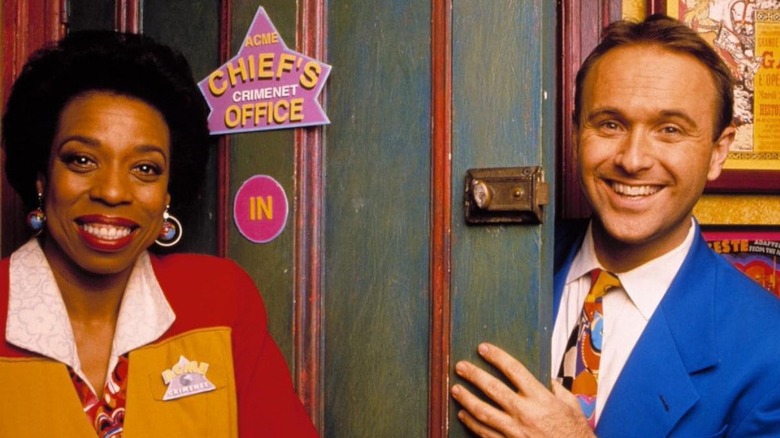 PBS
Admit it: You're thinking about, humming, or maybe even singing out loud the theme song to this show already, and started doing so the moment you saw the title of this article. That's because this show, "Where in the World is Carmen Sandiego?," was not only a huge hit during its initial 1991-1995 run but has remained fondly remembered in the nearly 30 years since. Though "Carmen Sandiego" is an entire multimedia franchise that began with video games and has gone on to include novels, board games, comic books, multiple TV shows, and even a live concert, Nerd HQ nailed it when it said, "the crown jewel of the franchise was the game show."
Kids aren't easily fooled by shallow, patronizing attempts at so-called edutainment — they can see right through a thinly-veiled effort to teach them something that doesn't bother to be fun or high-quality while doing so. But they loved "Where in the World is Carmen Sandiego?" because it was that perfect mix of not talking down to them, being genuinely entertaining, and helping them to learn something in a unique and engaging way.
The hosts, music, and structure were great and it all came together in the perfect cocktail to be one of the best game shows of all time, and not just among kid game shows either.  As good as the follow-up game show, the '90s cartoon, and the Netflix series was, nothing has come close to recapturing the magic of the original game show.
The Carmen Sandiego video game franchise launched in 1985 and is still going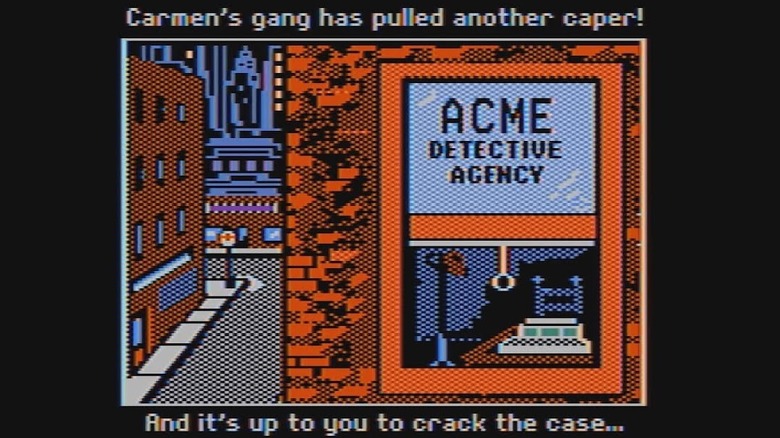 Broderbund
When people talk as if shows like "The Last of Us," "Cyberpunk: Edgerunners," or Netflix's "Castlevania" are some of the first examples of successfully bringing a video game to life on television, they are unfairly overlooking that "Where in the World is Carmen Sandiego?" had already nailed that way back in 1991. 
The first game, and the show's namesake, launched in 1985 and quickly became a mainstay at any school that actually had computers that could run it. "Where in the World is Carmen Sandiego?" itself has been remade multiple times, but that isn't remotely all there is to the game franchise. The first few follow-ups were games that zeroed in on specific regions, including "Where in the U.S.A." and "Where in Europe." There was a North Dakota-specific version that was pitched by educators in that state as a way to celebrate its centennial in 1989, and "Where in Japan" was also released that same year.
The franchise didn't remain strictly geographical, however, as it also branched out into versions that had players looking for Carmen in both time and space, as well as shifting the formula a bit for "Carmen Sandiego Word Detective" and "Math Detective." There hasn't been a new entry in a few years, the latest being "Where on Google Earth is Carmen Sandiego?," released in 2019 to coincide with the Netflix show.
It's the second longest-running children's game show of all time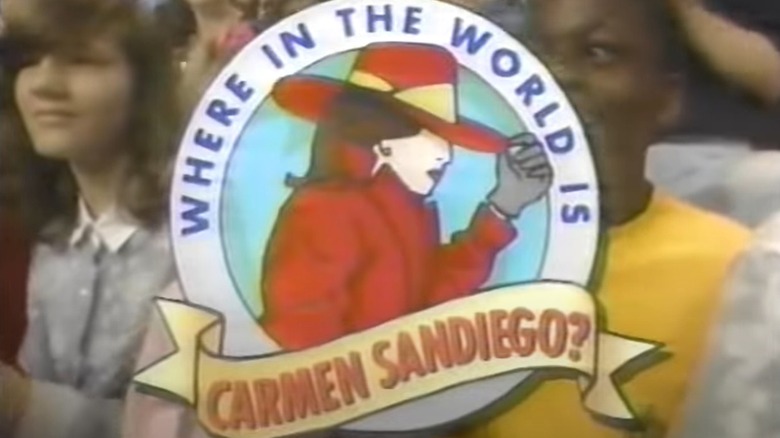 PBS
Other than outliers like "Wheel of Fortune" and "The Price is Right," game shows tend to have fairly short lifespans in terms of continuous runs without big breaks in between. This is especially true for children's game shows, which more often than not — even when they seem to be extremely popular — only last a season or two at a time. This puts "Where in the World is Carmen Sandiego?" in elite company given its extremely impressive five-season, 295-episode run.
In fact, to this day it remains second only to Nickelodeon's "Double Dare" as the longest-running children's game show of all time. This is even more impressive given that so many other game shows that have had long runs have done so via syndication, while "Where in the World is Carmen Sandiego? " had its entire five-season run in one place – and on PBS, no less. While the follow-up, "Where in Time is Carmen Sandiego?" lasted only two seasons, its 1996-97 run does extend the life of the overall "Carmen Sandiego" game show franchise another two years. 
It's also worth noting that none of the other "Carmen Sandiego" shows came anywhere close to lasting as long as "Where in the World" did. 1990s animated series, "Where on Earth is Carmen Sandiego?" got just 40 episodes across four seasons, while Netflix's "Carmen Sandiego" had only 32 episodes and one interactive special.
It was created after a survey revealed Americans were bad at geography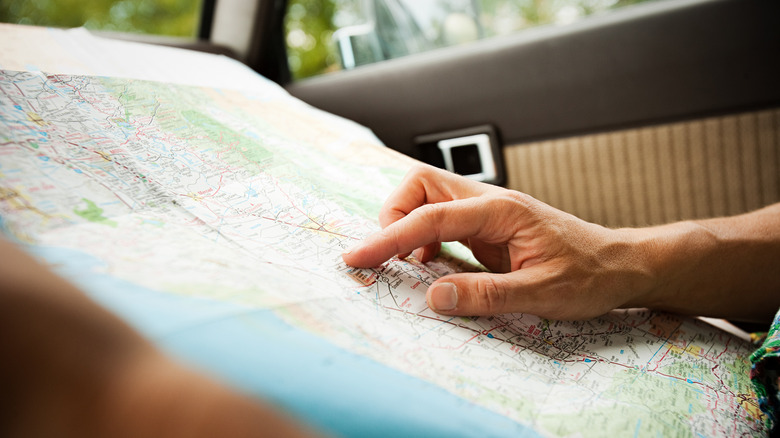 Image Source/Getty Images
Obviously, the main reason for creating "Where in the World is Carmen Sandiego?" is that the game franchise had been popular for five years at that point and was the perfect source material to turn into a game show. But there was another ulterior motive behind the show's conception, and it's a slightly embarrassing one: Americans were really bad at geography.
The organization National Geographic has previously conducted a survey to test Americans' geographical knowledge, and the results were rather shameful. The greatest cause for alarm is that only 25% of Americans could find either the Pacific Ocean or the USSR on a map. It might be easy enough to mix up the Pacific and Atlantic Oceans when pressed but given how huge the USSR was and what a major political power it was at the time, roughly three out of every four Americans not knowing where it was on a map was more than a little unfortunate. 
This would end up being a major factor in the conception of "Where in the World is Carmen Sandiego?", and the children's magazine, National Geographic World, was involved with the show both for fact-checking purposes and also giving away subscriptions to the magazine to all the contestants. 
The Chief was played by a Tony-winning actor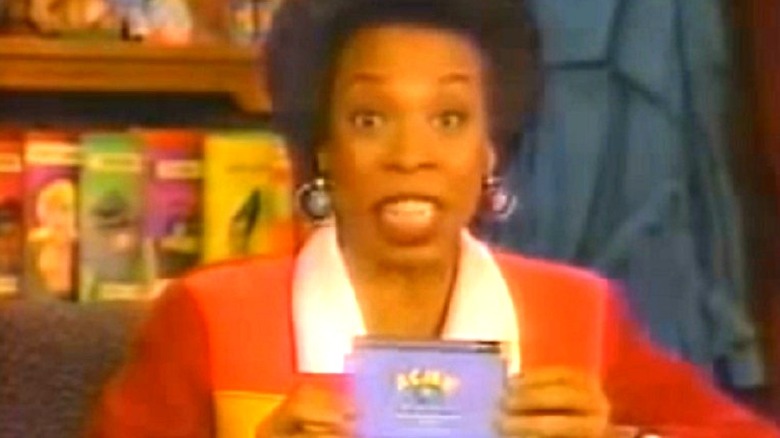 PBS
One of the reasons why "Where in the World is Carmen Sandiego?" felt like such a high-quality production was a result of the talent that comprised its cast. In addition to house band Rockapella — we'll get to them soon — and main host Greg Lee, producers knew it was crucial that co-host and clue-giver, The Chief, be portrayed by an actor who was both a commanding but also reassuring presence and who had plenty of effortless charm on screen. 
For all five seasons, plus both installments of "Where in Time" and several subsequent "Carmen Sandiego" games, The Chief was played by Lynne Thigpen. While most of the "Where in the World is Carmen Sandiego?" audience might have been a little young to recognize Thigpen from any of her previous work, older viewers knew that she had also played recurring characters on "Thirtysomething" and "Gimme a Break," not to mention the role that proved she was plenty capable to emcee a show — the mostly unseen DJ that served as the narrator for the cult classic film, "The Warriors." In 1997, Thigpen won the Tony Award for best featured actress in a play for her performance in "An American Daughter," before she passed away in 2003. 
It catapulted house band Rockapella to worldwide success
It's impossible to discuss "Where in the World is Carmen Sandiego?" and not show love for Rockapella. Not only did the group co-write the show's beyond-iconic theme song alongside friend and award-winning composer, David Yazbek, but they also performed it over the end credits of every episode. And that would've been more than enough to cement their legacy with the show, but their contribution went far beyond that. The performers were also regular cast members of the show for its entire run, and their charisma and fun on-screen presence played a huge part in giving the show its identity.
Not only did Rockapella help make "Where in the World is Carmen Sandiego?" successful, but the show also made Rockapella more successful in turn and did wonders for the group's profile. Soon after, Rockapella found themselves in multiple major ad campaigns, on tour with legendary music acts like Styx and Billy Joel, appearing on a "Tonight Show with Jay Leno" New Year's Eve broadcast, and even voicing a roach chorus in the 1996 film, "Joe's Apartment." The group also found success internationally, becoming a huge draw in Japan in particular.  Rockapella continues to record and tour to this day, though only Scott Leonard remains from the group's original lineup.
Several Season 1 episodes were no longer factually accurate by the time they aired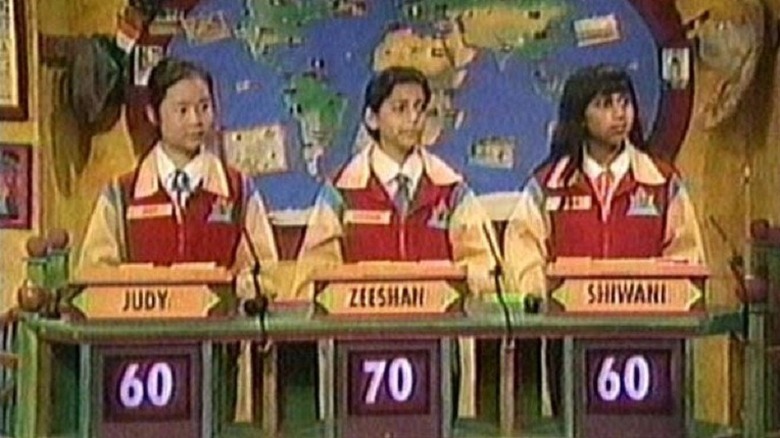 PBS
Any game show that has trivia questions runs the risk of dating itself once the answers to those questions become inaccurate. But while it might not be a huge deal when a rerun of a classic game show has out-of-date questions about pop culture, it's a little more serious when questions about the world are now just plain wrong. It's even worse when it happens before a show has even had a chance to air.
A lot was going on in the world from a geopolitical perspective in the early '90s, and it was sometimes hard for the show to keep up. During the first two years of production, both the country of Yugoslavia and the entire Soviet Union had ceased to exist — and, sure enough, "Where in the World is Carmen Sandiego?" had questions about both of them that were no longer true.
Season 1 in particular saw multiple questions become outdated between when the episodes were filmed and when they actually aired.  As a result, from Season 2 onward, the show had a disclaimer that ran during the end credits explaining that the information is only guaranteed to have been accurate at the time of the episode's recording, and might not have remained so for its airing. 
All but three members of Carmen's gang were exclusive to the show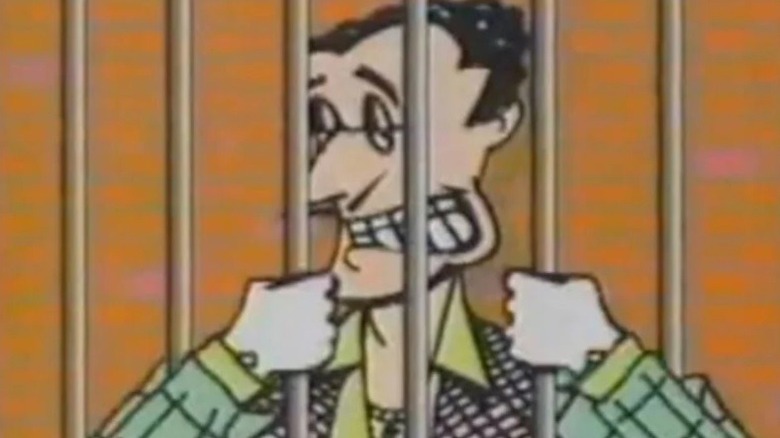 PBS
Though the main point of "Where in the World is Carmen Sandiego?" — as well as pretty much all its related media — is to track down and capture the elusive criminal, Carmen also has an entire team of henchmen helping her out and committing misdeeds of their own. The V.I.L.E. (Villains International League of Evil) gang on the show consists of Patty Larceny, The Contessa, Vic the Slick, Double Trouble (a two-man team), Eartha Brute, Top Grunge, Wonder Rat, Sarah Nade, RoboCrook, and Kneemoi. 
Each one was created specifically for the show and got its start there, but several got a chance to live on elsewhere. Patty Larceny, Sarah Nade, and RoboCrook each appeared in at least one subsequent "Carmen Sandiego" video game, and they were the only three who got that honor — beyond Carmen herself, of course. However, none of the V.I.L.E. members returned for the "Where in Time" game show, nor did they show up in either of the animated series. Each "Carmen Sandiego" show has had its own completely different and new set of V.I.L.E. operatives, which has become something of a trademark for the franchise. That also means that Carmen has had a lot of people working for her over the years!
Many celebrities and public figures made appearances on the show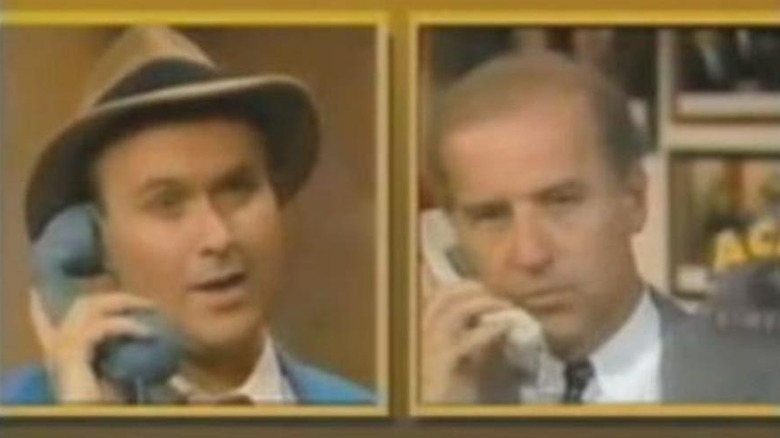 PBS
Both PBS children's and game shows in general have a tendency to get a lot of celebrity guest stars, and bringing those two aspects together on "Where in the World is Carmen Sandiego?" definitely helped to ensure some pretty impressive names made appearances on the series. Whether it was special episodes where celebrities showed up to be teammates to the regular contestants, or celebrities making appearances in skits — either in person or via phone calls — the list of people who appeared on the show during its five seasons contains a lot of big names both of the time and even still today. 
"Blossom" star Miyam Bialik – a future game show host herself — featured, as did Neil Patrick Harris who was then mainly known as the star of "Doogie Howser, M.D." Also showing up was a young Christina Ricci, fresh off of playing the first big-screen version of Wednesday Addams in 1991's "The Addams Family." It wasn't just kids that did cameos, either – LeVar Burton, Lou Ferrigno, Steve Guttenberg, Marc Summers, Mr. Rogers, and a certain Delaware Senator who would eventually become President of the United States named Joe Biden are among the adults who also made appearances on the show.
A popular urban legend about a lost episode has been debunked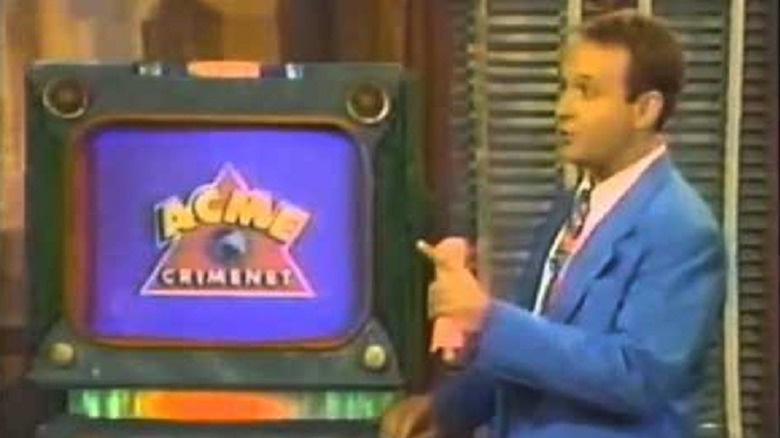 PBS
There have been a lot of articles on "Where in the World is Carmen Sandiego?" trivia, and many mention a lost episode. The story goes that the episode, "Auld Lang Gone" — complete with an IMDb page – supposedly never aired because a contestant broke her arm. Strangely, none other than Gene Wilder also apparently appeared in the episode in question. There's a lot of information available about this episode, but how much of it — if anything – is actually true?
Christian Carrion of Buzzerblog decided to investigate the urban legend in 2020. Among the people he contacted on the matter were "Where in the World is Carmen Sandiego?" executive producer and co-creator, Howard Blumenthal, and its studio engineer Paul Byers, as well as "Double Dare" host, Marc Summers, who is said to have been that episode's guest host (another odd aspect about it). 
And it was Summers who definitively stated that the episode is just an urban legend. Blumenthal explained that the episodes for the season were misnumbered due to a clerical error, making it seem as if one was missing even though there is absolutely no evidence or any record that episode had actually occurred — including the Gene Wilder appearance.
The Malaysian version changed the titular villain to a man named Pompadour Joe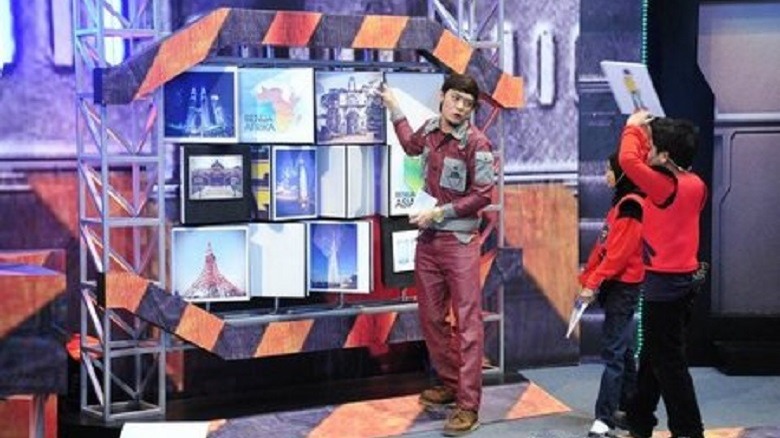 Radio Television of Malaysia
It isn't just the United States that loves game shows, as the genre is popular all around the world. And just like we've adapted many game shows from other countries — "Who Wants to Be a Millionaire," "Deal or No Deal," and "The Weakest Link," to name a few — many of our own shows have also gone international. "Where in the World is Carmen Sandiego?" is no exception, having seen versions created for Canada, Germany, Spain, Italy, France, and New Zealand.
One that's worth making special mention of is the version that aired in Malaysia. What makes it particularly unique among the "Where in the World" adaptations is that it doesn't feature Carmen Sandiego at all. Rather, the 1998 Malaysian version of the show is called "Di Mana Joe Jambul," which translates to "Where is Pompadour Joe." In it, Joe plays the Carmen role and is the lead criminal that the contestants are trying to hunt down in each episode. This version was very popular in its native country, so much so that it was rebooted in 2012 — making it the most recent of any of the iterations of the show to air. 
It won 6 Emmys and was nominated for dozens more awards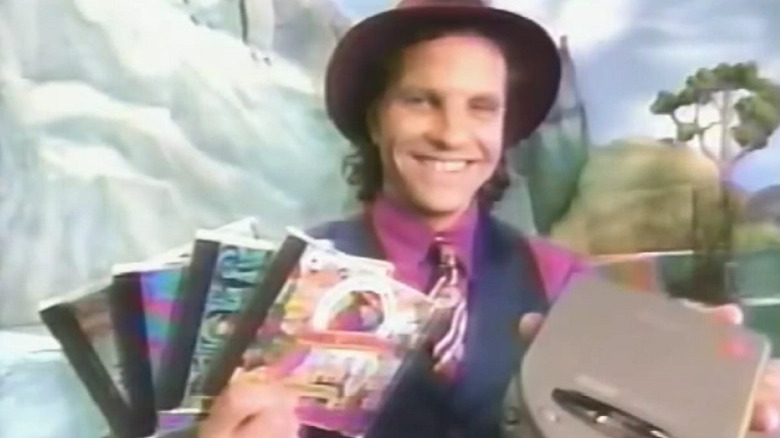 PBS
"Where in the World is Carmen Sandiego?" was obviously very popular with kids, and even a fair amount of older viewers at the time. But it wasn't just a rating success — it was also a critical one as well. Not only did it get strong reviews at the time, but it went on to get nominated for many awards and took home a pretty decent amount of them as well.
Over just five seasons, the show was nominated for an astounding 26 Daytime Emmy Awards, including the big awards like outstanding children's series, but also several more specialized trophies like outstanding achievement in graphics and title design, outstanding achievement in technical direction/electronic camera/video control, and outstanding costume design.
Lynne Thigpen also received multiple nominations for outstanding performer in a children's series. All told, the show took home six Emmy wins — five for outstanding art direction/set decoration/scenic design, and one for outstanding live & tape sound mixing. "Where in the World is Carmen Sandiego?" also took home a Peabody Award in 1992.
It remains unknown who voiced Carmen on the show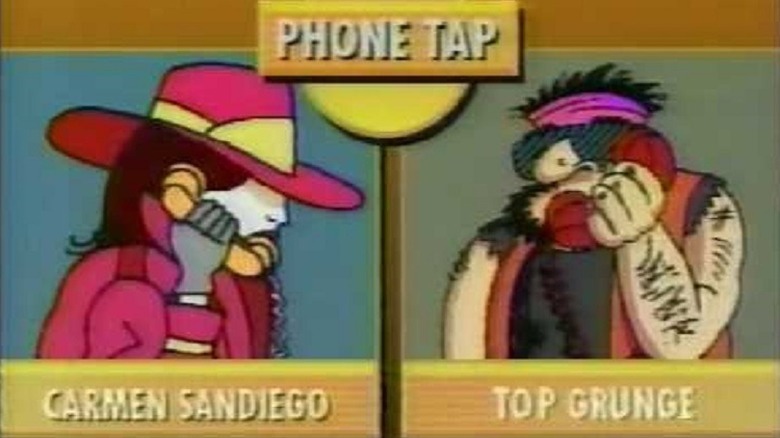 PBS
The titular villainess of the "Carmen Sandiego" franchise is typically depicted as a mysterious figure, though this was rethought significantly when Carmen was made into a hero and a much more visible and talkative character for the Netflix show (played by Gina Rodriguez). Otherwise, the classic image of Carmen sees her face largely obscured by the large brim of her red hat, and it's presumed that even when she is captured, she very quickly escapes before any information of consequence is learned from or about her. 
This is also represented on the "Where in the World is Carmen Sandiego?" game show by not only not showing viewers her face, but never explicitly stating who does her voice in the phone calls that play during each episode. The cast list shown during the ending credits shows the whole voice cast and doesn't credit anyone to any specific character either, so it's impossible to know exactly who plays her, and it's never been officially confirmed to this day. 
A HuffPost writer dug into who played the character in the video segments of Carmen that were shown in the "Where in Time" show and eventually got his answer — actor Janine LaManna — but until someone does so for "Where in the World is Carmen Sandiego?," the actor's identity remains as mysterious as the show's creators likely intended it to be. Who in the world is the actor who played Carmen?